Reserve Now
Or Check Rates
Meet Your Hosts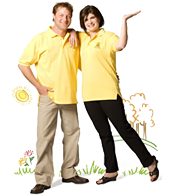 "Believe it or not, spring is coming. Book your spring program now, limited availability, only a few sites left"
It was a love of camping that brought Susan and David Barton to own their own KOA Kampground.
"We love camping, especially KOAs," said Susan. "We know that our customers are on vacation, and our goal is to make it the best and happiest vacation that they have ever had."
Before owning their own KOA, Davie was a real estate agent, and Sue a graphic designer. On this campground, it's not just campers that are made welcome, but also their pets.
"Our pets (dogs Sam and Cooper) have traveled all over North America, so we really understand the need for pet-friendly camping," said Susan. "Our dogs travel each year with us."
"We are especially proud of the campground's great staff and scenic location. And don't forget to check out the mosaic tile floors