Reserve Now
Or Check Rates
Meet Your Hosts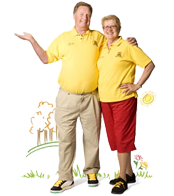 "We treat everyone like a friend, and prefer a friendly atmosphere."
Cor and MaRia Bijvank have camped all over the world. Born and raised in Amsterdam, The Netherlands, the couple has traveled all over the world. But the last twenty years mainly in the United States, into Canada, Alaska and Mexico. Early in 2005, they purchased their KOA campground, and as of now, this KOA is completely remodeled and redone. New bathrooms and laundry facilities are done and all of the sites have level concrete pads and patio's.
Cor and MaRia run their campground differently than most in the U.S. "We greet campers with an old-fashioned European hospitality. When campers arrive, we go to them, so they don't have to get out of their vehicles and come to us in the office," said Cor. We encourage people to set up camp after arrival, relax a bit, and then check in later that day. This makes each person comfortable. "We treat everyone like a friend, and above all ,we prefer a friendly atmosphere."
Due to the geologically interesting area, the campground evokes the attention of groups of travelers. Beside the regular travelers, Cor and MaRia welcome colleges and universities studying the land and provide them with a base camp as the students delve into their studies. Often times the groups will stay one to two weeks as they get a first-hand glimpse of the inner workings of the Earth and the Big Horn Mountains.
Cor speaks four different languages and both pride themselves on their ability to utilize their internationally oriented perspectives. "Sometimes people want to speak in their native language and as international travelers, they sometimes need help with things. "I can help with that" . "We have lived in several places in the world and seen a lot of things; we think we know what people like and dislike."
The campground's originality is what sets it apart from many other campgrounds. It is a fun place to stop, be it for a night or a week, and they are there to add a European flair to an American tradition.