Reserve Now
Or Check Rates
Campground Amenities
Amenities Overview
Campground Amenities
50

Max Amp

85'

Max Length

Wi-Fi

Cable TV

Pool (5/23 - 9/21)

Hot Tub / Sauna

Snack Bar ($)

Propane ($)

Firewood ($)

Pavilion

Tour Shuttle ($)
Unique Amenities
Convention Facility
Jumping Pillow
Kamp K9
Community Fire Ring
Playground
Horseshoes
NEW Fitness Center
Food Service ($)
Golf Cart Rental ($)
Pontoon Boat Rental ($)
Luxury Patio RV Sites
Campground Activities
"Simply the Best" Acttivities in Branson. Activites listed below may be subject to weather and season.
Campground Events
Listing
Calendar
2nd Annual Vintage Camper Event
Bring your oldie but goodie and have some fun with vintage camper enthusiasts. Campers 1976 & older receive 50% off their nightly camping rate.

* Prizes
* Potluck
* Tour of Vintage Campers
* Fun, fun & more fun
This is the same weekend as Branson's Super Summer Cruise Car Show
Read More
Meet Your Hosts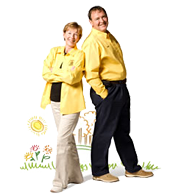 "We believe in providing 'Simply the Best' experience."
Ralph and Kim Newell are the owners of the Branson MO KOA and another campground in the Lawrence/Kansas City Area.
"As if one campground wasn't enough to keep Ralph busy," Kim says, "he had to take on another park. Honestly, we love this business and thrive on ways to bring more business to our parks and make our customers feel special."
"We got started in this business because we were looking for something different. Our backgrounds include facility management, business, government, teaching and accounting. We looked at many different ventures before finding our first campground in Lawrence, KS. We found our passion and love, and our backgrounds and skills complement each other. Ralph plans for the long term and I focus on the day-to-day aspects of the business. We run our parks as a business, knowing that if you provide a quality product at a fair price and provide great customer service, your business will thrive," says Kim.
"One of our favorite compliments came from our guests Mary and Larry, from Collinsville, Florida: 'We have stayed at the Branson KOA three times in the past year. Every time they seem to single us out, to treat us like VIPs, but as we watch, we see that they treat everyone that way.' We believe the reason they feel this way is our commitment to customer service," says Ralph. "We only employ Work Kampers, who are fellow-RVers who are 'retired but not tired.' You will see more 'Yellow Shirts' working with us in Branson than most campgrounds. We believe in providing 'Simply the Best' experience. We offer more amenities, services and facilities than any campground in the area. But, the reason this is our favorite compliment is because we feel it shows that our customers feel special and enjoy their stay at the Branson KOA. They tell their friends and keep coming back," says Ralph.
With the addition of their second park, it was time to hire full-time managers for the Lawrence/Kansas City Campground "We are blessed to have great managers in Lawrence, so we can operate the Branson KOA on a day-to-day basis.
Within a few short years in Branson it was time to bring on a full-time manager there as well. Angie Dickerson had experience in marketing and has lived in Branson for many years. Her background and fresh, spunky personality, add greatly to the Branson KOA operation. She and her husband Bill live on the park.
Ralph says, "Without these key employees we would not be able to handle the day-to-day business of owning two parks," says Ralph. "These key employees help us operate our parks smoothly, provide the services we feel are important and continue to improve our parks. Our bottom line is to 'Take care of customers, and in return they take care of you.' Without the customer, we wouldn't be here."