Reserve Now
Or Check Rates
Campground Amenities
Amenities Overview
Campground Amenities
50

Max Amp

85'

Max Length

Wi-Fi

Cable TV

Snack Bar ($)

Fishing

Mini Golf ($)

Firewood ($)

Pavilion
Unique Amenities
Free WIFI
IP Phone on WIFI
Laundry room
Private access to the lake
Private dock
Showers
Washroom
Campground Activities
Our KOA offers organised activities for kids every Saturday morning from 9H30 to 11H00 AM. Have fun on our jumping pillow or play a game of mini-golf, petanque, Volley-ball... or go fishing, rent kayaks or a peddle boat or simply bath in the sun on our sandy beach... whatever your pleasure, there is fun time ahead at our KOA! (Note: There is no lifeguard at beach.)
Every Saturday mornings
Our KOA offers organized activities for kids every Saturday morning from 9H30 to 11H00 AM.
Read More
Activities schedule coming up!
We are currently working on schedule for all the activities coming up at our KOA! Stay tuned!
Read More
Campground News
Great News!
Our KOA got various accolades in 2013 for our great service and the quality of our new installations!
- KOA's "President Award"!
- We are GOOD SAM's top rated campground for the Bas St-Laurent region!
- We are highly recommended by CAA and AAA!
- We won the "Prix de l'excellence" from CAMPING QUEBEC!
Thanks you all!
Read More
Meet Your Hosts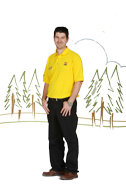 "Welcome home"
Brand new experience as a KOA campground owner.