Reserve Now
Or Check Rates
Campground Amenities
Amenities Overview
Campground Amenities
50

Max Amp

85'

Max Length

Wi-Fi

Cable TV

Snack Bar ($)

Fishing

Mini Golf ($)

Firewood ($)

Pavilion
Unique Amenities
Free WIFI
IP Phone on WIFI
Laundry room
Private access to the lake
Private dock
Showers
Washroom
Campground Activities
Our KOA offers organised activities for kids every Saturday morning from 9H30 to 11H00 AM. Have fun on our jumping pillow or play a game of mini-golf, petanque, Volley-ball... or go fishing, rent kayaks or a peddle boat or simply bath in the sun on our sandy beach... whatever your pleasure, there is fun time ahead at our KOA! (Note: There is no lifeguard at beach.)
Every Saturday mornings
Our KOA offers organized activities for kids every Saturday morning from 9H30 to 11H00 AM.
Read More
Activities schedule coming up!
We are currently working on schedule for all the activities coming up at our KOA! Stay tuned!
Read More
Campground Events
Listing
Calendar
Corn Roast / Epluchette de ble d'inde
You are all welcome to join us at our annual corn roast!
Joignez-vous a nous pour l'epluchette annuelle!
Read More
Marathon / Clopin la nouille & Total country!
Start your day with a little run for the SQ Marathon supported by our favorite clowns: Clopin and Mr. Nono! If you like live music, you're in for a great night with the band TOTAL COUNTRY!
Un peu de course a pied en compagnie de nos amis Clopin et Mr. Nono pour le Marathon de la SQ saura vous mettre en forme... et en soiree, on vous invite au spectacle du groupe TOTAL COUNTRY!
Read More
Meet Your Hosts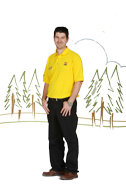 "Welcome home"
Brand new experience as a KOA campground owner.