Tent Sites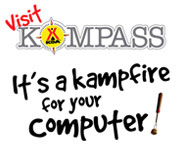 "We'll definitely be back. Tent camping with small kids can be a real pleasure - as long as it's at a KOA!"
Tent Camping is Even Better at KOA!
Fall asleep to the sound of crickets, wake up to the chirp of chickadees: Purist campers wouldn't have it any other way. But KOA makes tent camping even better, because KOA amenities are right down the path.
Tent Camping Comforts
Nearly all KOAs offer a wide selection of spacious, level sites with picnic tables, water spouts and fire pits. Clean restrooms and showers are a must-have if you are tent camping, something you'll find at your favorite KOA! After an exhilarating day spent outdoors, enjoy a steamy hot shower in a sparkling clean restroom - then snuggle up around a crackling campfire and enjoy a s'more or a cup of cocoa. Your cozy tent will be waiting for you when the fire is out.
Kamping Kitchens
For many people, tent camping may include cooking in the great outdoors too. Stay at a KOA with a Camping Kitchen, and you'll find out just how much fun that can be! These great, convenient kitchens make cooking and clean up a snap. If you would rather, you always have the option of cooking over the campfire. Check out our Campfire Recipes for some great ideas!
Extra Amenities
Need to stay connected while you are on the road? Many KOAs offer high speed internet access so you can stay in touch. Traveling in your car, without room for all of your outdoor toys? Don't sweat it - many KOAs offer bicycle or paddle boat rentals. Enjoy a round of mini-golf. Cool off in our pools, or warm up in our hot tubs. The sky is the limit when you stay at a KOA Campground. Make a reservation today, and check out the great amenities your favorite campground has for tent campers.
Great People, Great Camping
And let's not forget what makes KOA really Great - it's our Great People! Your friendly KOA Campground hosts are local experts with a wealth of knowledge about their local areas, ready to help you find fun activities and adventures nearby. If you need camping assistance, they are at your service to provide friendly and helpful advice. So pack up your family and tent, and hit the road - you'll be glad you came!