Alert
Tent camping closed. Reduced office hours: Open daily between 4pm and 7pm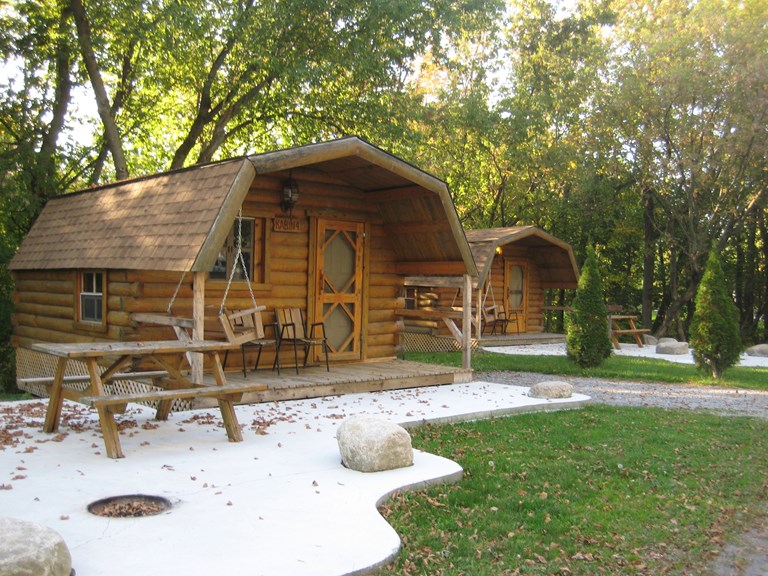 Montreal South KOA Reviews
Directions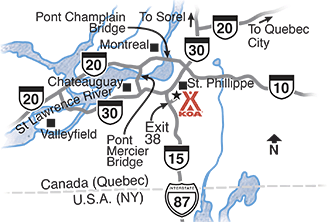 FROM HIGHWAY 15 Take EXIT 38 (St. Mathieu - St Philippe)
At the STOP turn to the LEFT (head East to St Philippe).
The Campground is one mile on the Left.
Traveling:

East Bound on Hwy 30 Take EXIT 55 to Highway 15 Sud to NEW YORK Interstate 87.

West Bound on Hwy 30 Take EXIT 58 to Highway 15 Sud to NEW YORK Interstate 87.

North Bound on Hwy 15 to Montreal Take EXIT 38

From Highway 132 Exit to Highway 15 Sud to New York Interstate 87

Get Google Directions
Sep 28, 2020
Nice clean site in a great location
Sep 28, 2020
Très beau site de camping, très propre et très conviviable.
Sep 27, 2020
Beautiful campground, friendly staff. Well maintained by a gal on a riding mower. Sites are level, spacious, trees between each site.
Sep 22, 2020
Toujours aussi beau et propre avec personnel gentil!
Sep 21, 2020
Il serait intéressant de pouvoir louer une petite chaufrette électrique pour les kabins pour les week-ends froids :) et vider les bbq/trous de feu plus souvent. Sinon tout est parfait et bien entretenu.
Sep 21, 2020
Great area. Nice and quiet!
Sep 14, 2020
Few people and very relaxing stay
Sep 13, 2020
A late summer stay. The staff were professional and helpful. The facility was very clean
Sep 12, 2020
Nice clean and Friendly location. Good location for day trips to the city
Sep 09, 2020
The grounds were beautiful and amenities great. Sadly our stay was very unpleasant due to rude campers across the way keeping us up all night carrying on. No one drives around to monitor quiet hours.
Sep 09, 2020
Very nice and polite staff! Clean amenities clean campground. Close enough to the Island that it's convenient! Would recommend to anyone. Olivier R. from Quebec City
Sep 08, 2020
Belle emplacement et bon service tranquillité et propreté impeccable.on va revenir c'est sûr.
Sep 08, 2020
Very quite place
Sep 08, 2020
Lugar limpio, tranquilo, muy adecuado para estancia en familia.
Sep 08, 2020
Très beau camping , beau terrain, tranquille, propre. À retourner !
Sep 08, 2020
Repeat customer - our go-to place for a quick getaway. I love how much care the owners put into the campground, and how, even in these trying times, they are continually improving and upgrading it.
Sep 08, 2020
Les personnes qui travaillent sont sympathiques, l'ambiance est belle , terrain très propre.
Sep 08, 2020
Really enjoyed it
Sep 07, 2020
Beautiful set up, everything in great condition. Amazing sanitary block.
Sep 07, 2020
It was just an overnight stay on a much longer trip...in at 7.30 pm an out by 9am. Not too much time to check it out, but the front desk check in was easy and friendly and the washroom and shower facilities were worthy of a first rate hotel.
Sep 05, 2020
Très calme et très propre
Sep 04, 2020
Personnel sympathique
Sep 01, 2020
very nice campground with new pool, large playground and good washroom/laundry facilities.
Aug 31, 2020
Everything was perfect. We were very impressed at how beautiful the bathrooms and pool were. I would love to go back.
Aug 31, 2020
Althought it rained on the Saturday of our stay, The site was completely flooded and Sunday it was just as bad in the sunshine due to the drainage of the site. I'm really pretty sure I won't be back to this location. The lady at the reception was super, other then that it wasn't a great experience. There should be a plan to build up sites or plan better drainage.
Aug 31, 2020
Very nice campground, clean ,friendly, will definitely return.
Aug 29, 2020
Internet is slow and no cable tv. The site is super , facilities are nice , the land is very clean etc
Aug 26, 2020
Given today's available technology, I found it quite annoying to have to log into the internet every thirty minutes. When I reserved my site I was confirmed that there was available internet, but no mention of having to reload the system constantly, which was very annoying.
Aug 25, 2020
Excellent, . J'adore et le personnels très accueillant.
Aug 25, 2020
Easy in, easy out. Gave us a 'late check-out' so the kids could swim a little longer and play a round of mini-putt. We will be back!
Aug 22, 2020
Beautiful Campground in a very quiet location, close to Montreal. Easy access to everything. Campground hosts very friendly and accommodating.
Aug 22, 2020
We enjoyed our stay and loved the Kabin.
Aug 21, 2020
Excellent location, great place. I was on site E21, went to the front desk with electrical issues (open ground), nobody came by to verify. You advertise WiFi, it should not be a trial of 1/2 hours where you have to constantly reconnect.
Aug 18, 2020
Great place! Super clean and the people very frienly
Aug 15, 2020
Personnel à la réception amical et aidant. Facilite les démarches en ces temps de pandémie.
Aug 12, 2020
Very quite. Good!
Aug 09, 2020
The grounds are well kept and the renovated pool area was a great surprise. The staff was very welcoming and helpful. A very positive experience.
Aug 08, 2020
Beautiful KOA, just one thing....free wifi needs to be improved Rainy night watching downloaded movie and had to reset every 30 minutes This needs to be fixed Then you would get 5 stars Was a great stay and will definitely come back

Montreal South KOA
Open May 1 - October 17
130 montee Monette
St Philippe de Laprairie, QC J0L 2K0 Canada
Check-In/Check-Out Times
All Sites
Check-in: 1:00 pm, Check-out: 12:00 pm
Get Google Directions

© 2020 Kampgrounds of America, Inc.