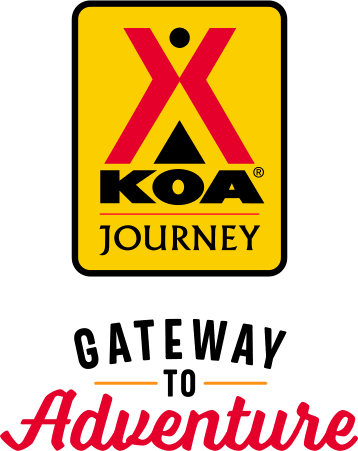 KOA Journey Campgrounds
KOA Journey campgrounds are the perfect oases after a day on the road. Whether it's along the way or a quick getaway, they've got you covered. Located near the highways and byways of North America with long Pull-thru RV Sites, they deliver convenience to the traveling camper. Pull in, ease back and take a load off.
KOA Journeys Feature:
Pull-through RV Sites with 50-amp service
Premium Tent Sites
Well lit after hours check-in service
Directions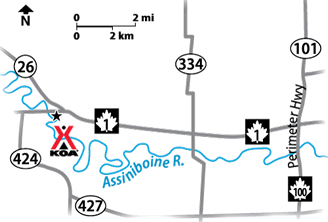 Located 13km West of Winnipeg at 588 Jones drive south off Trans Canada Highway #1, take Perimeter(city bypass) 100 or 101, exit on Trans- Canada #1 going west to Brandon. Travel 13km, follow signs.
If you are coming from the West, we are 17km East of the town of Elie on the south side of Trans-Canada highway. Please look for our signs 4km before the campground.
GPS: N49.886747, W97.50892
Get Google Directions
Jun 09, 2020
Nice campground, friendly welcome from manager, traffic noise expected due to proximity of highway, Covid-19 precautions good. Would use again.
Jun 08, 2020
Stayed here several times. Great location close to Winnipeg.
Jun 08, 2020
Stayed there during Covid in early June, literature was given to us to observe certain safety measures for Covid. Masks were highly recommended. Husband had a mask on and the gentleman at the desk was maskless, had no plexiglass barrier between he and his customers. We book online for these sites, just email us back the site number and no contact is needed. $54.60 for a site with horrible wifi
Jun 08, 2020
Very friendly
Jun 07, 2020
Les employés sont très sympathiques, le prix était très abordable, situé juste au bord de l'autoroute, plutôt vétuste.
Jun 05, 2020
Very pleased with the way we were treated, very professional
Jun 05, 2020
Very close to Winnipeg for shopping. Easy to find. Great service. Very friendly. Very clean. Lots of traffic noise but it did not bother us. .
Jun 03, 2020
Only down side was the highway noise in the back sites. It was beautiful, clean and well maintained. It was very mucb a great stop for us. We moved and and they welcomed us and were completely helpful. I will definitely tell anyone about this stop. Thank you!
May 29, 2020
We did not enjoy the very loud traffic noise.
May 19, 2020
stayed 2 nights, rained but we knew it. rained but we knew it would. clean sites. will go again
May 19, 2020
Did not tell me that water was not running and did not have a public bathroom after 9pm. Not impressed. No refund what so ever I'm not having a full service site like I had paid for
May 19, 2020
A very handy spot if visiting or seeing Winnioeg area only downside is the traffic noise,that seems common with koa s lots are on the interstates very handy but traffic noise
May 12, 2020
It was good as always very helpful owner.
Dec 01, 2019
The facilities were very nice but the location (beside the noisy trans Canada) is why this rating. Fine for a hard shell trailer, not so much for a tent trailer.
Nov 11, 2019
The place was very clean and organised and the owner was extremely helpful to our needs. I have forgotten his name but I would like to thank him for his kindness and hospitality it meant alot to my daughter and I. Keep up the great work
Oct 23, 2019
Un peu plus bruyant que la norme car c'est très proche de l'autoroute, mais quand même pas si pire. Très pratique pour un séjour à Winnipeg et les environs.
Oct 03, 2019
Water in showers was cold. Wifi is still terrible. Still not enough washer/dryers even for the few people who were camped there.
Oct 03, 2019
All amenities are there except for the poor wifi. This is essential for campers to have today.
Oct 03, 2019
Nice property. Spacious sites. Convenience store with gas and diesel. Friendly and helpful staff. Right off the Trans Canadian hwy (Hwy 1). Some traffic noise, but not over bearing. Easy on and off to the highway.
Oct 03, 2019
Our stay is always great at KOA the grounds are always clean and quiet! We will be back!
Oct 02, 2019
We have stayed a few times over the last 2 seasons. The owners are very friendly. We were fortunate that even with the large amount of rain in September, the water in our campsite drained away when the rain stopped.
Sep 27, 2019
Very well kept camp ground.
Sep 23, 2019
The hosts were fantastic. The campground itself was clean and well maintained
Sep 22, 2019
A great place to stop over in any direction, however the campground is very close (almost too close) to the highway, resulting in a high noise levels. Also at night it is tough to find as the gas station to which it is connected, turns off its lights: we missed the turn!
Sep 22, 2019
Nice service from the owners Property was clean as were the bathhouses
Sep 22, 2019
Winnipeg had just had a huge rain storm the day before we arrived which flooded much of the area and campground but staff had done great job of pumping off water and camp area was as dry as could be expected, staff did great job of placing campers on best sites they had available and were very helpful with relocation where needed..
Sep 20, 2019
Noisy from highway/needs sound barrier. Wifi was terrible and in this day and age everyone depends on it for banking/family contact/photo uploads/researching things to do in area etc etc. Laundry needs to be improved with more machines. Showers are excellent in new building. Sites are level but need more crushed rock for drainage.
Sep 20, 2019
I have stayed many times. The owners are nice. They do upgrades every year. The areas are kept neat and clean.
Sep 19, 2019
Amenities and service were minimal. People were nice in the office, but never outside checking and cleaning. Need sound barrier between campground and Highway. Would return for a night on the road, but never again for an extended stay.
Sep 19, 2019
We spent a total of 7 days there (2 on the way to our destination and 5 on our return). The owners and workers were very polite and helpful. The washrooms were kept very clean. The only negative thing was the highway was close by and you could vehicles going by during the night which you got used to.
Sep 19, 2019
Clean washroom and showers. Very friendly staff and helpful
Sep 19, 2019
Beautiful place,very clean loved it
Sep 18, 2019
We enjoyed the country atmosphere, the large sites, the number of trees protecting us from the sun and the wind. The grounds and the washrooms were kept very clean. The laundry facilities need upgrading. The wifi was dodgy but useful.
Sep 16, 2019
Area somewhat wet No intro info on waste disposal etc Bad holes in entrance area Not a campground that leaves you feeling great on tidiness general care of property
Sep 16, 2019
Our kids enjoyed the playground. The site we had was a bit close to the highway so there was some noise.
Sep 15, 2019
Helpful friendly staff who went above and beyond to ensure we had a pleasant nights stay. Explained all options. Second time we were there and we will definitely be back.
Sep 29, 2020
Amazing staff, great products, willing to help and cheerful
- Tabitha King on Google
Sep 22, 2020
We set off for our first ever RV trip across the country due to the COVID pandemic. This site was a typical KOA. It is located a little close to the highway I would say, which meant that there was traffic noise overnight and early in the morning. It was late in the seaons but we were still disappointed that the washrooms were closed.
- Robert D on Trip Advisor
Sep 21, 2020
Good place to buy gas
- Josh Wagler on Google