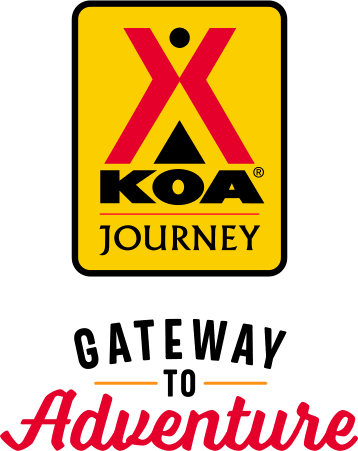 KOA Journey Campgrounds
KOA Journey campgrounds are the perfect oases after a day on the road. Whether it's along the way or a quick getaway, they've got you covered. Located near the highways and byways of North America with long Pull-thru RV Sites, they deliver convenience to the traveling camper. Pull in, ease back and take a load off.
KOA Journeys Feature:
Pull-through RV Sites with 50-amp service
Premium Tent Sites
Well lit after hours check-in service
Directions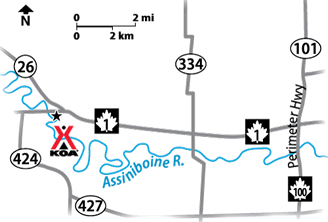 Located 13km West of Winnipeg at 588 Jones drive south off Trans Canada Highway #1, take Perimeter(city bypass) 100 or 101, exit on Trans- Canada #1 going west to Brandon. Travel 13km, follow signs.
If you are coming from the West, we are 17km East of the town of Elie on the south side of Trans-Canada highway. Please look for our signs 4km before the campground.
GPS: N49.886747, W97.50892
Get Google Directions
Aug 29, 2020
Very accommodating . All summer !!
Aug 29, 2020
I had made a mistake in my booking(made for 3 nights and needed 4). They were happy to accommodate me by letting me keep my campsite.Thanks for that!
Aug 29, 2020
Move to new location.
Aug 29, 2020
Perfect spot for our overnight stop on our journey. Lovely easy pull-through site. Great to have the camp K9 for our dog. Friendly staff.
Aug 28, 2020
This is not the standard I would expect from a KOA
Aug 26, 2020
Staff were great place was great but the noise from the highway was loud most of the night truck after truck
Aug 25, 2020
The host was nice but just not a nice campground.
Aug 25, 2020
This campground is RIGHT on the highway. The noise of the big rigs driving by all night could be an issue in non COVID times. The sites are very narrow and literally NO privacy. There is a gas station at the check in building, which is super convenient and the price was not outrageous either!!
Aug 24, 2020
The campground is very clean and friendly. The only comment I have is prices should be based on power 15 amp vs 30 amp not on lot size. The price is 20% higher than any other campground we've stayed in before. Other than that it's a beautiful place to stay.
Aug 22, 2020
Pleasant quiet park. Well maintained, friendly staff. My preferred place to stay when in Winnipeg.
Aug 22, 2020
Quick overnight just off highway . Nots of highway noise from traffic all night . Can't be controlled easy on and off . Second stay here on our travels .
Aug 20, 2020
We paid extra for a spot further from the highway but in reality they're all just as loud. A "freshly baked pizza" goes for $14 from the office, but it's just a regular frozen pizza. It's a convenient location if you're just going as a stopover, but it's not a place I would park up for fun.
Aug 20, 2020
Very friendly staff and nice tidy campground
Aug 19, 2020
Had some mechanical issues on day we were leaving. Owner very accommodating in allowing a later than normal departure.
Aug 18, 2020
Haus and his group were great to deal with!!! The challenges around Covid 19 were tough but I had no concerns about our Safety.
Aug 18, 2020
Peoe were exceptionally friendly but unbeknownst to me I would be practically sleeping on the highway. I have no idea how this constitues a camping experience.
Aug 18, 2020
Very friendly and accommodating staff..
Aug 17, 2020
Campground is very clean and staff is very helpful.
Aug 17, 2020
Lots of potholes in the gravel, but they did make an effort to fill some. Staff was pleasant.
Aug 15, 2020
The Campground is always improving everytime we visit. The woman who does a lot of the campground maintenance is like the ever ready bunny ...she keeps going and going keeping the place neat and tidy. loved our stay.
Aug 15, 2020
Very clean just fire pits to close to camper wish site a little bigger
Aug 15, 2020
We were sad that the pool had to be closed.
Aug 14, 2020
Awesome Treed Sites and Really Affordable Pull Thru Site when compared to the costly nights at the KOA in Niagara Falls Canada sites that are open and not very private at all. Staff were really nice and inviting also.
Aug 14, 2020
Only issue is the amount of highway traffic noise, it's very loud at times.
Aug 12, 2020
There may be a handi-cap washroom, but no way for a wheelchair to reach it. Lack of information for the campers on useable washrooms overnight. They say there is no fee for showering, but the boxes are there and no information on use. Unfortunately lack of proper facilities is common for disabled campers. I find it very sad that disabled veterans feel unwelcome at this KOA.
Aug 11, 2020
Friendly helpful manger
Aug 11, 2020
Quiet, very clean, a good place to stay the night.
Aug 10, 2020
Friendly service and great location. Thank you!
Aug 10, 2020
Friendly, clean, very accommodating. Would give 6 stars if we could.
Aug 10, 2020
I didn't know what to expect when arriving. I have never been to a KOA before. The check-in staff was friendly and helpful. The campground was very close to HWY 1., so there was lots of highway noise. The sites were nicely leveled, but very close to neighboring sited.
Aug 10, 2020
Lovely staff, great communication, sites are clean, play structure was great for the kids. Not very many mature trees or shrubbery for privacy, and was a bit sad the pool was closed. overall a good experience.
Aug 10, 2020
I liked my stay here was very convenient and friendly staff ready to help
Aug 10, 2020
We found the campground to be clean and quiet. The office people were friendly and helpful.. My only concern was that the people parked beside us told us that they were from southern Quebec and were traveling through Canada to BC to try to get through the border to go to their daughter's home in California, I wonder if the staff checked if they should be allowed in the campground.
Aug 09, 2020
Clean and quiet
Aug 08, 2020
Very professional and courteous staff. Extremely well maintained and cleaned.
Aug 05, 2020
Amenities are basic and the location right on the highway wasn't the best.
Aug 04, 2020
Campground was clean well taken care of. Very friendly close to Winnipeg. Full service hook up a big plus. We will stay here again
Aug 04, 2020
Close to the highway for ease of travel
Aug 04, 2020
Everyone was very helpful and friendly. It has easy access off the highway. It was great!
Sep 29, 2020
Amazing staff, great products, willing to help and cheerful
- Tabitha King on Google
Sep 22, 2020
We set off for our first ever RV trip across the country due to the COVID pandemic. This site was a typical KOA. It is located a little close to the highway I would say, which meant that there was traffic noise overnight and early in the morning. It was late in the seaons but we were still disappointed that the washrooms were closed.
- Robert D on Trip Advisor
Sep 21, 2020
Good place to buy gas
- Josh Wagler on Google