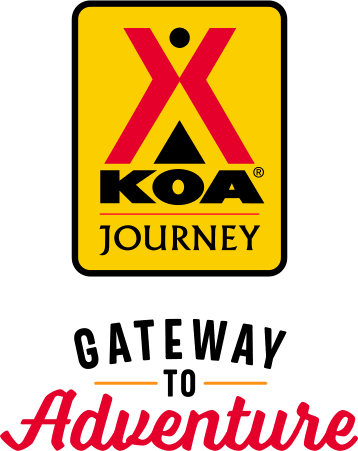 KOA Journey Campgrounds
KOA Journey campgrounds are the perfect oases after a day on the road. Whether it's along the way or a quick getaway, they've got you covered. Located near the highways and byways of North America with long Pull-thru RV Sites, they deliver convenience to the traveling camper. Pull in, ease back and take a load off.
KOA Journeys Feature:
Pull-through RV Sites with 50-amp service
Premium Tent Sites
Well lit after hours check-in service
Directions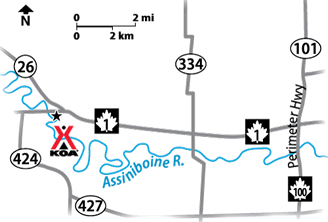 Located 13km West of Winnipeg at 588 Jones drive south off Trans Canada Highway #1, take Perimeter(city bypass) 100 or 101, exit on Trans- Canada #1 going west to Brandon. Travel 13km, follow signs.
If you are coming from the West, we are 17km East of the town of Elie on the south side of Trans-Canada highway. Please look for our signs 4km before the campground.
GPS: N49.886747, W97.50892
Get Google Directions
May 02, 2021
Helpful hosts, very clean, conveniently located next to Hwy 1. Consequently, expect some traffic noise.
Apr 27, 2021
Staff were very pleasant but because of the cold weather water pipes were frozen. However they showed me how to use the hose to fill up my tank Got a discount because of the water problem
Oct 24, 2020
I stayed for 3 months while working in Winnipeg. Great friendly staff, well kept. One minor issue with loud partying by one rude group of campers was dealt with very well. Thanks for the great stay
Oct 10, 2020
Amazing stay with friendly staff. They are always so helpful and kind to customers....love the pizza!!
Oct 07, 2020
Great stop on a road trip.
Oct 03, 2020
Always good dependable service from KOA campgrounds
Oct 02, 2020
The stay was awesome. It's was clean and very big sites. Nice place to say. The only this was the noisy hwy. the friendly staff was very helpful and kind. He went out of his way to make us feel like home Thank you
Sep 30, 2020
Friendly staff, good clean park. Owner is constantly improving the campground and is actively ensuring the campers are comfortable and their needs are met. It is a bit noisy with it being located along the Trans-Canada highway. Good location though close to all amenities.
Sep 28, 2020
The staff here are professional and were quite helpful. One problem I encountered (and which I didn't report) is that I was unable to use the electrical power. The circuit breakers outside on the post and inside my trailer kept tripping. I may have been a problem with my trailer's electrical system but when I stayed the next two nights at two other KOA campgrounds, I had no electrical problems.
Sep 28, 2020
One night stop along the Trans Canada highway ... Great stop ... Clean sites, great bathrooms and showers and friendly staff Thanks
Sep 28, 2020
It's a good place to stay when passing by via the Trans-Canada hwy but because of the hwy we found it quite noisy with all the traffic
Sep 27, 2020
Washroom was part of a gas station with gas patrons using it . Use your imagination.
Sep 25, 2020
Welcoming office staff; well equipped small store. The pizza was delicious!!
Sep 23, 2020
very well kept. checking was easy. staff friendly. I really thought the washrooms would have been open even with covid-19. otherwise stay was great
Sep 21, 2020
Nice fairly quiet campground being so close to the Trans Canada Hwy. Easy access to Winnipeg. Pleasant staff. Good facilities.
Sep 21, 2020
It was loud, but we knew it was beside a highway, so that's not a complaint. Just an observation.
Sep 15, 2020
Cell phone dead zone. The WORST wifi, basically none. Dusty roads. Very noisy from highway. Sites nice & big. Good store. Lots of re-cycling bins.
Sep 15, 2020
Great pizza. Friendly accommodating staff.
Sep 15, 2020
Stopped in for gas and decided to spend the night , very convenient. We were amazed they had pizza available at a good price maybe next time we will try it
Sep 12, 2020
Just stayed the one night traveling through, but is a very nice campground. It's a little to close to the highway, and quite noisy.
Sep 12, 2020
The campground is well set up and pleasant. The campground is approximately 200 feet from the Trans Canada Highway. This resulted in the never ending sound of vehicle and transport traffic, day and night. Very unpleasant.
Sep 12, 2020
It's hard to have more service whit that COVID-19
Sep 10, 2020
Nicely treed site. Clean we'll keeper grounds. Staff is friendly and courteous.
Sep 09, 2020
We stay here on a regular basis and appreciate the large easy to pull into spaces and the large lots. The fire pits make for nice evenings.Should you need anything the store has a good selection of products to get you through and fuel pumps to make it easy to fill up before hitting the road. Will be back next year. .
Sep 09, 2020
The owner was very nice and helpful. The campground is directly beside the Trans-Canada and the traffic noise is very loud. The campground itself is reasonably nice and well kept.
Sep 08, 2020
Amazing staff that are kind and caring. Couldn't have been better
Sep 07, 2020
Very friendly when checking in and out.
Sep 07, 2020
Too close to highway in our spot. Highway noise dominated everything. Other spots were behind a noise berm.
Sep 07, 2020
It was great but one night was really noisy because of the highway
Sep 07, 2020
nice campgrounds clean and well looked after. Staff are very friendly.
Sep 06, 2020
Very friendly and helpful. Great guys. Thanks for making it inviting.
Sep 06, 2020
We liked it there and staff was very friendly
Sep 04, 2020
Overnight stay on the way to Alberta and back to Ontario...2 nights. The campground has improved since our last visits a few years ago. New bathhouse and new landscaping..there is even a decent Kamp K9. The staff are super friendly, and the pizza they make is alright. Will stay again.
Sep 03, 2020
Easy to find ... Clean campsite and facilities ... As expected
Sep 03, 2020
The campground is really nice, up to date and clean. Unfortunately, it is right next to the highway. Don't plan on much sleep. Also right at an intersection, so trucks are downshifting, then upshifting, and many using Jake brakes. Noisy. Has gas station on site, and store is great.
Sep 03, 2020
The best place to park your RV close to Winnipeg. It's great for a short stop over but not for a vacation. There is a nice playground for little ones but the sites are too close together for comfort..if you want to sit outside you're very close to your neighbour. The roadways are travel as are the pads. It's also extremely close to the highway which is great for access but not great for slee
Sep 02, 2020
I managed campgrounds did the maintenance and front end this is a reasonably kept Campground. The sites and usage of are very adequate. The staff is friendly and accommodating. Could use some speed limit signs as some long stay people tend to drive to fast in Campground.
Sep 01, 2020
The site was level and easily accessible. The owner and staff were courteous and helpful. They promised WiFi at every site unfortunately, it was so poor it was basically non-existent. Given the range of choice campgrounds in Winnipeg,MB, we probably won't stay there again.
Aug 31, 2020
Had a great stay, the spot was perfect for our big rig
Aug 30, 2020
Campground worked for us perfectly as we were just passing through. However didn't feel like a KOA that you would go to as a destination. It was the only campground with a closed pool this summer and we visited many across country.
Aug 30, 2020
Everything was fine. The power briefly went out at one point and then after that the internet became painfully slow after working very well for the first two days of our stay. Our site was clean, the staff were friendly and polite and accommodated our wishes. The dog park is among the better ones in KOAs I have visited. The entire campground felt professionally run and appropriate for our stay.
Sep 29, 2020
Amazing staff, great products, willing to help and cheerful
- Tabitha King on Google
Sep 22, 2020
We set off for our first ever RV trip across the country due to the COVID pandemic. This site was a typical KOA. It is located a little close to the highway I would say, which meant that there was traffic noise overnight and early in the morning. It was late in the seaons but we were still disappointed that the washrooms were closed.
- Robert D on Trip Advisor
Sep 21, 2020
Good place to buy gas
- Josh Wagler on Google