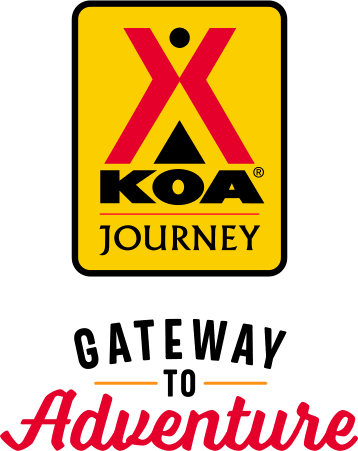 KOA Journey Campgrounds
KOA Journey campgrounds are the perfect oases after a day on the road. Whether it's along the way or a quick getaway, they've got you covered. Located near the highways and byways of North America with long Pull-thru RV Sites, they deliver convenience to the traveling camper. Pull in, ease back and take a load off.
KOA Journeys Feature:
Pull-through RV Sites with 50-amp service
Premium Tent Sites
Well lit after hours check-in service
Directions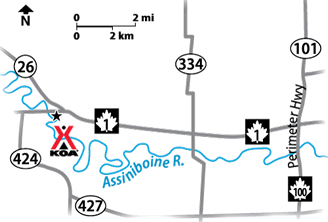 Located 13km West of Winnipeg at 588 Jones drive south off Trans Canada Highway #1, take Perimeter(city bypass) 100 or 101, exit on Trans- Canada #1 going west to Brandon. Travel 13km, follow signs.
If you are coming from the West, we are 17km East of the town of Elie on the south side of Trans-Canada highway. Please look for our signs 4km before the campground.
GPS: N49.886747, W97.50892
Get Google Directions
Jul 29, 2019
It is a very nice place to stay Just a little noisy from the highway close by
Jul 28, 2019
we were happy with our site bathrooms/showers were clean and convenient pool was nice how about a hot tub. registration was efficient. liked that there was on site recycling. grounds attendants were friendly. it was also very quiet. and liked that pet owners were separated away from non pet owners. thanks a lot � we were happy campers
Jul 27, 2019
Excellent site, easy to drive through and set up.
Jul 27, 2019
Friendly staff, close to town, clean facilities, well looked after campground. When in Winnipeg we'll stay again.
Jul 27, 2019
Staff very friendly and helpful. Road noise was distracting. Sites very narrow for larger RV and Motorhomes with slides, felt like you were on top of neighbours.
Jul 25, 2019
Stayed there while touring Winnipeg. Ok for that, but no local attractions. Clean and tidy. Noise from the highway is an issue.
Jul 25, 2019
Wonderful atmosphere. We felt very comfortable. The owners went out of their way to mske our stay awesome
Jul 24, 2019
Hi way noises are a little bit loud
Jul 24, 2019
Good for a one night stay. Pool is small and very clean, refreshing.
Jul 22, 2019
My 6 year old granddaughter had the most amazing time. She wanted to know if this was her new home. The owners and staff are amazing people, kind, friendly and helpful. All facilities are well maintained and extremely clean.
Jul 22, 2019
Stay was was great! The only recommendation I would have is to please turn up the heat in the showers. The water is too cold.
Jul 22, 2019
Great, convenient location. Very nice staff, very friendly and accommodating. We stayed an extra day, totalling five days. Truly enjoyed our stay.
Jul 22, 2019
No workable Internet To noisy with Hwy Staff didn't seem to care
Jul 21, 2019
Great place, close to the city but far enough to have that outdoor feeling. Amenities are great except for wifi, but your outdoor so who needs one except for the kids when's storming.
Jul 21, 2019
Very well maintained campground with very hospitable hosts!
Jul 21, 2019
Pros: Lovely friendly hosts, sites are big-rig friendly, nice swimming pool, clean well kept campground. Cons: Their free wifi is extremely slow, and disconnects often. They're located right by the edge of the highway, so (sadly), there's continuous traffic noise (they warned us about it when I called to reserve). We ended up staying 3 nights. It was nice, if you don't mind the noise too mu
Jul 20, 2019
Friendly, sites were well planned out, bathrooms & facilities clean. We were disappointed pool was closed for our full day there.
Jul 20, 2019
Internet off and on. Pool closed last full day of our stay. Sites are well set up Friendly staff. Very close to Trans Canada. People at the site next to us smoked cannabis morning to night
Jul 20, 2019
Enjoyed our stay. Staff very friendly. Our site was well located. We used the washroom and shower facilities. Felt they could have been cleaner and water could have been warmer!
Jul 20, 2019
Overall our stay was good. Our site was a bit small. The area for the camper was ok but not much room for sitting around the camp fire. That area was very small to start with and it had a tree that took up a good part of it. The rest of the area didn't allow for much sitting space.
Jul 19, 2019
Friendly staff. Nice clean showers and easy drive thru sites
Jul 19, 2019
Bien situé, propre. Seul le bruit de l'autoroute est le point negatif.
Jul 19, 2019
On site wifi non existent. Rainwater not pumped out in timely manner resulting in lakes through the campground after a rain storm. Sometimes a strong barnyard smell.
Jul 19, 2019
Very well organize Check-in procedure
Jul 18, 2019
Customer service top-notch. Owner and staff very friendly and helpful. Inventory in convenience store included every emergency RV and tenting item needed, snacks/drinks craved, plus a small coffee area with a microwave. Bathroom, laundry, pool facilities, grounds are very clean and in great state of maintenance. Only negative: all sites are small and cramped except the overflow area.
Jul 16, 2019
It was very pleasant and well kept . We will return
Jul 16, 2019
Very nice clean campground. Clean showers and bathrooms. Very friendly staff.
Jul 16, 2019
Our campsite was way too small. Hardly room for lawn chairs around the fire pit.
Jul 16, 2019
Awesome top notch facility!!! Only reason it doesn't get 5 stars is because my kids complained that the pool was too small�Ϝ
Jul 16, 2019
Management at Winnipeg West are amazing!
Jul 16, 2019
Incredibly nice people run the campground. Made us feel right at home. The only issue was the noise from the highway tractors on Number1 Hwy. Great location otherwise. Well kept grounds.
Jul 15, 2019
Only stayed one night, as we were traveling across Canada. Booked a spot for the return trip already.
Jul 15, 2019
KOA was a nice clean campground with all the amenities you need. Friendly staff. I would not hesitate to stay there again.
Jul 15, 2019
The staff are all awesome!! Very friendly and helpful.
Sep 29, 2020
Amazing staff, great products, willing to help and cheerful
- Tabitha King on Google
Sep 22, 2020
We set off for our first ever RV trip across the country due to the COVID pandemic. This site was a typical KOA. It is located a little close to the highway I would say, which meant that there was traffic noise overnight and early in the morning. It was late in the seaons but we were still disappointed that the washrooms were closed.
- Robert D on Trip Advisor
Sep 21, 2020
Good place to buy gas
- Josh Wagler on Google