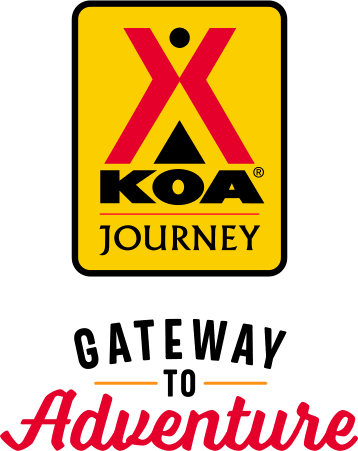 KOA Journey Campgrounds
KOA Journey campgrounds are the perfect oases after a day on the road. Whether it's along the way or a quick getaway, they've got you covered. Located near the highways and byways of North America with long Pull-thru RV Sites, they deliver convenience to the traveling camper. Pull in, ease back and take a load off.
KOA Journeys Feature:
Pull-through RV Sites with 50-amp service
Premium Tent Sites
Well lit after hours check-in service
Directions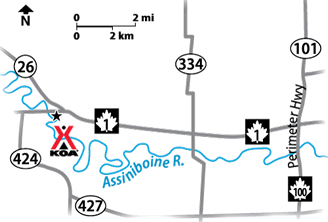 Located 13km West of Winnipeg at 588 Jones drive south off Trans Canada Highway #1, take Perimeter(city bypass) 100 or 101, exit on Trans- Canada #1 going west to Brandon. Travel 13km, follow signs.
If you are coming from the West, we are 17km East of the town of Elie on the south side of Trans-Canada highway. Please look for our signs 4km before the campground.
GPS: N49.886747, W97.50892
Get Google Directions
Sep 19, 2019
Amenities and service were minimal. People were nice in the office, but never outside checking and cleaning. Need sound barrier between campground and Highway. Would return for a night on the road, but never again for an extended stay.
Sep 19, 2019
We spent a total of 7 days there (2 on the way to our destination and 5 on our return). The owners and workers were very polite and helpful. The washrooms were kept very clean. The only negative thing was the highway was close by and you could vehicles going by during the night which you got used to.
Sep 19, 2019
Clean washroom and showers. Very friendly staff and helpful
Sep 19, 2019
Beautiful place,very clean loved it
Sep 18, 2019
We enjoyed the country atmosphere, the large sites, the number of trees protecting us from the sun and the wind. The grounds and the washrooms were kept very clean. The laundry facilities need upgrading. The wifi was dodgy but useful.
Sep 16, 2019
Area somewhat wet No intro info on waste disposal etc Bad holes in entrance area Not a campground that leaves you feeling great on tidiness general care of property
Sep 16, 2019
Our kids enjoyed the playground. The site we had was a bit close to the highway so there was some noise.
Sep 15, 2019
Helpful friendly staff who went above and beyond to ensure we had a pleasant nights stay. Explained all options. Second time we were there and we will definitely be back.
Sep 14, 2019
Not used to traffic noise. Great shower and bathroom facility. Friendly owner/ workers. Liked proximity to the city.
Sep 12, 2019
Very good camp ground. Very neat and clean. Could hear some highway noise but not obnoxious.
Sep 11, 2019
Good place to stay. Lots of room at sites. Good facilities.
Sep 11, 2019
The unisex facilities allow for little privacy. Talked other female campers that felt uncomfortable sharing such close space with men they don't know. Open unisex space doesn't allows for a safe environment for women and children. No heat in the shower/toilet facilities at +8c and never water more than barely lukewarm at all times. Otherwise would give 4/5 stars.
Sep 10, 2019
Trees need maintenance. Staff is courteous. Washrooms clean. Entry to facility is dangerous off of hwy 1.
Sep 10, 2019
Sites are great but hyway traffic noise was terrible. Nice washrooms but had to go up a hill..no holding rails and treacherous for seniors or disabled people. Needs railings. Didnt like the no separation between men and women..man standing in front of toilet I was in.
Sep 09, 2019
I prepaid for our site, and then was charged an additional $5 when we arrived. Not very organized or nice. Poor service.
Sep 09, 2019
Very quiet, clean, and service.
Sep 08, 2019
Brand new washroom facilities very clean! Good price quality! It is very close to the highway so more a campground to be close of Winnipeg for a short stay...
Sep 07, 2019
Large spots, washrooms were clean. Too much traffic noise due to the highway being adjacent to the campground.
Sep 07, 2019
camp site has potential but the gravel is sticky and seems to have tar mixed in with it and had to leave shoes outside, it also smells of manure, probably put to help grass grow. showers are good but are mixed use, which is odd.
Sep 07, 2019
Very good location just off the Trans Canada highway. Camp ground is basic without paved roads but not an issue. Very nice new washroom/shower facilities. Would definitely stay again if traveling through.
Sep 06, 2019
C'est correct
Sep 05, 2019
Has was awesome. We were booked in for 2 nights. Prior to arriving our truck broke down in Dryden. After 4 days for the dealership to open of course the long weekend we were on our way. Everything was clean and satisfactory. Missed trying the pool out. Only got to stay 1 night. Gail and Mike. Pembroke, On.
Sep 04, 2019
The highway noise was very loud. Our site flooded every rain. Never used the showers or restrooms so I can't comment over all not bad
Sep 04, 2019
Great place. 50 amp service and clean facilities. What more can ya ask for. ��
Sep 03, 2019
Staff were very personable!
Sep 03, 2019
Really close to the highway, rained each day so didn't use facilities
Sep 02, 2019
My daughter and granddaughter spent most of the summer at the campground. They had an amazing time. the owners and others are the most amazing people, very kind and accommodating. The campground and facilities are maintained in excellent order. They can't wait to get back for next summer.
Sep 02, 2019
We stayed 2 nights. Large pull through and roomy lots. Restrooms clean and great showers. Noisy due to TransCanada hwy but still a great night sleep. Even purchased some bait for fishing at the store.
Sep 02, 2019
Good stay. A little close to the Hwy but that's not unusual. They've had a lot of trouble with flooding but have fixed it up pretty good. First time I've seen a shower house and toilets both male and female all in one. Not totally comfortable with that.
Sep 01, 2019
I have got a nice big site. Unfortunately, I had highway noise and I missed decent wifi connection.
Sep 01, 2019
Very friendly, helpful people in the office. Very scary to get in or out of the park if you are travelling from the east to the west.
Aug 31, 2019
Probably the cleanest KOA I have ever stayed at. Perfect condition, spotless, looked new. The hosts were kind, helpful, proud of their camp. After being a guest at many KOA camps, I was particularly impressed by the hosts and maintenance of this one and I made a special effort to tell the hosts how much I appreciated their effort.
Aug 31, 2019
Great facility
Aug 29, 2019
The traffic noise was the worst we have experienced in 11 years of RVing. Even for a Journey it was loud.
Aug 28, 2019
very helpful staff and friendly service
Aug 27, 2019
It was lovely ! We loved our site , the very clean bathrooms and the playground and pool . We had to leave due to a sever thunderstorm warning but because of that the hosts only charged us one day at a time :)
Aug 27, 2019
Very nice and clean. Close to Winnipeg.
Aug 26, 2019
was very good stay there. we were there four nights, found the washrooms a bit too high for me as I use a cane. other than that they were very accommodating
Aug 26, 2019
Un accueil extraordinaire. Probablement le proprio nous a remis une carte de la ville, nous expliquant ce qu'il y avait à voir dans la ville et comment si rendre. De plus, super intéressant d'avoir une station service directement à l'entrée. Le camping est très bien situé, facile d'accès.
Sep 29, 2020
Amazing staff, great products, willing to help and cheerful
- Tabitha King on Google
Sep 22, 2020
We set off for our first ever RV trip across the country due to the COVID pandemic. This site was a typical KOA. It is located a little close to the highway I would say, which meant that there was traffic noise overnight and early in the morning. It was late in the seaons but we were still disappointed that the washrooms were closed.
- Robert D on Trip Advisor
Sep 21, 2020
Good place to buy gas
- Josh Wagler on Google