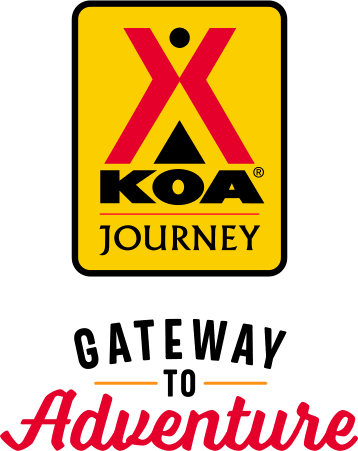 KOA Journey Campgrounds
KOA Journey campgrounds are the perfect oases after a day on the road. Whether it's along the way or a quick getaway, they've got you covered. Located near the highways and byways of North America with long Pull-thru RV Sites, they deliver convenience to the traveling camper. Pull in, ease back and take a load off.
KOA Journeys Feature:
Pull-through RV Sites with 50-amp service
Premium Tent Sites
Well lit after hours check-in service
Directions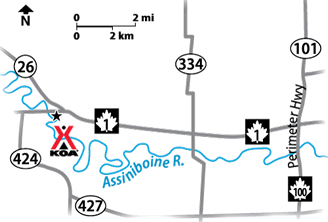 Located 13km West of Winnipeg at 588 Jones drive south off Trans Canada Highway #1, take Perimeter(city bypass) 100 or 101, exit on Trans- Canada #1 going west to Brandon. Travel 13km, follow signs.
If you are coming from the West, we are 17km East of the town of Elie on the south side of Trans-Canada highway. Please look for our signs 4km before the campground.
GPS: N49.886747, W97.50892
Get Google Directions
Aug 04, 2020
Campground was clean well taken care of. Very friendly close to Winnipeg. Full service hook up a big plus. We will stay here again
Aug 04, 2020
Close to the highway for ease of travel
Aug 04, 2020
Everyone was very helpful and friendly. It has easy access off the highway. It was great!
Aug 02, 2020
Very friendly at check in. Have stayed here before and I'll be back. �
Aug 01, 2020
Very convenient place to stop. Staff very friendly and helpful.
Aug 01, 2020
The people here are very friendly , we understand that the pool was closed due to the sars virus but it had a bunch of junk left around it & was a breeding ground for frogs & mosquito's (literally full of frogs & mosquito's) . Good clean washrooms & showers but you have to wait in the morning for the gas station to open because the showers are locked till then .
Jul 31, 2020
Very convenient for travelling. We were in for only one night and left early the next morning so we didn't explore much. We wouldn't make it our destination in part because of lack of dust control on the campground roads. Fortunately we were upwind of the majority of it. There is also some traffic noise but that is common along the TCA.
Jul 30, 2020
Nice campground. Conveniently attached to a gas station. VERY noisy beside highway, especially at night.
Jul 30, 2020
Wonderful Customer Service. Camp ground was very nice, clean and had all the services we needed!
Jul 30, 2020
person who refiatered us, was rude. Amit was his name. I have stayed at many KOA facilities through the years and by far this was our worst experience. Bought milk too from the store and it was expired.
Jul 30, 2020
Really great staff. Super family friendly
Jul 28, 2020
Great location. Quiet except for highway traffic. Clean.
Jul 28, 2020
In this day and age we need wifi. It's not a huge CG, so why not? And cell service is so weak. As non provincial cell holders we could get mediocre service on the highway. Then drive twenty yards into the grounds and be down to virtually no service . Other things were ok. Nothing special. Not enough pride in ownership in subtle ways in our opinion. Mediocre.
Jul 27, 2020
I feel the Winnipeg koa is very limited for the price charged. I have experience staying in koa campgrpunds and I feel this one was bare bones. I understand a lot was closed due to covid however the pool is small and old and needs repair and the shower facilities also . It is a ok spot to stop for a passing through visit but o wouldn't recommend for a holiday.
Jul 26, 2020
The staff are fantastic! We always have great service and friendly experience. The mosquitoes were lovely, as usual hahaha. We truly enjoy meeting lots of people from other places. We always get Nice size spots that allow friends and family to come visit, which is why we come to Winnipeg....we truly appreciate that consideration.
Jul 23, 2020
Great staff....very understanding and accommodating. Bugs were ruthless.
Jul 21, 2020
Very clean, sites level, all gravel with grass , staff excellent. Unit 29' class C Low, near river so lots of mosquitos. Marginally hear traffic. Easy in and out. Best for 1-2 nights. Or great location if visiting in Winnipeg
Jul 20, 2020
Great people. Clean and worked good for us.
Jul 19, 2020
Very friendly staff. Hook up on site was awesome. But wasn't visually appealing. Dog zone was cute but sad as they have toddler equipment (big plastic stuff), didn't see much else to do. Lot was just a gravel lane without much shade, and the highway is directly beside campground so quite noisy.
Jul 17, 2020
Staff was very friendly and kind! The location is directly beside the highway and the facilities were more like a truck stop than a camp ground. (Assuming the facilities would be better if fully open due to Covid closures etc but still). Paid showers, water fill up in the gas station kitchen and all amenities located at the back of the gas station on site.
Jul 15, 2020
Great location for a stop over. Everything was nice and clean. It is just by the highway which makes it easy to get to but a little noisy in the evening.
Jul 14, 2020
Welcoming host and grounds in great shape
Jul 14, 2020
The staff are great
Jul 13, 2020
Site was good, would be nice to get more separation between sites. A few more small trees.
Jul 07, 2020
Ce fut notre premier camping avec notre roulotte neuve, expérience très agréable, site tranquille et propre. Avons pris un 2 services mais la prochaine fois sera les 3 services. Nous allons y retourner c'est certain. Prévoyons allez à Vancouver cet automne, allons privilégier les KOA.
Jul 06, 2020
Nice clean campground.
Jul 06, 2020
We really enjoyed our stay, it's close to Winnipeg for shopping etc.
Jul 05, 2020
Very pleasant and helpful. Sites are very large.
Jul 05, 2020
Was not impressed with the camp site at all. Pretty much was just a gravel lot with a water hose and electric beside a busy 4 lane highway.
Jul 05, 2020
Checked in effortlessly as usual, we have stayed here many times while travelling. We always know we will get a great site, friendly staff and a good sleep!
Jul 04, 2020
Very clean and well maintained sites.
Jul 03, 2020
Lieu très propre. Proprietaires très gentils et affables. Bonne securite, en tout temps. Localisstion facile depuis Winnipeg, près de la TransCanadienne. Juste un peu bruillant à cause de la toute mais......c'est ainsi. 3 très bonnes nuits. MERCI.
Jun 29, 2020
To close to highway noise level high need a fence to cut down on noise
Jun 26, 2020
So noisy it was impossible to rest or sleep. When I booked the showers were free. When I got there they were coin operated. The washroom and shower closest to my site was closed. Rode three days to get there on a motorcycle and asked for a refund because it was impossible to get any sleep. Was told he would contact KOA head office and try. It would be dangerous to go back on the road no sleep.
Jun 23, 2020
Always friendly, helpful and efficient owner and staff. We always enjoy our stay there.
Jun 22, 2020
Check-in was amazing! Simple, courteous, informative! The campsite, really nice, clean and spacious! I also liked the fact the campground is connected to a gas station and store. My issue was with the highway noise. I did not sleep at all due to the semi-truck traffic. I'm not in an RV. My moto-camping friends would not like it at all. If I had an RV it wouldn't be a problem.
Jun 22, 2020
It wasnt bad, but it was hard to say if it would have been better if it not for covid. The pool was closed, no fault of theirs and some of the rv sites on the water looked like they needed maintenance. I understand if they had less time and $ due to covid to do improvements. Our site was great though. Perfect. Everything functioned as it should and the playground behind our site was wonderful.
Sep 29, 2020
Amazing staff, great products, willing to help and cheerful
- Tabitha King on Google
Sep 22, 2020
We set off for our first ever RV trip across the country due to the COVID pandemic. This site was a typical KOA. It is located a little close to the highway I would say, which meant that there was traffic noise overnight and early in the morning. It was late in the seaons but we were still disappointed that the washrooms were closed.
- Robert D on Trip Advisor
Sep 21, 2020
Good place to buy gas
- Josh Wagler on Google