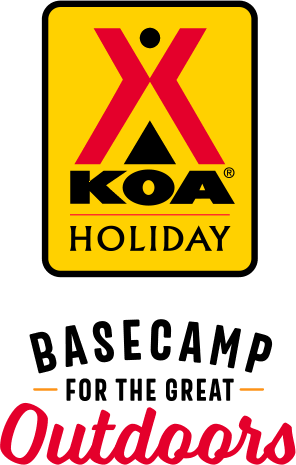 KOA Holiday Campgrounds
Whether you're exploring the local area or hanging out at the campground, KOA Holidays are an ideal place to relax and play. There's plenty to do, with amenities and services to make your stay memorable. Plus, you'll enjoy the outdoor experience with upgraded RV Sites with KOA Patio® and Deluxe Cabins with full baths for camping in comfort. Bring your family, bring your friends, or bring the whole group – there's plenty of ways to stay and explore.
KOA Holidays Feature:
RV Sites with a KOA Patio®
Deluxe Cabins with full baths
Premium Tent Sites
Group meeting facilities
Directions
From Richmond I-64E to Lightfoot Exit 234 turn left.
From I-64W to Exit 234B turn right, go 2 miles.
GPS: N37.360625, W76.713826
If you are unsure which section of the campground you have reserved, stop at the first entrance.
Extended Stay guests please check-in at the first entrance.
Guests arriving after office hours should check the Camp Store of the section they have reserved for directions and site information. Any guest arriving after office hours will be left instructions so they may settle in at their site. Registration will be handled the next morning after the office opens. See each Camp Store for open/close times during your stay. Check out our campground map!
Get Google Directions
Oct 18, 2021
Staff was friendly and helpful throughout our weekend stay. Although COVID was still a reality, they had several activities planned during our visit. We will stay again when in the Williamsburg area.
Oct 18, 2021
Very nice and helpful staff. Always a great experience.
Oct 18, 2021
This is one of my favorite campgrounds. It is always so clean and the staff goes above and beyond to make your stay pleasant. I would highly recommend and we will definitely be back!
Oct 18, 2021
Very nice place. Just very dark at night. Needs some additional lights for walking after dark for safety
Oct 18, 2021
Great stay. Facilities were clean and well kept. Site was good. Also loved the closeness to the state park where we could fish and the ability to buy daily tickets at a discount in the KOA.
Oct 18, 2021
Unsatisfactory is all I can say. I have stayed there 3 times previously and this one will be our last. We reserved a pull thru site annotating a 40' motorhome with a trailer in the reservation. We were put in a pull thru site that barely fit our motorhome in the site. I had a very hard time getting out of the campground due to people parking outside of their sites. NOT AT ALL WORTH THE PRICE!!!!
Oct 18, 2021
Y'all have everything in one place. We love the campgrounds
Oct 18, 2021
We stayed at d70, which was secluded from the rest if the campground which we enjoyed! Great campground and will definitely be back.
Oct 18, 2021
Always love coming to Williamsburg KOA.
Oct 18, 2021
The stay was fine. The only frustrating part was the confusion on day two that caused someone from the office to enter our cabin, without knocking, to check and see if we were still there. We paid for the whole weekend and had someone walk in our cabin around 2pm. My wife and I were sleeping and she let the dog out, stood in the doorway having a conversation with us leaving the door open.
Oct 18, 2021
Great stay, lots of amenities at the site for the family. The kids loved the gravity rail, and the trick-or-treating. Communication and assistance from staff was top notch.
Oct 18, 2021
Everyone who worked there was great. Very organized with a lot of fun things to do with my grandkids.Tom was very helpful.
Oct 18, 2021
This KOA was very clean, lots of things for kids and the staff were all very friendly. Great place to stay
Oct 18, 2021
Wonderful, family-friendly campground. The folks that run it go above and beyond to make sure it's a great experience for everyone, especially the kids.
Oct 18, 2021
Very friendly staff. Clean area and restrooms.
Oct 17, 2021
Very nice, well maintained campground. Staff is so very friendly and helpful. Bathrooms are very nice, clean and always stocked. Kids loved the playground and al the activities geared towards them. Very close to plenty of attractions. Check in was great and staff takes you right to your site and assists in getting you parked and set up if you want. Would definitely recommend this campground!
Oct 17, 2021
This was our first experience with our new trailer and we were very pleased with Williamsburg KOA. The staff were friendly and great to deal with. We would return there again.
Oct 17, 2021
Muddy when raining, suggest putting down more gravel
Oct 16, 2021
Wonderful !!!
Oct 15, 2021
Beautiful Park
Oct 15, 2021
So much to do in area that we added one day. KOA did not disappoint
Oct 15, 2021
Dennis was very friendly to our family. We would definitely come back again! Thank you so much for a great visit.
Oct 14, 2021
Loved it here!! Beautiful campground!
Oct 14, 2021
To many little dogs with no supervision. Yelp all day. Nobody seems to care about the speed limit an nobody from your office seems to care. One more thing your store is useless. If a camper runs out of anything you can't get it there. It's a shame you have to drive ten minutes to a store for a bag of chips
Oct 13, 2021
Absolutely amazing weekend. The deluxe cabin was perfect for my family. So nice and clean. In a very quiet area of the campground but close to all amenities. Will definitely be back!
Oct 13, 2021
The campground does not give you an accurate cost when booking. We were charged per kid even though there were only 2 adults and 2 kids, we were also charged a pick your site fee. Neither one of those were disclosed until we checked in. My girls were constantly harassed about using the using the jumping pillow and playground without a parent and they are 12 and 14. Terrible for Halloween time!
Oct 12, 2021
We stay at the Williamsburg KOA every year and absolutely love it. It's clean and well maintained. The employees are always courteous. It's our favorite place to camp and the location is central to EVERYTHING in the area, from attractions and restaurants, to shopping and groceries!
Oct 12, 2021
Fantastic weekend.... clean bathrooms and friendly staff.
Oct 12, 2021
It rained over the weekend and we were disappointed there were no rainy day activities. The jumping pillow was closed even after it was done raining. The Rec center could have had more activities. An arcade or a fooseball table would be nice. Bingo, or a craft? Nothing on Saturday when it was raining. We could've had the same experience at at state park for 1/3 of the cost.
Oct 12, 2021
Great family location with welcoming, helpful and pleasant staff. We stayed 3 nights over a busy Columbus Day weekend and found the campground to be spacious and tranquil for how busy it was. Great value for visiting nearby Busch Gatdens and other Williamsburg area attractions. Can't wait to return.
Oct 12, 2021
Very relaxing. Area is well maintained and bathrooms are always clean. One of our favorite places to camp.
Oct 12, 2021
Very clean, lots to do for Halloween! This was our first KOA visit and we were impressed!
Oct 12, 2021
deluxe cabin exceeded expectations - clean and had everything we needed. would have like evening movies and would be nice to have a small snackbar or grille. but otherwise quite happy and hope to return someday.
Oct 12, 2021
Lousy WIFI. It's not the first time the WIFI has been a big disappointment. You couldn't even receive WIFI in their game building. Premium site fee and no WiFi as advertised is UNSAT.
Oct 11, 2021
Not many activities for the kids. Almost no one was trick or treating. The staff kept getting on my kids (all over 12 yo) about being at the park with no parents.
Oct 11, 2021
It another great stay . It was much less activities though .. movie would be great . And some new ideas . We like that compound but we think next year we will go to cherry stone .
Oct 11, 2021
The campground is really great. We really enjoyed our stay.
Oct 11, 2021
Very clean. We were only there as a place to spend the night. I will say that it did not feel overly child friendly. My oldest is a teenager. and more than capable of being unsupervised at times. It bothered me that he was confronted about being without an adult, asked to give a site number, etc. it made him and us uncomfortable. I noticed something similar happening to other families.
Oct 11, 2021
The site was a bit small but over all a great stay and nice park
Oct 11, 2021
Clean facilities, great staff!
Oct 11, 2021
Our second stay here and we expect many more!!
Oct 11, 2021
Always a great time at Williamsburg KOA! Had our 30 amp breaker go bad when we were hooking up and Rob was on the job getting it swapped out. This is our go to spot for a weekend here and there and it never disappoints. Hands down the best KOA staff out there, always friendly and always willing to lend a hand when needed.
Oct 12, 2021
Great RV site, it is beautifully maintained and the sites are shaded and very clean. There is a fun little eagle hike. The owner take pride in what they offer.
- Marijke Wilhelmus Rob Landman on Google
Oct 07, 2021
Best first time Rving ever! They helped use setup super nice facilities and the staff was amazing!
- Salvador Negron on Google
Oct 17, 2021
We only got to stay one night.Very nice gated campground .Sites are a little close together but that seems the norm anymore . Open area not very woodsy bathrooms close by .one thing did find odd I've never seen before is how bathrooms are set up .They have the men's room on the park side and the women have to walk around to the other side where it's darker and closer to a woodsy feel.But bathrooms are well lighted just kind of freaky in middle of night .The staff our very helpful.if have food delivered have to go to gate and pick it up.
- windy stringer on Google