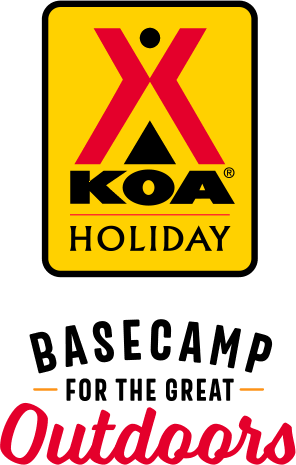 KOA Holiday Campgrounds
Whether you're exploring the local area or hanging out at the campground, KOA Holidays are an ideal place to relax and play. There's plenty to do, with amenities and services to make your stay memorable. Plus, you'll enjoy the outdoor experience with upgraded RV Sites with KOA Patio® and Deluxe Cabins with full baths for camping in comfort. Bring your family, bring your friends, or bring the whole group – there's plenty of ways to stay and explore.
KOA Holidays Feature:
RV Sites with a KOA Patio®
Deluxe Cabins with full baths
Premium Tent Sites
Group meeting facilities
Jul 13, 2020
The campground was immaculate and customer service was wonderful. My only complaint would be that the campsites are too close together.
Jul 13, 2020
I think we go the worst site in the whole place, #2. We paid extra for a "premium" patio site and had our neighbors water and sewer lines about 2 feet from the front door of our camper. Also, our sewer hole was uphill, so we constantly had to mess with our sewer pipe to get it to drain. Also, only 1 spot to bring your dogs to go potty which was far from sites, so hard to actually get them there.
Jul 13, 2020
So clean and the stay was so nice to work with. Thank you
Jul 13, 2020
Loved that the activities and bikes were free and that you made a delicious hot breakfast for free every morning! Loved the indoor/outdoor pool and friendly staff!
Jul 13, 2020
great place, polite staff and lots for the kids to do.
Jul 13, 2020
Unpleasant staff, filthy bathrooms, over packed with people, vehicles and dogs ! Run down campsite on top of another family. Been to the Missoula campground and I was expecting the same high quality at the whitefish/kalispell campground it was not even close I would not return there under any circumstance.
Jul 13, 2020
Great KOA, great crew running the place. If you have kids this is the place too stay.
Jul 13, 2020
Great place and awesome breakfast!!
Jul 12, 2020
One of our better KOA stays. Staff was great. Sites are deep in Mother Nature but are small. We lucked out with site #1. Many of the other sites would have been disappointingly small. All in all a great stay.
Jul 11, 2020
Absolutely loved our campsite...was very nice! Great location, great hosts and services, and extremely friendly staff. The location nestled in the trees was so calming and perfect, and our campsite could not have been better...one of the best...we will be back!!
Jul 11, 2020
I did not give higher ratings because our site was so tight. Sewer hose from neighbors was right outside our door. Too dangerous to have a fire because our 3&5 yr olds had no room to walk around the pit safely. They did move us to a better spot after 2 days. The playground, pool, petting zoo and bikes were great...lots to do and we had fun. Bathrooms were clean, staff was friendly.
Jul 10, 2020
Improve wifi.helps in use of phones.
Jul 10, 2020
Alittle over priced and sore number 34 is impossible to hookup sewer and electricity on a 38' 5th wheel.
Jul 10, 2020
Great campsite! Friendly staff. So many things for the kids to do. Great trip!
Jul 10, 2020
We had to book two sites at the last minute. The team worked their magic and got us into an amazing site. Couldn't be happier.
Jul 09, 2020
Not friendly for a big rig. The site they put a 40 foot class A was up hill, the space was tight to turn into. The play toys and pools are nice.
Jul 08, 2020
Reserved a 30 amp site only to arrive and be assigned at 20 amp site. Employees seemed surprised there was no 30amp hookup on that site... hard to believe we were the first people to hookup a 30amp camper in that site and have a problem. Disappointing for a KOA.
Jul 07, 2020
Great interaction with the friendly staff and lots of activities for the kids to do. Clean facilities throughout the property.
Jul 07, 2020
Poor wifi and zero cell coverage. if You need to stay connected this is not your place.
Jul 06, 2020
Beautiful campground. Employees were great. Facilities were well maintained.
Jul 06, 2020
First time I have ever had a unpleasant staff member at the desk. We are KOA members. Rates are way too high for what the sites are. Will never come back there again.
Jul 06, 2020
Would have been a five but was very disappointed in managements non-control of fireworks on 4th of July well past (up to 3 hours) stated quiet hours. Our blind, 13 yr old dog was a quivering mess and due to no sleep got a late start to Glacier NP on one of the busiest days of year.
Jul 06, 2020
The campground was great. Our kids had a blast and had so much to do. We also loved the free breakfast every morning and it was not a little breakfast. Only bad this was that Verizon coverage was non existent due to being down in a bowl and the WiFi was hit or miss, 90% miss.
Jul 06, 2020
We loved our site which was very spacious. The highlight was the ability to launch fireworks on the grounds on 4th of July. My son was so happy. What a display.
Jul 06, 2020
Staff were extremely helpful and friendly. A joy to deal with. Our site 37 was nice but it was terribly downhill sideways so it was very hard to get level. We used every leveling block we had onboard and then had an over two foot drop from our bottom step when exiting our fifth wheel. That said, the laundry facilities were good and the hot breakfast was a wonderful treat. Would return.
Jul 04, 2020
So much fun! Every single staff member was amazing. Very nice people! Brett, Pam.., everyone I can't remember all the names...but they were so nice and the grounds looked so pretty! Breakfast was awesome and those serving and cooking were so nice.
Jul 04, 2020
seems really crowded , some areas difficult to get by, parked cars etc. Entrance from highway needs more pavement on turn in
Jul 02, 2020
The staff @ this campground were awesome! We spent over 2 weeks here and they were friendly, helpful and always smiling. They deserve super kudos. If we were to ever go to work @ a KOA this would be our pick. They all work as a team and the cleanliness of all the facilities was exceptional.The grounds were beautifully kept also. Thank you Whitefish KOA, we will miss you! Paul and Sherry Hammalian
Jul 02, 2020
Had a nice time besides the rain...back in could have been flatter! All in all everyone was friendly, loved all the kids having fun, as well as the adults! Need to fix shower head in bathroom B very flow!
Jul 01, 2020
Convenient location!
Jun 30, 2020
We had a great time. Our grandkids LOVED the animals, and our stay was very relaxed. Breakfast every day was a nice treat, too. Sites are pretty tight, but in a great setting. Staff is super friendly and accomodating.
Jun 30, 2020
THIS KOA IS AMAZING! SHADY, OLDER TREES PROVIDED PRIVACY AT OUR CAMPSITE. THE KOA TEAM COULD NOT HAVE BEEN NICER OR MORE HELPFUL. VERY CLEAN, QUIET AND OH, YES, THE HORSES WERE FRIENDLY AS WELL!
Jun 29, 2020
We did a self check in and had to find our assigned campsites by ourselves. It was a little confusing. The office hours were very minimal. We barely saw any staff until the last day. The toilet was plugged on one of the days. We were happy to support the local soccer team by the purchase of fire wood. We understand the COVID situation.
Jun 29, 2020
Nice central location to Glacier, while being close to Kalispell and Whitefish! The camp was very nice, hot breakfast also. The WiFi could use an update, though.
Jun 29, 2020
The best part are the kids bikes for free!! Very friendly staff!
Jun 28, 2020
Great location and tons of things for the kids to do. The only included breakfast was an unexpected treat. This KOA has great access to Whitefish and its only a short drive to West Glacier. We will be back!
Jun 28, 2020
Petting zoo horses are badly neglected. Black and white horse has hooves curved forward.
Jun 27, 2020
I feel that no one reads the profile on the KOA app. I have five little children and the space provided (24), was inadequate for my size of family and trailer. After getting in the best location for my trailer, two trees blocked my awning from extending. 90% of video games did not work or stole coins not returning them. Corn hole game bags ripped. The bikes were a plus for my kids.
Jun 27, 2020
You have a great campground! We loved the site! The animals wandering around were a real treat. The only negative was the complete lack of connectivity! We were tree blocked from satellite, the WIFI was filled, our Verizon phones were one bar for phone and non existent for data and our AT&T cellular data had one bar as well. Please put in either stronger WIFI or cable TV!
Jun 27, 2020
Beautiful campground, great location, well maintained and attentive staff. Everything was really great!
Jun 23, 2020
A bit pricey but the campground was well kept and the breakfast was a plus. Coffee was really good!
Jun 17, 2020
We were traveling together, but had not asked to be put together. Walt noticed our dilemma as we tried to jam ourselves into a smaller site and moved us next to each other. He is a definite asset to KOA.
Oct 16, 2020
My family had a great time here!
- Randy Christensen on Google
Sep 24, 2020
A beautiful campground, quiet and fully treed
- Kevin Mack on Google
Sep 19, 2020
LOVED it. Had an excellent time. Was like going to a summer camp.
- Madison Fulcher on Google