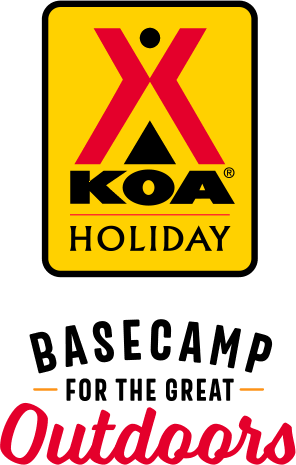 KOA Holiday Campgrounds
Whether you're exploring the local area or hanging out at the campground, KOA Holidays are an ideal place to relax and play. There's plenty to do, with amenities and services to make your stay memorable. Plus, you'll enjoy the outdoor experience with upgraded RV Sites with KOA Patio® and Deluxe Cabins with full baths for camping in comfort. Bring your family, bring your friends, or bring the whole group – there's plenty of ways to stay and explore.
KOA Holidays Feature:
RV Sites with a KOA Patio®
Deluxe Cabins with full baths
Premium Tent Sites
Group meeting facilities
Jul 31, 2020
It was the first time to the area, and we found it to be an ideal location to visit the charming town of Whitefish and Glacier National Park. The free breakfast and the other free amenities provided made the stay very pleasant. We would stay there again.
Jul 30, 2020
Great location and amenities. Friendly staff and large sites, most having decks. Daily breakfast was also a nice touch. Will definitely be back.
Jul 30, 2020
Other than the person who checked us in and the lady who helped us get ice (theresa or tammy), it was a great stay. This is our third time here and we would come back. Disappointed with the lack of customer service skills these two ladies had because generally everyone has been great, but it didn't ruin our day or our stay.
Jul 28, 2020
This is a family KOA which means kids on bikes and bikes left everywhere! Spots could use some love and are VERY close together, store is nice with all the essentials, owners are very nice, wifi is spotty at best. Location is good for sight seeing.
Jul 28, 2020
Loved the mini horses. Loved the donkey and cow named affectionately T Bone. In the woods with very friendly staff.
Jul 28, 2020
This campground has not been updated in probably 30 years - definitely needs some TLC!
Jul 27, 2020
Everything was good, very busy lots of changes in reservation spots, confusing for all!! Plus had a spot an my steps were at the toilet drain not good smells an just weird!! No one could move us, busy times because everything is about Covid-19!!! We just felt it was not a good spot for a week, over priced, waiting for bathrooms showers etc I would not want this job!! Lots of chaos in reservation!!
Jul 27, 2020
Barbara and David and Collin were extremely helpful to us throughout our 1 month stay! They were the best and helped us above and beyond what was expected! Enjoyed the surroundings and the campground- just sone really tight spots/sites to get into and out of with a 40 foot RV.
Jul 27, 2020
We were packed in like sardines - the sites are way too small and close to each other. I called for my reservation to make sure you could handle a big rig with a tow vehicle. I would have rather been told you couldn't accommodate us and move on than be stuck with the tiny site. I also think it's irresponsible to allow fires when campsites are less than 6 feet from each other. Never again!
Jul 27, 2020
Nice facilities, nice people. It was our first RV trip, so we were not sure what to expect. We found that KOAs are very nice!
Jul 27, 2020
Campground had so much to do, it's in the most beautiful area and is perfectly located between Whitefish & Kalispell. We loved everything about it!
Jul 25, 2020
We was lucky to get a spot with this busy year without reservations. Stayed one night, loved the super tall pine trees all throughout the park. Kid friendly with bikes and trikes for all to use.
Jul 24, 2020
The camp site was nice and clean.
Jul 24, 2020
Poor WIFI. Free breakfast was a nice benefit!
Jul 24, 2020
Friendly and helpful staff. We enjoyed watching the kids having so much fun.
Jul 24, 2020
Loved having a hot breakfast and coffee to start my day! Clean bathrooms, plus on having a hair dryer. Watch out for mosquitos - bring coils and spray.
Jul 24, 2020
It just seemed run down and gross. Too crowded. Depressing.
Jul 23, 2020
Our time there was great. We don't have little kids but the little bikes for the little kids were a huge hit!!!
Jul 23, 2020
Overall nice. Enjoyed breakfast. Loved the game room and pool. Improvements needed... flags on kids bikes, closer k9 park, and need to re-measure sites. Told we had a 65' spot, but barely 40'. However they made accomodations for our car trailer.
Jul 22, 2020
There for 6 nights. Visiting family so spent little time at the CG. Had a great full service site. Lots of stuff for kids to do. My only comment would be the TV reception. Not everyone that stays here is spending everyday in the Park or rafting or hiking etc. I've done all that and it's definitely great. In the evening It would be nice to watch descent tv with the daily rate that is charged.
Jul 21, 2020
Came up from Missoula just to get out of town and visit Whitefish. Just a relaxing weekend.
Jul 21, 2020
Nice park. Lots of children playing around the park. The sites are tight for rv's greater than 30ft. Trees and bushes should be trimmed to allow the rvs more space in the tight roads within the campground. Awesome free breakfast served every morning. Employees are very nice and polite. The wifi kinda sucks, but they will tell you that upfront, due to the parks location. Very family oriented.
Jul 21, 2020
Staff was great. The driveway leading to the campground was tight for a 38' coach. The sites were really close together and were hard to navigate in a coach. Quiet time seemed more of a suggestion than a rule as one family was playing two guitars and singing for about a half hour past QT. I watched a fifth-wheel have trouble leaving his site and the grounds also.
Jul 21, 2020
Two nights at a "pull through" site with a wood deck. Very nice.
Jul 20, 2020
Nice camp site and friendly staff...thank you all ...
Jul 20, 2020
The spot that we were put into is not for a 45' RV. Space 83. Never again.
Jul 19, 2020
It was tough getting into our pull thru site because of the narrowness of the sites and roads. Overall Everything else was fine however was disappointed with cleanliness of the bathroom near office on morning we left. It was early so I assume someone would be cleaning it soon. I hope so anyway because I expect the facilities to be clean based on the cost of the sites.
Jul 19, 2020
Great hosts, great park. Glad to see getting serious about masks at the end of our stay. One word of caution to both guests and management... the rows and clearances are very tight for larger rigs. Saw a guy nearly destroy his coach as he made an error on a short, sharp turn (he hit something and fractured fiberglass on rear and side). We were extra careful getting our 40' 5er on and out.
Jul 18, 2020
The campground was fine but not the camping experience we were hoping for. We paid for a deluxe site and we got a site that was in the full sun with no trees surrounding it at all. There was no privacy and no where for us to hang up a hammock and/or clothes line. Our fire ring was missing the grate for cooking. The bathrooms/showers were disgusting. Nice activities but no covid precautions.
Jul 18, 2020
Good campground for kids. Like most KOAs the sites were very close. This KOA advertised WIFI, when their WIFI did not work very well.
Jul 18, 2020
Absolutely one of the most family-friendly KOA campgrounds that we have visited. If you have small children, this is the place to stay. Not only is it clean and well-maintained but they offer a free hot breakfast in the summer at Buffalo Bob's. The breakfast casserole was outstanding! This is definitely a one-of-a-kind KOA campground! Thanks for your hospitality!
Jul 18, 2020
This park had everything that you needed. Staff was very courteous and accommodating in professional way. Kids were able to have fun with all that was available. Our tow was down for 2 weeks and manager went beyond to help.
Jul 17, 2020
We were assigned a nice back in full hookup site with friends next to us.
Jul 17, 2020
Most kid friendly campground I've ever visited within CONUS! So much to do for the kids, and all free. Plus a beautiful, shaded spot, with FHU for us parents. Would definitely stay again if in the area. Awesome job KOA Whitefish!
Jul 17, 2020
No WiFi and no internet service. Love that the bikes are free and the family friendly TV atmosphere!
Jul 17, 2020
The only reason I didn't rate a 10 was because it's too far away from the town. I wish there was a shuttle into the town of whitefish.
Jul 16, 2020
4.5 rating Staff was great, high occupancy and staff was calm and fit in every9ne's space needs. Cleaning crew kept restrooms clean. Seemed like a really good family park as there is a lot for kids to early teens to do. Some road noise and extra mosquitoes (small trees) on north south corridor of spaces, top right on the park map (ie #36) was very quiet. Easy access to Glacier Park.
Jul 15, 2020
Two ladies at check in not friendly and seemed confused. Only one trash at entrance, overpriced for sites, not big rig friendly, no escort to site, grounds are like a maze and hard to navigate. Saw three people pull in and had trouble parking due to site size. No recognition for being VIP VKR member. WiFi non existent and no cable for high cost of site. Not coming back and do not recommend
Jul 15, 2020
Great location for the area. The staff was very helpful and friendly. Very clean and the perfect place to stay with kids. Finally the free breakfast was a nice treat too. Would definitely be returning.
Jul 15, 2020
Bathrooms were not very clean and in much need of updating fixtures, flooring, etc. Had an overpriced tiny RV lot with very little grass, no grate over fire pit, huge hole next to pit that could lead to a twisted ankle. An insane amount of spiders and ants. Ajoining campers shared same opinion that this was a subpar KOA. Disappointed. Night I spent at Missoula was far better and reasonably priced
Jul 14, 2020
Way too crammed together. Can barely get campers in and out. No meat at breakfast. Staff is friendly.
Jul 14, 2020
Great place for kids!
Oct 16, 2020
My family had a great time here!
- Randy Christensen on Google
Sep 24, 2020
A beautiful campground, quiet and fully treed
- Kevin Mack on Google
Sep 19, 2020
LOVED it. Had an excellent time. Was like going to a summer camp.
- Madison Fulcher on Google