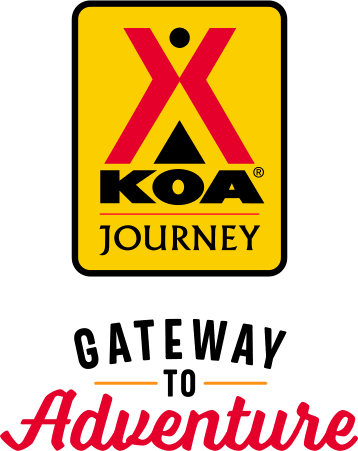 KOA Journey Campgrounds
KOA Journey campgrounds are the perfect oases after a day on the road. Whether it's along the way or a quick getaway, they've got you covered. Located near the highways and byways of North America with long Pull-thru RV Sites, they deliver convenience to the traveling camper. Pull in, ease back and take a load off.
KOA Journeys Feature:
Pull-through RV Sites with 50-amp service
Premium Tent Sites
Well lit after hours check-in service
Directions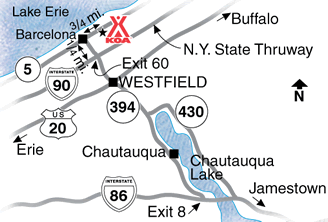 60 miles west of Buffalo, NY, 30 miles east of Erie, PA.
Exit 60 from I-90: Follow signs.
On Rt 5: Go 1 mile east of Rt 394 or 16 miles west of Dunkirk.
From I-86 Exit 8: Go north on Rt 394 to Rt 5, turn right, 1 mile to KOA.
GPS: N42.344141, W79.579864
Get Google Directions
Aug 26, 2020
Pleasant staff, easy to book. Sites very close together and we were right by the NY State Thruway and there was lot of traffic noise. (We were warned about this when we booked, btw. But still a major detractor). Also surprised by the expensive campsite we had on a 3 week trip and our site was only water and electric. Nice park across the street to watch the sunset on Lake Erie.
Aug 25, 2020
Very nice. Difficult to level however.
Aug 24, 2020
Beautiful campground! We loved the creek! Everything was very clean! We will recommend to stay here!
Aug 22, 2020
Nice place but close to the interstate and noisy.
Aug 21, 2020
Very nice campground. Staff was great! Only concern was a little to much noise from I90. A good sound buffer would help.
Aug 18, 2020
IT WAS OUR 5TH YEAR THERE AND WE LOVE IT
Aug 18, 2020
My daughter and I enjoyed our stay and will visit again.
Aug 17, 2020
Nicely maintained. Smallish site. Friendly staff.
Aug 17, 2020
It was too loud. The camping site that is next to us had at least 10 people. The food truck they advertised online and as we checked in wasn't open. Tent sites are too small and close to one another to implement social distancing especially when kids are around. Restrooms we
Aug 12, 2020
Fantastic Campground! Love the staff and the grounds! We have camped here several times, never a bad moment to report! Great family atmosphere! We can't wait to come back!
Aug 11, 2020
Great people. Lisa pizza is best. Site 52 is awesome. Only thing I disliked was noise from rt 90. You can't fix that but was real downer for me
Aug 10, 2020
It was a very nice stay, the staff was very friendly and the sites were shaded. It was also great to be so close to Lake Erie!
Aug 10, 2020
Not very kid friendly if you have active louder children ...they use to be when Shelly and Dennis ran it
Aug 10, 2020
We had a great time. Clean bathrooms, showers and pools. Food from the food truck was good and delivered right to our tent site. Definitely would love to come back.
Aug 09, 2020
The spot next to the highway was extremely noisy and made it near impossible to sleep. You need to make mention of this on your website, when making reservations.
Aug 07, 2020
Asked for a tent site only got a site with electric 7 dollars more a note. This is the second year in a row you pulled this little trick. Won't be back
Aug 06, 2020
Very clean facilities which was very nice and kind workers. But it is RIGHT on the highway. Very noisy and smells like diesel.
Aug 03, 2020
We stayed for the weekend and went fishing Saturday. Had an awesome time.
Aug 02, 2020
Very clean park. Bathrooms are very nice. Nice Mature trees. Unfortunately it is so close to I90 that the roar of the trucks kept us up most of the night.
Jul 28, 2020
Staff was very friendly, campground and bathroom s were clean loved that the beach was so close definitely would come back again.
Jul 28, 2020
Would of gave it a 5 if was informed of the wifi being out. But we will definitely be back and enjoyed the campsite and clean bathrooms.
Jul 28, 2020
It was a clean park. Our site was roomy. Too close to the thruway, but didn't realize this is the type of KOA. But overall it was a nice stay.
Jul 28, 2020
Very clean and great place to enjoy with your family couldn't ask for some very hard working employees to keep it that way
Jul 27, 2020
The tent campsite was relatively expensive (almost $60) and was about 30 feet from i-90, where trucks roared all night long. I felt like I was trying to sleep on the median strip. Although the staff was cordial, the bathrooms were clean, and we were across the road from beautiful Lake Erie, the extreme proximity to the NYS Thruway and the noise that resulted made it a place I couldn't wait to leav
Jul 27, 2020
Great spot and great sites. Facility was very clean. I just couldn't get over the thruway noise. But thanks for great hospitality.
Jul 26, 2020
Great KOA overall, but what made the experience brilliant was the employees. SO incredibly kind, accommodating, helpful, friendly, and personable. This was our first night on the road and our experience here made the start of our journey perfect!
Jul 25, 2020
Kenny and I had an awesome camping getaway !!���� �����the staff the sites and especially the bathrooms were amazing !! We loved it and will return again oh and the cherry on top was that we got to visit with our old friend Nate the owners son he is genuine and amazing we were sure Happy campers!! Kuddo's to all���♥���
Jul 23, 2020
Stayed on what they call their Honeymoon lot and it was just beautiful with a stream and waterfall running right in front of our tent.. we will defiantly be going back.
Jul 22, 2020
Staff was courteous and helpful we had a really good stay
Jul 21, 2020
Nice campground but there was a good deal of road noise well into the night. The WIFI did not work and I asked about it multiple times. 7 of my neighbors in the campground were experiencing the same issue. The person at the welcome/check in desk replied with (we will have someone reset the WiFi) but it was never fixed. Otherwise it was a very nice koa campground.
Jul 21, 2020
The Creekside site was great. Bathrooms were clean. Could hear the traffic from 5 and the thruway could be loud at night and the occasional train. Nice little campground
Jul 20, 2020
Too many barking dogs in what is already a crowded area. Other than that the trip was fine.
Jul 16, 2020
It was fantastic - we had a primitive site - it was spacious and peaceful - sunny and shaded - the creek was lovely - the vineyard. The KK was so convenient and clean. The bathrooms were clean - the shower room was crazy clean. So close to the lake. We hope to come back!
Jul 15, 2020
Clean and nice people, as you'd expect. Nice places to eat nearby and right across the street from a river front park.
Jul 13, 2020
As usual the stay was everything we expected. Looking forward to going back next season.
Jul 13, 2020
Extremely clean and very friendly staff. Was completely satisfied. There little store was clean and reasonable prices. Will stay there again. Thank you
Jul 13, 2020
Despite record heat, and despite Covid-19's challenges, this campground is taking visible and active measures to maintain a safe, clean campground. As a woman who travels alone, I never feel uncomfortable for any reason when I stay with you. I would not hesitate to recommend this KOA, and will return!
Jul 13, 2020
We stayed overnight on our way to the northeast. We didn't use any of the facilities or services; just hooked up to electric and water.
Jul 12, 2020
We were very disappointed with the campsite as it did not meet our expectations. I paid extra for a campsite described as having "Grass Tent Pad Wow!" (NO GRASS TENT PAD - it was dirt), and "Looking for privacy? Enjoy our "Honeymoon Suite" of tent sites. This gorgeous site is located by a creek and pond with waterfalls nearby." (NO PRIVACY - people walking by campsite, brightly lit all night).
Jul 11, 2020
It was quiet safe with social distancing clean and peaceful
Jul 11, 2020
Extremely friendly and helpful staff. Some of the cleanest facilities we have come across. You can tell these people take pride in their camp! We will be back again.
Jul 09, 2020
Beautiful very well kept and clean campground. Accomodations were second to none, and the staff and management wer the very best hosts we've ever had at any campground. Absolutely pleased with our stay!!
Jul 01, 2020
Lots of highway noise, but a good stopover while on a road trip. Customer service was excellent. Beautiful park across the street and beach access a mile down the road.
Jul 01, 2020
The gentleman who was there helped us to stay in a better spot, and was patient as I worked to understand the upgrade, and made sure we were safe all night. The facilities were spotless and the other campers were kind and considerate. It was a wonderful stay.