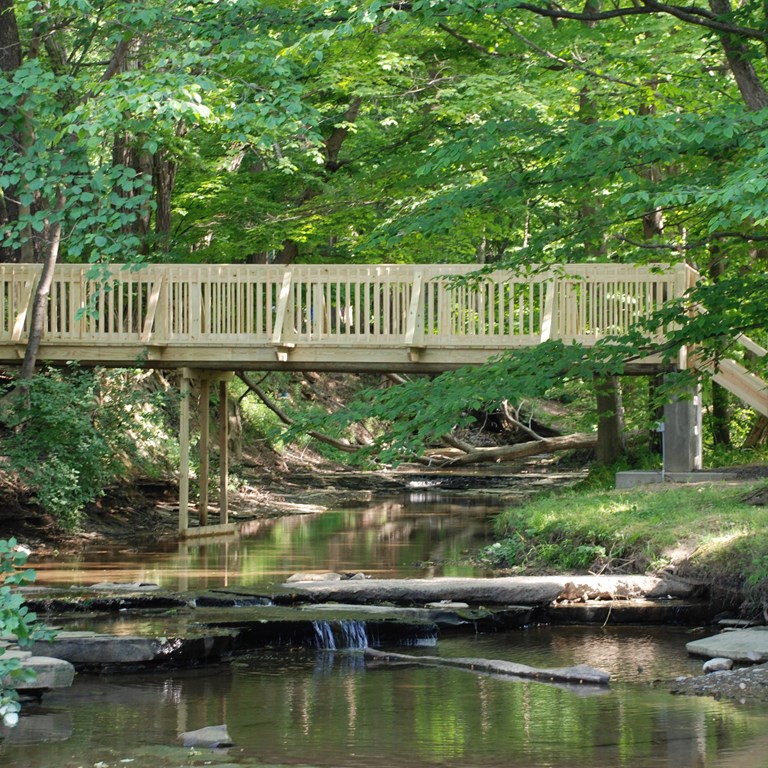 Westfield / Lake Erie KOA Reviews
Directions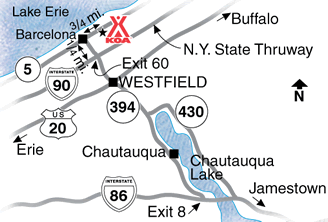 60 miles west of Buffalo, NY, 30 miles east of Erie, PA.
Exit 60 from I-90: Follow signs.
On Rt 5: Go 1 mile east of Rt 394 or 16 miles west of Dunkirk.
From I-86 Exit 8: Go north on Rt 394 to Rt 5, turn right, 1 mile to KOA.
GPS: N42.344141, W79.579864
Get Google Directions
Jun 20, 2020
It is a very nice place with complete supporting facilities and friendly personnel, and we have been provided with power plugboard voluntarily. A very enjoyable outdoor experience!
Jun 15, 2020
Stayed in a tent area by the creek and had an amazing time. Little noisy being by the road, but you really don't notice that very much. Staff is super friendly as well. Would definitely stay again
Jun 08, 2020
Very friendly hosts, the bathrooms were unbelievable, our camping site was perfect.
Oct 20, 2019
THE GOOD: A very clean 24-hour laundry, super nice and friendly staff, a beautiful large campground, and no hassles for exceeding checkout time. THE BAD: a little expensive compared to other KOA's, their WiFi had no internet connection, multiple up-sells at check-in, and next to the freeway with noise so loud it kept us up at night even with the RV windows closed.
Sep 26, 2019
Great campground. I love the Handi- cap showers. Can not wait to stay there again.
Sep 23, 2019
It's quite surrounded by the Welch's � fields. There are 2 awesome restaurants with in 1 mile. the place is spotless bathrooms are clean and private all of the staff are awesome
Sep 04, 2019
Campground, services, and amenities were fine. The only problem is the constant road noise from I-90. Otherwise we had a great weekend and we were able to use the campground as the starting point for trips along Lake Erie and to Chataqua Lake.
Sep 03, 2019
Very friendly and helpful staff. Nice campground. Enjoyable stay
Aug 27, 2019
excellent very clean and the owners and family are very nice and helpful
Aug 26, 2019
As usual our stay was great. The restrooms and shower are fantastic. Can rival a hotel. Always good to come back to.
Aug 26, 2019
well I will let you know you see...I put a deposit down on a credit card 9 the cost for one night) and then I GET THERE AND THEY CHARGE ME FOR TWO NIGHTS...so. as soon as i get the bill figured out I will let you know but otherwise it was a lovely stay. thanks
Aug 13, 2019
This is by far one of the best KOAs ever and I'm a proud KOA geek.
Aug 05, 2019
My 3 week stay was amazing! The staff was welcoming, professional, caring and friendly. They made sure I had everything I needed, always had a smile and friendly conversation. Highly recommend the Westfield / Lake Erie KOA!
Aug 03, 2019
Should have asked if we could be further from the highway...
Jul 30, 2019
Everything was 1st rate as always. A special thank you to Nate for his assistance in getting my storage door unlocked. Just another example of how wonderful all the staff at Westfield KOA are.
Jul 29, 2019
Very clean, very well manged campground, however the odor from the sewage treatment plan, coming in waves bpth to the campground, and the beach ruins the fun.
Jul 12, 2019
It was wonderful and very spacious KOA. Loved the area and walked down to the water. The bathroom was beautiful, just like home, Large, clean and plenty of room to move around. Excellent stay
Jul 08, 2019
Perfect. Thank you.
Jul 01, 2019
The campground was very tight for parking, wish there was more for the kids but the personal gets a A+
Sep 24, 2018
we had a wonderful two day stay at Westfield/Lake Erie KOA. Everyone was kind and helpful. If we were ever in the area we would come back to stay with you.
Sep 24, 2018
We had a great stay! Read some reviews about noise because it's close to the interstate, but we tent camped and it did not bother us. In fact, we slept so well! The campground was peaceful. The showers and restrooms were very clean. Lake Erie is right across the street and the owner has a vineyard next to the campground where you can taste some grapes! We enjoyed it!
Sep 24, 2018
Very private, staff is very friendly and kind, we had a wonderful time and surely will return! �����������
Sep 16, 2018
We found the price to be steep for being not prime season, and we're severely disappointed to arrive to find that our campsite was next to an interstate. We did not get any sleep and could literally see the semi trucks pulling off the side of the side way.
Sep 10, 2018
Fantastic!! So friendly and the pizza and fries were amazing! AAA+++
Sep 05, 2018
Really enjoyed our stay. Polite people and friendly atmosphere. Looking forward to my next stay
Sep 04, 2018
Enjoyed nice place nice showers and beautiful area
Sep 04, 2018
Friendly helpful staff, busy campground, with all folks being very accomodating, lovely pool and fun activities all weekend.
Aug 28, 2018
I didn't realize how noisy I-90 would be, and I had a hard time sleeping because of the noise.
Aug 25, 2018
Had a fantastic stay only drawback was being woken up with the sound of throughway noise. Everyone was helpful and pleasant
Aug 14, 2018
We enjoy our time here at the Westfield KOA. Our family has been here at least 4 times and was where we started camping. The only negative we feel is the traffic noise from the interstate when we try to sleep and we probably hear it more since we camp in tents, other than that the staff has always been great and friendly. The campground is kept up nice and feels good to be there. Thank you!
Aug 13, 2018
We had a very nice stay at your KOA. Very clean and friendly people. The camp site was very easy to pull into.
Aug 12, 2018
Tent site was larger, more private and shadier than most KOAs that I stayed at across the country in the last month on my NY - Portland OR drive. Bathrooms & showers were well maintained. Having a public park on Lake Erie across the street was a plus.
Aug 11, 2018
Was excellent other than a few noisy dogs
Aug 10, 2018
Our stay was great the washrooms are a state of the art I will definitely visit again. The grandkids really enjoyed the swim and play ground and the staff were excellent. Wish there were more movies to watch like on Friday and Sunday and the food was great.
Aug 09, 2018
Drove across the country from California, stayed at Lake Erie, the staff was super!
Aug 03, 2018
Had a great time and enjoyed the scenery, activities and helpfulness of all staff and other campers. Pools were nice. My kids enjoyed the playground also. All in all, a beautiful place to camp.
Aug 02, 2018
Our favorite KOA. Clean, cozy, food truck is great, and they had a fun live band at a reasonable hour this last Saturday night. Low on bugs, yet the lake and gorgeous sunsets are so close by. Great time.
Aug 01, 2018
Arrived late and stayed only one night. Loved the location. Wish I could have stayed longer.

Westfield / Lake Erie KOA
Open March 27 - November 1
8001 East Lake Road
Route 5
Westfield, NY 14787
Check-In/Check-Out Times
All Sites
Check-in: 1:00 pm, Check-out: 12:00 pm
Westfield / Lake Erie KOA
Get Google Directions

© 2020 Kampgrounds of America, Inc.