Directions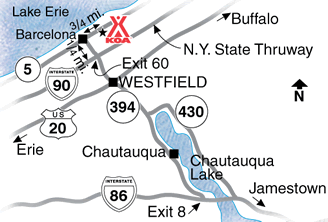 60 miles west of Buffalo, NY, 30 miles east of Erie, PA.
Exit 60 from I-90: Follow signs.
On Rt 5: Go 1 mile east of Rt 394 or 16 miles west of Dunkirk.
From I-86 Exit 8: Go north on Rt 394 to Rt 5, turn right, 1 mile to KOA.
GPS: N42.344141, W79.579864
Get Google Directions
Jun 26, 2020
Hosts were very organized and accommodating, even making deliveries of ice, wood, hot food , etc to the campsite. They also did a great job with the social distancing and cleanliness of the facility.
Jun 26, 2020
The folks that run and work at the Westfield KOA are top notch. I've stayed at a ton of campgrounds and KOAs over the years and this is one of my favorites. Flexible, accomodating, friendly... and the place is kept up very well.
Jun 26, 2020
We'll kept up. Clean and nice restrooms. Great area.
Jun 26, 2020
Very clean. Quiet with big lots. Nice owners
Jun 25, 2020
Staff....the best! Quiet, peaceful, clean.
Jun 24, 2020
The owner and staff are professional and friendly, and work to ensure that the campers' stay is relaxing and stress free.
Jun 24, 2020
Area was beautiful, cabin was really nice and friendly staff. Bathroom was a little far away for little kids and had to cut through campers to get there.
Jun 24, 2020
We had a great stay. Close to the beach and wineries. Great shady campsite and great staff. The only issue about the campground is that the sites are facing each other and it was very awkward that our neighbors were sitting a few feet away facing us at their fire pit while we were sitting at ours. Also the walking path was not stroller friendly. But overall we enjoyed our stay!
Jun 23, 2020
excellent resort and staff and service
Jun 23, 2020
The people were very friendly, and the camp ground and bathroom and showers were clean.
Jun 23, 2020
Friendly staff, had a long car trailer & they made it work. Also ran to Niagara Falls on the day of departure with car,and let us extend our check out from noon to 3pm.
Jun 22, 2020
Excellent setting, great amount of shade, creek is awesome and proximity to the lake is a bonus.
Jun 22, 2020
A little crowds, not bad. guests were well mannered and although busy, they were not a problem.
Jun 22, 2020
everything was great.
Jun 22, 2020
Very friendly and accommodating. Tent spaces with and without electricity. Nice treed area. Easy to access from the highway. With some noise from trucks driving by on the highway.
Jun 22, 2020
Had a great time camping and fishing with the grandkids got plenty of fish in our stock on purpose to go to the lake across the street where we caught some nice fish. Staff was tentative took care of our every need definitely be back
Jun 22, 2020
Great owner & great area good digs
Jun 21, 2020
We were just a quick overnight and we were treated very well. I'd recommend this location to anyone. It's literally across a lot from Lake Erie. Beautiful view.
Jun 21, 2020
Our stay coincided with the opening with coronavirus still with us. Masks, social distancing reminders were everywhere. Washroom was immaculate. Thank you for providing a safe camping experience.
Jun 20, 2020
WONDERFUL, They accomodated us above our expectations and we needed to check out two hours late and even though campground was full they allowed us to do so. Thank you, we will see you again
Jun 20, 2020
Very nicely sited, spacious sites, so cool that it's snuggled in vineyards and across the street from the shores of Lake Erie. Employees and owners helpful.
Jun 20, 2020
First experience in a KOA and it met our needs. Also it was our first time out after our Covid isolation period. We are used to a more rustic, woodsy type of camping but all is well. New experiences are always good for us!
Jun 20, 2020
It is a very nice place with complete supporting facilities and friendly personnel, and we have been provided with power plugboard voluntarily. A very enjoyable outdoor experience!
Jun 19, 2020
Campsite is very clean! Bathhouse was clean. Staff was friendly. They gave great recommendations for sightseeing
Jun 18, 2020
This was not a $65 campground. Paid that rate for the proximity to the lake. But this campground also bordered the interstate (noise)
Jun 16, 2020
They are so friendly and helpful
Jun 16, 2020
Well kept campgrounds, nice laundry room and nice people. Not a lot of activities and no lake access.
Jun 15, 2020
Stayed in a tent area by the creek and had an amazing time. Little noisy being by the road, but you really don't notice that very much. Staff is super friendly as well. Would definitely stay again
Jun 15, 2020
Friendly, fast check in and check out. Nice quiet area.
Jun 15, 2020
Nice spot. Coronavirus closed the playground and the kids area but we still had a good time and the lake is right across the street.
Jun 15, 2020
Excellent overall. Did not use shower facilities or pool due to Covid.
Jun 15, 2020
was nice but the air conditioner was difficult to use. it was on full blast and wouldn't shut off. I called the camp phone number at 2am abut the grumpy guy who answered just told me to keep playing with the remote, he was in bed and couldn't help us with it. What customer service.... someone should be available overnight in case of issues like this. we and the dog shivered all night long.
Jun 14, 2020
It was perfect! Lovely location very close to the beach. Quiet and restful...just what we were looking for!
Jun 13, 2020
Sites pretty tight. Not fans of buddy sites. Excellent staff! Very personable! Seemed like a nice small camper/family get together CG though!