Directions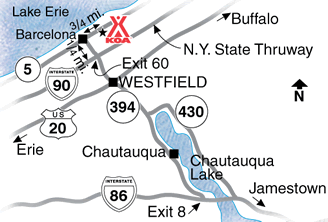 60 miles west of Buffalo, NY, 30 miles east of Erie, PA.
Exit 60 from I-90: Follow signs.
On Rt 5: Go 1 mile east of Rt 394 or 16 miles west of Dunkirk.
From I-86 Exit 8: Go north on Rt 394 to Rt 5, turn right, 1 mile to KOA.
GPS: N42.344141, W79.579864
Get Google Directions
Jul 11, 2020
Nice campground. Very clean with very courteous staff.
Jul 11, 2020
It was quiet safe with social distancing clean and peaceful
Jul 11, 2020
Extremely friendly and helpful staff. Some of the cleanest facilities we have come across. You can tell these people take pride in their camp! We will be back again.
Jul 10, 2020
As always, the Park is clean & well-kept!! Dennis has done a fantastic job in keeping the park well-above the normal KOA standards. We love that he has incorporated the Food Truck for guests!
Jul 09, 2020
Beautiful very well kept and clean campground. Accomodations were second to none, and the staff and management wer the very best hosts we've ever had at any campground. Absolutely pleased with our stay!!
Jul 09, 2020
It was only an over night how ever I would definitely stay.
Jul 09, 2020
Fabulous locatrion
Jul 08, 2020
I would have given a perfect score but: cable tv was fuzzy (camping so barely watched), Wi-Fi signal did not reach our site, no tank pump out service offered to campers with water only sites. Buildings were very clean. Staff very friendly. Will be camping there again for sure but, will be early enough so we get full hook up.
Jul 07, 2020
Everyone was very helpful and very nice. Everything was very very clean. Love it there
Jul 07, 2020
The park was nice, the owners & workers were very nice. Quick response time when ordering something.
Jul 07, 2020
We had a great time and look forward to coming back in the future. The staff was very helpful, leading us to our site and made sure we didn't need anything after we got there. Lots of things to see and do in the area.
Jul 06, 2020
Nice campground, very clean and love the delivery service!
Jul 06, 2020
Everyone was so nice. Clean campground. Nice sites
Jul 06, 2020
Everyone was great and friendly. Well-maintained and organized. Already booked for next year.
Jul 06, 2020
It was fantastic, friendly staff, clean facilities!
Jul 06, 2020
Staff was great.
Jul 05, 2020
Everything was great.
Jul 04, 2020
last stay the AC woldnt turn off and we froze. this time it worked. happy.
Jul 02, 2020
We stayed at Westfield/Lake Erie KOA in late June 2020 with our 15 yr old grandson during COVID-19 restrictions. We were disappointed with the many things that were not available to us in the area. BUT, We Were Not Disappointed With Our Stay At Westfield/Erie KOA. Nice campground despite it's proximity to I-90 and some occasional road noise. Great location for accessing many things to do.
Jul 02, 2020
I had one of the cabins. I was not impressed with the cabin. It had a infestation of big black ants and a couple spiders crawling around and there about a 2 inch gap under the door so anything could climb under the door! It was really expensive for such a small primitive cabin ! But the customer service was excellent though! They were very polite and prompt!
Jul 01, 2020
The staff is very friendly and the campgrounds are very clean! Bathrooms are always clean and sanitized !
Jul 01, 2020
Wish we had known ahead of time that the pools wouldn't be open. We had family camping at Lake George the previous weekend to our Erie stay and the pools were open there. I guess the regulations went by county not state.
Jul 01, 2020
Lots of highway noise, but a good stopover while on a road trip. Customer service was excellent. Beautiful park across the street and beach access a mile down the road.
Jul 01, 2020
The gentleman who was there helped us to stay in a better spot, and was patient as I worked to understand the upgrade, and made sure we were safe all night. The facilities were spotless and the other campers were kind and considerate. It was a wonderful stay.
Jun 30, 2020
The staff did a wonderful job making us feel safe during this unique time by social distancing and wearing masks. Lovely surroundings and our dog loved the creek.
Jun 30, 2020
Friendly, very helpful.. Clean... so nice to see picnic benches, other items cleaned and sprayed after use..
Jun 30, 2020
It was amazing, my boyfriend and I just wanted a weekend trip to relax and this was the perfect place. We met some amazing people and saw some beautiful sunsets. We will definitely be back!
Jun 30, 2020
We really enjoyed our stay and will be back soon. Everyone is so polite and helpful and I just love camping under the trees.
Jun 29, 2020
The campground is beautifully maintained and the staff is super friendly and accommodating. The sites are level, gravel based pads with well maintained grass on the rest of the site. The amenities are excellent and the fishing pond is well set up for a relaxing but rewarding time fishing. The ONLY reason this is not 5 stars is because of the traffic noise from the thruway and rt. 5.
Jun 29, 2020
Overall it was a nice campground, but it was to close to the 90 and the highway noise was quite loud.
Jun 29, 2020
I can't say enough about how much we enjoyed our stay at the Westfield KOA. The location is great and the staff is amazing. They have all the process and protocols in place to deal with the current situation. The bathrooms are spotless. The owner even went above and beyond to help me with a tire problem. Simply outstanding customer service. You should stay here!!
Jun 28, 2020
Very nice and extremely clean campground. The staff was very friendly (Cliff) and the food truck was a great thing for a quick snack. I look forward to returning again in the future.
Jun 28, 2020
We enjoyed our primitive tent site as did our Labrador. Very friendly place!
Jun 27, 2020
Very nice facilities and staff. Many trees but no significant vegetation between the campsites. Beautiful creek in campground. Exceptionally nice restrooms with at-home type fixtures, even in the shower. Close to a freeway, but it was not too noisy at night. Vineyards close by everywhere.
Jun 27, 2020
new restrooms and showers were the best we ever encountered. They were maintained extremely well. This includes RV resorts with 5 star ratings. The staff keep everything clean and was extremely helpful. We highly recommend this KOA.