Directions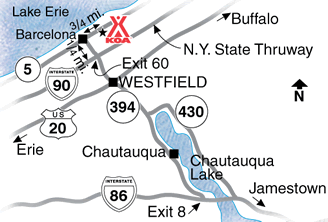 60 miles west of Buffalo, NY, 30 miles east of Erie, PA.
Exit 60 from I-90: Follow signs.
On Rt 5: Go 1 mile east of Rt 394 or 16 miles west of Dunkirk.
From I-86 Exit 8: Go north on Rt 394 to Rt 5, turn right, 1 mile to KOA.
GPS: N42.344141, W79.579864
Get Google Directions
Jul 22, 2020
Traveled 4 hrs with my sister and when we got there we were told we didnt have sights together like we were told a few days earlier. Then the lady at the desk was rude. The sites were very unlevel for pull thru, not like other campgrounds. On the other hand, the bathrooms and showers were very clean. Store was very small and didnt have much in it.
Jul 22, 2020
Very clean showers bathrooms. Smaller sites but friendly staff and campers.
Jul 22, 2020
We had a medical emergency and one of our party ended up statin in the hospital for 3 days. The campground staff were so nice and helpful by putting a hold on our site for an extended period of time in case we needed to stay longer. They gave us lots of ideas to keep the kids busy with stuff in the area!
Jul 22, 2020
Staff was courteous and helpful we had a really good stay
Jul 21, 2020
Dennis and Lisa do a great job making your stay very enjoyable
Jul 21, 2020
Nice campground but there was a good deal of road noise well into the night. The WIFI did not work and I asked about it multiple times. 7 of my neighbors in the campground were experiencing the same issue. The person at the welcome/check in desk replied with (we will have someone reset the WiFi) but it was never fixed. Otherwise it was a very nice koa campground.
Jul 21, 2020
Very nice and clean
Jul 21, 2020
Very nice campground with lots of trees within walking distance of the lake. We did not have sewer service which was surprising, Internet was not working and cable TV was very poor quality. Great service, clean grounds.
Jul 21, 2020
Nice location. Very clean.
Jul 21, 2020
The Creekside site was great. Bathrooms were clean. Could hear the traffic from 5 and the thruway could be loud at night and the occasional train. Nice little campground
Jul 20, 2020
This campground was clean and friendly. Lake Erie was beautiful. It was a short hike to the public beach.
Jul 20, 2020
Very clean nice place....you share a site basically w the ppl next to u but luckily both sets of ppl were very nice and the dogs got along. Pond is beautiful and creek is very nice..will go again..only 10 ppl allowed in the pool area so if u see a family in there and you have kids too u can't go in....but I will go again because it was quiet.
Jul 20, 2020
Too many barking dogs in what is already a crowded area. Other than that the trip was fine.
Jul 19, 2020
Staff was friendly and efficient. Site was level and drained well after heavy rain. the outer drive could use some tree trimming to make it friendlier to big rigs.This is a good location to use as a base to explore the region.
Jul 18, 2020
Great stay, Covid frustration with the pool and limited amount of people and time at the pool. I wondered if a schedule would have worked better, plus a heads up when checking in about the limitations at the pool and signing release. None of which was mentioned at check in.
Jul 18, 2020
Awesome campground. Very clean and convenient. We lived having their personally made pizzas delivered to our camp sight.
Jul 17, 2020
Very clean. Location not good to close to highway. Traffic noise all night long. Also close to railway. Train whistles all night long.
Jul 16, 2020
The location was very nice the staff was very friendly and helpful It was a wonderful place to stay
Jul 16, 2020
It was fantastic - we had a primitive site - it was spacious and peaceful - sunny and shaded - the creek was lovely - the vineyard. The KK was so convenient and clean. The bathrooms were clean - the shower room was crazy clean. So close to the lake. We hope to come back!
Jul 15, 2020
Facilities were clean. The campground is small, as are the swimming pools. Situated right next to I-90, so we had a lot of traffic noise from the highway. Staff was friendly. No activities for the kids (I assume due to Covid-19). Nice pond for fishing with the kids.
Jul 15, 2020
I really liked that kampground.
Jul 15, 2020
I have stayed there every year and was surprised at the New employees. They differently not as happy and friendly like I'm use to from staying there so many times.!!
Jul 15, 2020
Clean and nice people, as you'd expect. Nice places to eat nearby and right across the street from a river front park.
Jul 14, 2020
Staff is awesome! Very clean!
Jul 13, 2020
As usual the stay was everything we expected. Looking forward to going back next season.
Jul 13, 2020
On our month RV travels, I would rank this campground as one of our top 2 favorite campground. This was our 7th along the way. If you are in this area, stay here!!
Jul 13, 2020
It rained most of our stay, but was still great! The only thing I would say that is a negative is that we heard a lot of road noise from the thruway, but it didn't even bother us! We loved our family time there!
Jul 13, 2020
Nice campground, great location!
Jul 13, 2020
Very peaceful and nice campground. The employees were very friendly. The pizza and pizza logs were excellent. Bath houses were very clean. We are looking forward to returning for a longer trip in the future.
Jul 13, 2020
Extremely clean and very friendly staff. Was completely satisfied. There little store was clean and reasonable prices. Will stay there again. Thank you
Jul 13, 2020
Despite record heat, and despite Covid-19's challenges, this campground is taking visible and active measures to maintain a safe, clean campground. As a woman who travels alone, I never feel uncomfortable for any reason when I stay with you. I would not hesitate to recommend this KOA, and will return!
Jul 13, 2020
We stayed overnight on our way to the northeast. We didn't use any of the facilities or services; just hooked up to electric and water.
Jul 12, 2020
We were very disappointed with the campsite as it did not meet our expectations. I paid extra for a campsite described as having "Grass Tent Pad Wow!" (NO GRASS TENT PAD - it was dirt), and "Looking for privacy? Enjoy our "Honeymoon Suite" of tent sites. This gorgeous site is located by a creek and pond with waterfalls nearby." (NO PRIVACY - people walking by campsite, brightly lit all night).
Jul 11, 2020
Awesome as usual!!!!!
Jul 11, 2020
The only thing that I didn't like was you faced the front door of the next campsite All amenities were great and we had an enjoyable time
Jul 11, 2020
Nice campground. Very clean with very courteous staff.