Directions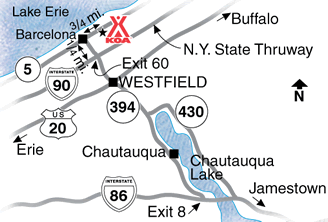 60 miles west of Buffalo, NY, 30 miles east of Erie, PA.
Exit 60 from I-90: Follow signs.
On Rt 5: Go 1 mile east of Rt 394 or 16 miles west of Dunkirk.
From I-86 Exit 8: Go north on Rt 394 to Rt 5, turn right, 1 mile to KOA.
GPS: N42.344141, W79.579864
Get Google Directions
Aug 18, 2020
The sites are very close together. Even more so for KOAs. But the bathrooms were recently renovated and the WiFi was excellent. Service overall was good.
Aug 18, 2020
Enjoyed our stay very much. The campground was very clean. The staff was helpful. There are many things to do. Best KOA we have stayed at. Thank you for your hospitality.
Aug 18, 2020
a nice weekend getaway with family and friends
Aug 18, 2020
No one enforces the speed limit, vehicles speed throughout the park.
Aug 18, 2020
The staff were very friendly and helpful and the campground was immaculate!
Aug 18, 2020
My daughter and I enjoyed our stay and will visit again.
Aug 17, 2020
Nicely maintained. Smallish site. Friendly staff.
Aug 17, 2020
It was too loud. The camping site that is next to us had at least 10 people. The food truck they advertised online and as we checked in wasn't open. Tent sites are too small and close to one another to implement social distancing especially when kids are around. Restrooms we
Aug 15, 2020
Very relaxing Employees are very helpful
Aug 15, 2020
Cliff was awesome in helping us at our site #20.
Aug 15, 2020
Renee in the office/camp store was extremely rude and difficult to deal with.
Aug 15, 2020
Walking distance to Lake Erie.
Aug 14, 2020
We enjoyed our stay at the Westfield KOA. We had a full hook-up and everything worked as it should. We were at the north end of the campground close to Route 5 and traffic noise was not bad at all. The south side of the campground abuts I-90 and the traffic noise at that end is pretty substantial. We ordered the chicken fingers and fries from the food truck and they were delicious!
Aug 14, 2020
Pool needs work. Rest rooms very neat and clean. Management doing very well with social distancing rules.
Aug 13, 2020
We had a great time, thanks to the friendly and helpful staff.
Aug 12, 2020
Check in was quick and easy. Only one problem and was solved between me and the other party.. Between other camper parking at campsite I was assigned. Food was great delivered right to the campsite. Campsite was clean. Seen them roaming around every day cleaning the area Thanks
Aug 12, 2020
Fantastic Campground! Love the staff and the grounds! We have camped here several times, never a bad moment to report! Great family atmosphere! We can't wait to come back!
Aug 11, 2020
Another great, trouble-free stay. The staff was friendly and helpful, as always. The bathhouse was clean, as always.
Aug 11, 2020
Great people. Lisa pizza is best. Site 52 is awesome. Only thing I disliked was noise from rt 90. You can't fix that but was real downer for me
Aug 10, 2020
Very nice people and good clean campground
Aug 10, 2020
Hosts were very friendly, sites were nice and area was very clean.
Aug 10, 2020
All was nice except we requested shaded area and we had No shade. There were shaded areas available that we could have stayed in. Disappointed in that.
Aug 10, 2020
It was a very nice stay, the staff was very friendly and the sites were shaded. It was also great to be so close to Lake Erie!
Aug 10, 2020
THIS CAMPGROUND IS ALWAYS SO WELL MAINTAINED. ENJOY THE PEACE AND QUIET WITHOUT BARKING DOGS LIKE SOME OTHER CAMPGROUNDS. WE WILL DEFINITELY BE BACK NEXT YEAR!!!! THE STAFF IS ALWAYS FRIENDLY AND WE LIKE THAT THEY TAKE YOU TO YOUR CAMP SITE.
Aug 10, 2020
Not very kid friendly if you have active louder children ...they use to be when Shelly and Dennis ran it
Aug 10, 2020
Its was amazing to stay in a cabin camping!
Aug 10, 2020
Love this campground. It's a stopover for us so we really have never taken full advantage of all it offers. But the staff is always friendly and helpful, the office/store is one of best of any KOA I've seen, and the campground itself is in great shape and kept that way. Also, there is a nice park across the street right on the shore of Lake Erie. At the park, check out the deep "cut" on the west.
Aug 10, 2020
Very nice one night stay in one of the camping cabins. Cabin was very basic as expected. Shower house/bathroom was convenient and clean. The staff was friendly and helpful. It was a great place for a last minute get away.
Aug 10, 2020
We had a great time. Clean bathrooms, showers and pools. Food from the food truck was good and delivered right to our tent site. Definitely would love to come back.
Aug 09, 2020
Small, clean KOA. 1 mile from Lake Erie beach where you can take a dip! Right across the street is a cliff where you can view the sunset. Clean, plentiful bathrooms. The globe lights all over the park were synchronized to change every color of the rainbow. Nice touch. Loved the creek you can wade in.
Aug 09, 2020
Nice people work there. My only issue was that the waste hole for our site was uphill from our pad. Other then that all was great.
Aug 09, 2020
The spot next to the highway was extremely noisy and made it near impossible to sleep. You need to make mention of this on your website, when making reservations.
Aug 08, 2020
Staff is great, can order food cooked right there and delivered. Beautiful area.
Aug 08, 2020
I don't know why they put everyone so close to each other when it seemed like there were plenty of open spots. The women who worked the desk in the late afternoon could try to be a bit more friendly, she was a bit rude when I asked where the showers were and also to a woman checking in while I was waiting to sign in to use the pool. The grounds are well kept and very clean.
Aug 07, 2020
Asked for a tent site only got a site with electric 7 dollars more a note. This is the second year in a row you pulled this little trick. Won't be back
Aug 07, 2020
The campground staff was wonderful and the bathhouses were very modern and clean. The only disappointment was the lack of WiFi. The explanation was that new equipment is needed. Hopefully, that will be updated soon. We would definitely return to this campground
Aug 06, 2020
Very clean facilities which was very nice and kind workers. But it is RIGHT on the highway. Very noisy and smells like diesel.