Directions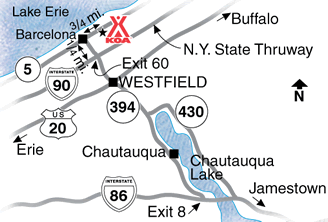 60 miles west of Buffalo, NY, 30 miles east of Erie, PA.
Exit 60 from I-90: Follow signs.
On Rt 5: Go 1 mile east of Rt 394 or 16 miles west of Dunkirk.
From I-86 Exit 8: Go north on Rt 394 to Rt 5, turn right, 1 mile to KOA.
GPS: N42.344141, W79.579864
Get Google Directions
Sep 02, 2020
Very nice campgrounds and excellent location. Staff is very friendly. I will definitely stay here again.
Sep 02, 2020
We enjoyed our stay. The bathrooms were outstanding! Some improvements could be made on the infrastructure; for example the roads could use some improvement. But we did enjoy our stay at your park.
Sep 02, 2020
Campground is right next to Interstate 90, and the noise is constant all night long.
Sep 02, 2020
I am answering for my daughter as you sent Her e-mail to me Beverly E. Bedard (her Mother). I use to have a membership-- no longer camp. Kelly loved your campground and talked about how pristine it is. She has to travel back to Colorado so maybe you will??
Sep 01, 2020
Love the place. We're always well taken care of. Great food from their food trailer.
Sep 01, 2020
The beautiful sunsets over Lake Erie are across a very very busy street. Our view was of the NYS I-90 thruway with tandem semi's howling through at all hours of the day and night. Those are the only reason I wouldn't recommend. Site was roomy, bathrooms immaculate, staff very friendly and helpful. Park itself was clean. You definitely need a car/truck; everything is a drive.
Sep 01, 2020
extremely clean bathrooms, clearly new !! Very friendly staff. Place was very quiet and loved the creek & lake directly across with the park. Pools were clean, a bit cold but expected !! Awesome pizza with fast friendly delivery !! would recommend going and will be coming back !!
Sep 01, 2020
Great stay, staff was friendly, area is great, quick ride to lake and beach....close to through way but you don't even notice...property is well maintained, stream and fishing pond are awesome...definitely plan to visit again...
Aug 31, 2020
Great place to stay. Very clean facilities
Aug 31, 2020
Everything about our stay was fantastic! I had requested a specific honeymoon site and was assigned that site! From the escort to our site, food, wood and ice delivery option to your site, to their store that seemed to have everything we couldn't have been more pleased. The front desk worker, the woman who showed us to our site, and the woman who delivered our food were all so polite and friendly!
Aug 31, 2020
Will definitely be back for a longer stay!
Aug 30, 2020
I made a reservation for a secluded site. Upon arrival, we were given a normal site in the middle of the park. We were allowed to move to a more desirable empty site without a problem. Much appreciated!
Aug 30, 2020
1night stay 2 adults Stopping to see the Falls on way to Boston- staff was extremely friendly and helpful including off site seafood restaurant guidance. sight met our needs - expensive but area probably impacts that and looks like a delightful stay for kids. Very clean. I would return if in the area.
Aug 29, 2020
This was the second year we stayed here. This year another couple came along and they said best camping trip ever! Walking over to see the sunset on the lake is amazing! We also saw a bald eagle at the park across the road. Barcelona harbor was a great place to spend afternoon right by the water and very close by. Bathhouses are top notch at this place. Loved our stay again and will be back!
Aug 29, 2020
Classic "bait and switch". Reserved 50A, FHU, pull through; website indicated a problem with generating a receipt and to call to confirm. When i did, I was told that the site I reserved costs $10 more than what the website indicated. The person on the phone said people just pay the extra money. Utilities OK, site mostly level, a bit tight, but OK.
CAMPGROUND RESPONSE / COMMENTS:
This was an internet reservation, and we provided the requested utilities. We do apologize if the online reservation caused any confusion.
Aug 28, 2020
I loved the campground, location, staff and I believe Westfield had the cleanest facilities I have encountered. I felt the size of the site was adequate for our32 foot fifth wheel but the hookups alternate . In other words our neighbors living area (picnic table) looked directly at ours. But next time we will remedy this and choose perimeter pull through site. Thank you for a delightful stay.
Aug 28, 2020
The campground being nestled between 2 highways is very noisy and really took away from the beautiful area. Unfortunately the dog owners do not pick up their waste the campground was littered with dog feces causing flies and a smell. .
Aug 27, 2020
Totally relaxing stay, which was the goal. Everyone was so helpful and accommodating. This was a first time RV camping experience and there was always someone to answer a question or to give a hand, including the owner himself. The restrooms were clean and the shower was something I would love to have in my own home. This was the perfect place for my quarantine getaway!
Aug 27, 2020
Spotless bathrooms, wide level site among trees, friendly staff
Aug 26, 2020
Great campground, great weather, clean bathrooms and friendly staff!!
Aug 26, 2020
Pleasant staff, easy to book. Sites very close together and we were right by the NY State Thruway and there was lot of traffic noise. (We were warned about this when we booked, btw. But still a major detractor). Also surprised by the expensive campsite we had on a 3 week trip and our site was only water and electric. Nice park across the street to watch the sunset on Lake Erie.
Aug 25, 2020
Very friendly crew, delicious food at the food truck, however I believe the speed of the vehicles in the park needs to be addressed.
Aug 25, 2020
Very nice. Difficult to level however.
Aug 24, 2020
Disappointed by the size of the sites. It felt like we were on top of our neighbors.
Aug 24, 2020
It was very peaceful..The food was great delivered to our cabin.
Aug 24, 2020
Wonderful place for a family with dogs to stay.
Aug 24, 2020
I'm not sure of the name of who checked us in the day we arrived, but she was not kind and not welcoming at all. She was not kind when calling the office either. The camp ground was nice and close to lake erie. The camp sites are very close and if I wasn't camping with friends I would not of stayed that close to someone. Fire pits are beside each other. Bathrooms were very clean!!!
Aug 24, 2020
Beautiful campground! We loved the creek! Everything was very clean! We will recommend to stay here!
Aug 24, 2020
Grat place, close to water and just across the street from the park. Staff are super nice and friendly. Easy access. Wi-Fi is very weak and spotty, but then again if you're not required to do any work while camping, this becomes a non issue. I had to work while camping so I had to relay on my LTE connection. Overall, it's a good quite place.
Aug 22, 2020
Nice place but close to the interstate and noisy.
Aug 22, 2020
Fantastic location, beautiful site. We would love to spend more time here. thanks!
Aug 21, 2020
Very nice campground. Staff was great! Only concern was a little to much noise from I90. A good sound buffer would help.
Aug 20, 2020
The ladies that worked there were awesome great time
Aug 19, 2020
We try and make a family trip there every year. It's kind of a busy place but it is near a lot of beautiful places with fun things to do. We enjoy walking the creek out to the lake. There are beautiful sunsets across the road at Ottaway Park. The pool area is nice, they have very nice bathroom facilities. We have used the food truck service to have pizza and wings delivered to our site.
Aug 19, 2020
The campground was clean and well cared for. Staff was friendly and we met a terrific camp-neighbor. Not an aweful lot to do for kids, despite the pandemic precautions and the sound of the highway drowned out the crickets @ night, but overall had a great time @ a nice site.
Aug 19, 2020
Great place we love it ! Lots to do in the area.
Aug 19, 2020
First time there just for a relaxing weekend. The campground is very well cared for, the bathrooms are clean and very nice. The staff is extremely friendly and helpful. Their pizza is very tasty. It was me and my wife in our travel trailer and we will definitely be back, probably this fall.
Aug 19, 2020
Nice place. Only suggestion I have is to make some longer lots with full hookups. Lots of longer RVs out there that are traveling and need longer pull throughs so we don't have to unhook
Aug 18, 2020
we enjoyed our stay and look forward to returning
Aug 18, 2020
IT WAS OUR 5TH YEAR THERE AND WE LOVE IT