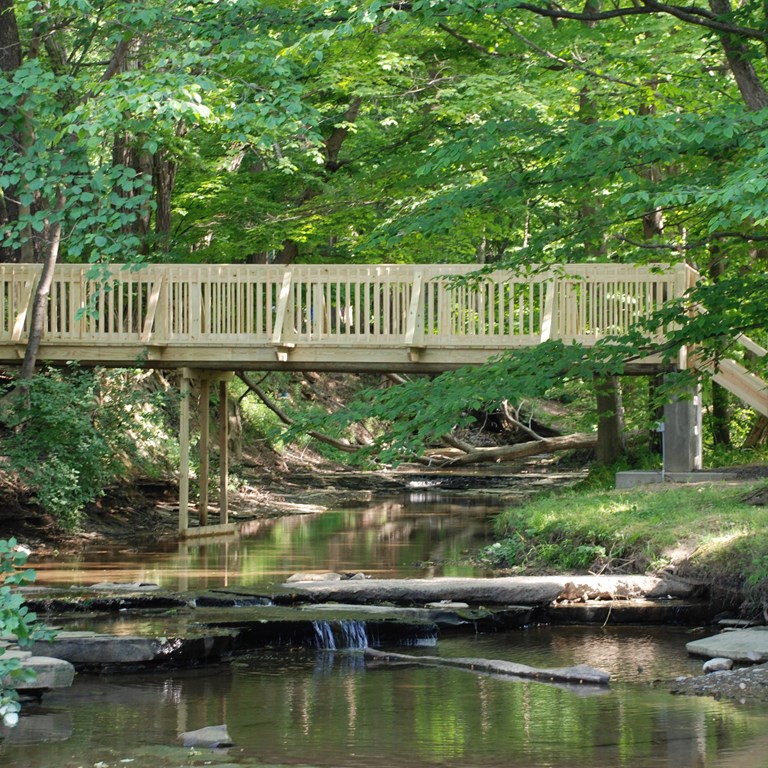 Westfield / Lake Erie KOA Reviews
Directions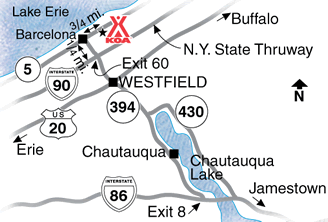 60 miles west of Buffalo, NY, 30 miles east of Erie, PA.
Exit 60 from I-90: Follow signs.
On Rt 5: Go 1 mile east of Rt 394 or 16 miles west of Dunkirk.
From I-86 Exit 8: Go north on Rt 394 to Rt 5, turn right, 1 mile to KOA.
GPS: N42.344141, W79.579864
Get Google Directions
Jul 18, 2018
Always a pleasure to stay here! Very nice and accommodating owner and we will continue to stay whenever we are passing through!
Jul 18, 2018
Good park, Wi-Fi weak
Jul 17, 2018
This campground was very convenient for visiting the area, had all the necessary utilities and very nice and efficient staff. We didn't use the pool or showers. The sites were close together, but not uncomfortably so.
Jul 17, 2018
The staff was very professional and responsive. I was in the primitive area and they supplied me with a campfire ring with a grate on it. I also have a camper and doubt I would use it there. I noticed that the campers where very close to each other and in some cases, adjoining camper bump outs were almost touching, and fire rings were very small without grates. Not the best set up for those sites
Jul 17, 2018
Nice location, great staff, a little too tight.
Jul 17, 2018
Clean facility and friendly staff. Very noisy from the thruway traffic.
Jul 16, 2018
Wonderful beautiful campground right across the street from the park on Lake Erie where everyone goes to watch the sunset. Bathe owner of the KOA (for 29 yrs) and his staff are all quite helpful & friendly...and offer Lake Erie smelts & other food for sale in the shop. Look forward to next year!
Jul 16, 2018
Clean park with friendly staff. We really enjoyed ourselves here
Jul 16, 2018
It was the most relaxed weekend camping we have ever had. (out of 15 years of camping The Westfield KOA personnel were so friendly and helpful from the moment we checked in on Friday evening until the moment we pulled out ending with a friendly wave goodbye from them. We will definitely being booking another weekend this year and plan to bring another couple and their camper with us.
Jul 16, 2018
This location is my favorite. It is so much less buggy than any other. I truly relax here. The best sunsets!
Jul 16, 2018
My favorite place to stay when visiting Chautauqua County. I can truly relax. Barcelona beach has the most beautiful sunsets anywhere.
Jul 16, 2018
Nice and quiet and very well maintained
Jul 16, 2018
Very Nice stay, grounds looked great, shower rooms are upgraded & excellent. Pools were very enjoyable and well maintained.
Jul 16, 2018
The campgrounds itself was very nice, it's the noise level that was unbearable. Back in the tent section you are right next to I-90. Once you got used to the trucks going by-the trains came thru.
Jul 16, 2018
Friendly courteous owner and staff. Can't wait to go back!
Jul 15, 2018
Fire wood was a little pricey but over all very nice campground
Jul 15, 2018
This is my first time traveling east by my self and I stayed with you both ways und is clean and your staff are helpful and freindley you also make some of the best buffalo wings. I will defently stay with you again. Karen
Jul 14, 2018
I scheduled a full hookup and got a spot with no sewer hookup. Nice place though
Jul 14, 2018
KOA employee dogs barking during quiet hours. Site facing other give little privacy. Abandoned RV on site does not leave good impression. Two pools are small wading pools.
Jul 14, 2018
Friendly and knowledgeable staff...immaculate rest rooms...grounds in great shape & level sites. We will be back.
Jul 14, 2018
Only stayed one night. Folks were very helpful. We stayed one night last year and as we were close by stayed again.
Jul 13, 2018
Enjoyed our stay Very clean the staff was Awesome Thank You
Jul 12, 2018
the staff was helpful and very friendly. clean and quiet.
Jul 12, 2018
Not enough restrooms. Garbage needs to be picked up more regularly. The site layouts created fire pits side by side which decreased privacy for each camper on small sites.
Jul 12, 2018
great staff but location way too close to the highway. couldn't sleep through the night because of the noise.
Jul 12, 2018
Nice Service Plesant Staff Clean Bathrooms & Showers
Jul 12, 2018
WE LOVE IT THERE, such nice people.
Jul 11, 2018
Awesome stay we had. Very friendly staff, super clean. Only downfall was the construction going on in the bathrooms. We dealt with it as we know upgrades are necessary but our 8year old doesn't understand that 8:30am is not that early to start sawing wood
Jul 11, 2018
Joe was very helpful setting up the site
Jul 11, 2018
Was hard for us to get our 35' 5th wheel in and out, but it is a beautiful campground. The people were so very nice and helpful.
Jul 11, 2018
Didn't appreciate the permanent across from me with the dog in the fence that barked at every dog that passed by. Also, lose the political flag. Come on...you are running a business. Who you voted for shouldn't be put in everyone's faces.
Jul 10, 2018
very nice campground
Jul 10, 2018
I thought the person that took you to your site was rude. Plus the way they put people in was unreal. They are like buddy sites. You sit there and look at people you don't know. Very uncomfortable.
Jul 10, 2018
Staff was very friendly and helpful. Site was gravel but spacious. Problem came with too many barking dogs. We were awakened at 5:30 in the morning by multiple barking dogs. If we had been staying more than one night, I would have approached the staff.
Jul 10, 2018
The new bathrooms where very nice. The staff was also nice. The lots where on the small size and we had to share it. I did notice that the other campers normally staying there where not friendly. The pools where very small. But, the public beach was just a mile down the road. Very nice fishing pond and creek running near the tent sites. Also certain site was right by I-90 and was very noisy.
Jul 10, 2018
Friendly staff nice place but are tent sites was near highway noisy at night
Jul 10, 2018
I called at the last minute of a busy weekend , the ox roast that the town of Westfield does every year . They were booked but called me back when a cancellation came in . We were very happy with this . Place is always well maintained and clean . Staff VERY helping and tend to your needs immediately. Love that they are super pet friendly .
Jul 10, 2018
"Very nice people staffing the campground.
Jul 09, 2018
Lots of RV's. No problems at all. Very relaxing weekend. TY
Jul 09, 2018
Very clean and friendly
Jul 08, 2018
Our site was great plenty of room and very well maintained the entire camp grounds was clean and neat. The addition of the food truck and deliver to your site was an added plus
Jul 07, 2018
we always enjoy our stay here. Friendly and helpful owners and employees. New bathrooms and showers will be a great improvement when completed..

Westfield / Lake Erie KOA
Open March 27 - November 1
8001 East Lake Road
Route 5
Westfield, NY 14787
Check-In/Check-Out Times
All Sites
Check-in: 1:00 pm, Check-out: 12:00 pm
Westfield / Lake Erie KOA
Get Google Directions

© 2020 Kampgrounds of America, Inc.