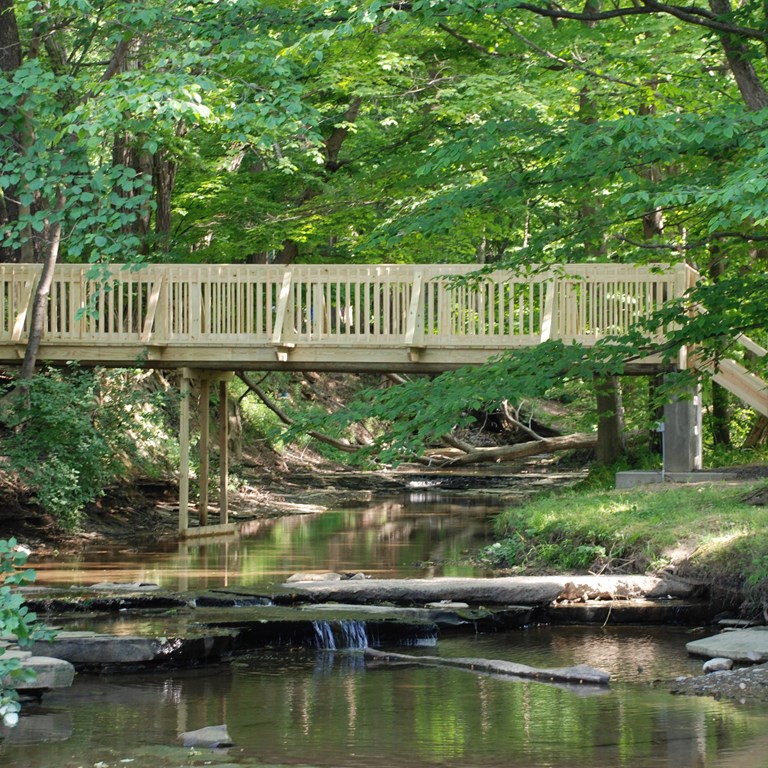 Westfield / Lake Erie KOA Reviews
Directions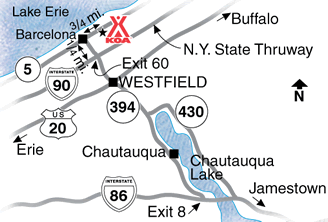 60 miles west of Buffalo, NY, 30 miles east of Erie, PA.
Exit 60 from I-90: Follow signs.
On Rt 5: Go 1 mile east of Rt 394 or 16 miles west of Dunkirk.
From I-86 Exit 8: Go north on Rt 394 to Rt 5, turn right, 1 mile to KOA.
GPS: N42.344141, W79.579864
Get Google Directions
Jul 23, 2018
1st time at a KOA was glad to see what was posted on the website matched the campground. Check in was easy and friendly site was level all the services worked great at the site.I plan on using KOA on our travels.
Jul 23, 2018
Friendly, Clean, Fun Campgrounds! We enjoyed the creek, fishing in the pond, swimming in pools and relaxing with family while there.
Jul 23, 2018
Great camping experience !! Love this campground.
Jul 23, 2018
and clean friendly place It was a nice clean
Jul 22, 2018
We stayed for a couple days trying out our new mini trailer. We brought our 3 grandkids and they spent an entire day in the pool. We love how clean the restrooms are and the remodel to the 2 nd set is very impressive. This is a great location on the lake.
Jul 22, 2018
Used the KOA for a quick overnight stay on my way up the coast to upstate NY. Great experience, in and out with friendly and helpful staff.
Jul 22, 2018
Cons: The pictures of the lake across the street are very deceptive- there is no lake access from that site with the closest access being over a mile down the road. The sites were very tight together and there was little privacy. Pros: It is a days drive from our house so distance is right. Nice people managing the site. Nice showers.
Jul 21, 2018
Great location, close to lots of cool things to do.
Jul 21, 2018
Very nice always clean well taken care of my wife and I would not hesitate to return
Jul 21, 2018
Everyone was nice
Jul 21, 2018
Staff was friendly, cabin and grounds were nice and clean, would stay again.
Jul 21, 2018
Nice people and very helpfull
Jul 21, 2018
We came to this campground as a result of a 5th wheel rally. As we hadn't visited this part of the country before, we were anxious to tour the area. Our expectations were exceeded as the campground was excellent! The staff, including office & groundskeepers, were very responsive and welcoming. We were very impressed at the unique location and all the activities in the area were an added plus!
Jul 21, 2018
Everything was great except for we couldn't figure out the air conditioning.
Jul 21, 2018
Great campground staff was excellent.
Jul 21, 2018
We had a wonderful site right across from the playground. The grandchildren could play and we could watch them play from the site. �
Jul 21, 2018
Incredible...from start to finish!
Jul 21, 2018
Have stayed at campground four years in trip to Niagara Falls nice clean koa
Jul 21, 2018
Clean, friendly, accommodating. My favourite place for camping.
Jul 21, 2018
Had a great time at a great campground! Very friendly and helpful staff.
Jul 20, 2018
Great crew !!! Family owned and always ready to help with your needs.
Jul 20, 2018
Noisy highway, bathroom situation.
Jul 20, 2018
Loved this KOA. Clean, well kept and lots of activities to keep the kids happy.
Jul 19, 2018
Great location, pretty lake view at Park across road. Food delivered to campsite. Clean showers/restroom. Only complaint is that they seem to allow political flags.
Jul 19, 2018
Great family run KOA, pet friendly, delicious food truck food and friendly employees. Close to parks, beach and the Falls.
Jul 19, 2018
This campground is always excellent, that's why we keep it going back.
Jul 19, 2018
location was right off the highway, and highway traffic noise was a little loud, but the stay was just what we needed for our trip. Easy access, and the hosts were extremely accommodating and went to get us ice as their machine was down and brought it right to our site. Extra effort to make sure we settled in and had what we needed!
Jul 18, 2018
Great staff and nice site. Will be back.
Jul 18, 2018
Clean cabin, restrooms and camp grounds.

Westfield / Lake Erie KOA
Open March 27 - November 1
8001 East Lake Road
Route 5
Westfield, NY 14787
Check-In/Check-Out Times
All Sites
Check-in: 1:00 pm, Check-out: 12:00 pm
Westfield / Lake Erie KOA
Get Google Directions

© 2020 Kampgrounds of America, Inc.