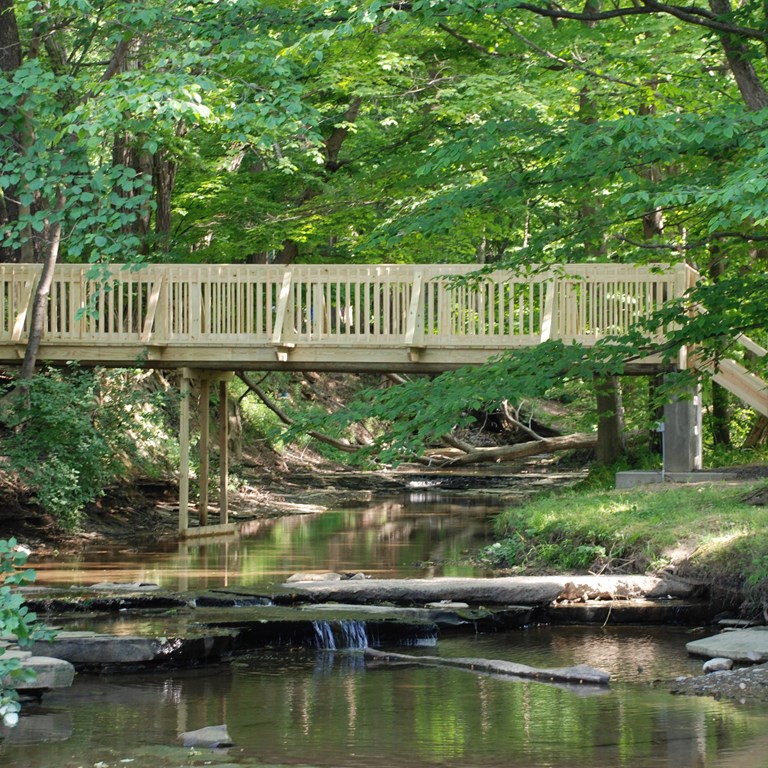 Westfield / Lake Erie KOA Reviews
Directions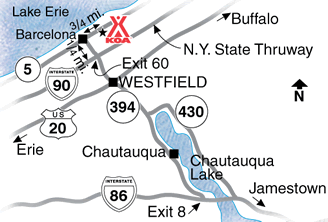 60 miles west of Buffalo, NY, 30 miles east of Erie, PA.
Exit 60 from I-90: Follow signs.
On Rt 5: Go 1 mile east of Rt 394 or 16 miles west of Dunkirk.
From I-86 Exit 8: Go north on Rt 394 to Rt 5, turn right, 1 mile to KOA.
GPS: N42.344141, W79.579864
Get Google Directions
Aug 04, 2018
We enjoyed our stay and found the people working there very pleasant and helpful. They had a person take you to your site and help you get settled, which was helpful.
Aug 04, 2018
My stay was very nice except for the poor wifi.
Aug 03, 2018
Had a great time and enjoyed the scenery, activities and helpfulness of all staff and other campers. Pools were nice. My kids enjoyed the playground also. All in all, a beautiful place to camp.
Aug 02, 2018
Our favorite KOA. Clean, cozy, food truck is great, and they had a fun live band at a reasonable hour this last Saturday night. Low on bugs, yet the lake and gorgeous sunsets are so close by. Great time.
Aug 02, 2018
The KOA is a gem
Aug 02, 2018
This campground is absolutely perfect. Family owned and they treat you like family upon arrival. Walking distance to lake Erie and beautiful scenery as well. Would definitely recommend this campground and stay again anytime!
Aug 02, 2018
Excellent stop over for a night or two. Warm welcome and smiles from all the staff. Close to I90 so easy on easy off exits. Campground is clean and well maintained. Cheers
Aug 01, 2018
Arrived late and stayed only one night. Loved the location. Wish I could have stayed longer.
Aug 01, 2018
The people were super nice and everything was clean and very comfortable! Loved the pool too! Right across the street was a state park. Beautiful walk to the water!!
Aug 01, 2018
Just overnight on the way home
Aug 01, 2018
Great campground. Well maintained. Cable & wi-for good. New restroom/shower.
Jul 31, 2018
Great campground, however the owners and crew do not enforce rules.
Jul 31, 2018
We were very pleased with your campgrounds. Had a great experience. Thanks
Jul 31, 2018
We stayed here twice, going East and back West. The first campsite was on the end by the office, which was better suited for us to walk our dogs than the second site, which was right in the middle of families and other dogs. But overall, very nice stay!
Jul 31, 2018
Short but very nice! Hot food delivered to our site was great!
Jul 30, 2018
While our site was small the staff more than made up for that. The staff was very courteous and attentive and got us parked quickly. Sometimes the staff is more important and the size of the site.
Jul 30, 2018
Great location and very friendly staff. The campground was clean and well maintained.
Jul 30, 2018
Beautiful area, KOA personnel very friendly, restrooms very clean. Laundry facilities very nice. view is wonderful
Jul 30, 2018
Third time to stay here and they've all been great. They've delivered a pizza to our door and even picked up, filled and returned our empty propane tank. Roaming the creek and vineyard was fun, too.
Jul 30, 2018
Very pleasant lady at check in . Very quiet park.
Jul 29, 2018
Everything was very nice, but it was Horribly noisy due to it's proximity to the NY S Thruway. If it had been quiet I would have given an A+++++ rating. But we never got any sleep! The pool was wonderful and the grounds were very well kept. If we had not been there to meet with my NC cousin I would have left after the first night.
Jul 29, 2018
Nice campground, excellent bath facilities, well managed, nice pool, efficient and friendly staff. Nice location
Jul 28, 2018
very nice site, wonderful service. Fried smelt were great.
Jul 28, 2018
Great location, park across the street and Lake Erie. Very nice camp sites, friendly staff.
Jul 28, 2018
Campground location is between route 5 and interstate 90. Traffic noise is loud at night especially in sites beside the interstate. There is no swimming in lake Erie due to state law and no lifeguards. Good campground to stop in for one night layover.
Jul 26, 2018
very nice people traveling alone some times you need an extra hand and they are more than willing to help also the buffalo wings are great
Jul 26, 2018
The staff could not have been any better! Seemed to go above and beyond all the time. The cleanest bathrooms I have ever been into at a campground. Laundry facilities awesome. The food trailer was great. Only reason I did not give 5 stars was the closeness to I 90. The constant loud traffic noise was pretty Annoying. You could watch the cars drive by. Otherwise a great campground.
Jul 25, 2018
We had reserved a pull Thru for an overnight 5 months in advance. Site 78 was very short and not level. However, the food and it's delivery was good. But will not stay here again; we will stop at Erie, PA KOA instead.
Jul 25, 2018
Very clean restrooms, showers and laundry room. Nice store, friendly and helpful staff. New family restrooms are spacious and clean also. Would recommend a mat in shower area. Nice clean pool, but small. Gorgeous lake views at park across the street. Only negative is traffic noise.
Jul 24, 2018
The folks at the Westfield/KOA were friendly, helpful, and accommodating, and it's a great area. The only reasons for not giving the highest rating are: WiFi was not working the majority of our stay (almost three weeks) and we didn't like the alternating direction sites (sets of two "front yards" face each).
Jul 24, 2018
Great location. Friendly campers. Very clean bathrooms.
Jul 24, 2018
Our stay was nice. We had a nice site close to pool and office. I guess I was disappointed with the activities the campground had. The only thing we saw that they had was a movie night with Fred popcorn. We had teenagers that were not interested better yet had never heard of the movie. That left them out with nothing to do. Most campgrounds have music on Sat or bingo.
Jul 24, 2018
The bathrooms were very clean and we appreciated that. Down falls: Traffic noise and the wooded tent areas that we saw there would have been ideal for us if it had electric. I feel the wooded areas would be nicer if there were more trees. Loved the delivery of firewood and food.
Jul 24, 2018
Paid for full hook ups but because of layout was able to connect sewer, very noisy re hwy traffic
Jul 23, 2018
it's been 13 years since the last time I was at this campground, and it was even better than years past. Dennis continues to have a clean, family friendly campground, just like his parents did. I can't wait to continue our family tradition with the next generation.
Jul 23, 2018
This place exceeded my expectations I had such a great time and will most certainly be back again!

Westfield / Lake Erie KOA
Open March 27 - November 1
8001 East Lake Road
Route 5
Westfield, NY 14787
Check-In/Check-Out Times
All Sites
Check-in: 1:00 pm, Check-out: 12:00 pm
Westfield / Lake Erie KOA
Get Google Directions

© 2020 Kampgrounds of America, Inc.