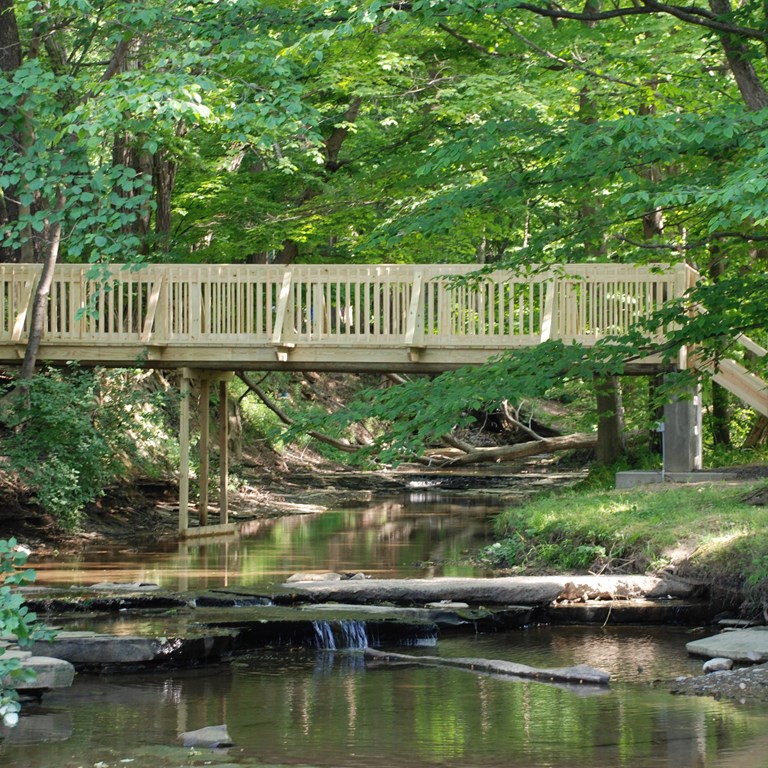 Westfield / Lake Erie KOA Reviews
Directions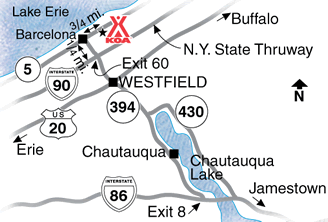 60 miles west of Buffalo, NY, 30 miles east of Erie, PA.
Exit 60 from I-90: Follow signs.
On Rt 5: Go 1 mile east of Rt 394 or 16 miles west of Dunkirk.
From I-86 Exit 8: Go north on Rt 394 to Rt 5, turn right, 1 mile to KOA.
GPS: N42.344141, W79.579864
Get Google Directions
Aug 29, 2018
We have stayed at this campground many times, while taking our son back to college in the area. We have very much enjoyed the campground, very clean, organized and friendly staff. We look forward to staying there again in the spring when we pick our son up from college.
Aug 28, 2018
Too bad I-90 is so close and there is no sound barrier....the only negative. Otherwise, the campground was super clean and the bathrooms were great!
Aug 28, 2018
I didn't realize how noisy I-90 would be, and I had a hard time sleeping because of the noise.
Aug 28, 2018
Just a short two night stay. Staff was very accomodating. Used the food trailor and would recommend it highly. Easy in and out and short access to interstate.
Aug 28, 2018
Very friendly staff�
Aug 27, 2018
Very nice shady, level sites. Bathrooms very good. Wish the pool had been heated. Expected to get to Lake Erie by walking, a little bit of misleading advertising going on. Employees were helpful and friendly.
Aug 27, 2018
Friendly staff and nice clean camp.
Aug 27, 2018
We had a great time and love camping there.
Aug 27, 2018
I had the very front site and it was wonderful not being crowded. Everyone who worked there was very friendly and helpful.
Aug 26, 2018
Very pleased - great facility nice people nice location
Aug 25, 2018
This is a great KOA for a stop on a long travel. It is very well kept, It has a new bathhouse which was awesome. The staff is supper nice and the food truck is a nice touch ans serves really Good food. I was impressed with the pizza, a better sauce would make it awesome. The chicken wings were fantastic. We stopped here on our way to Maine and on the way back from Maine.
Aug 25, 2018
Friendly staff, new clean restrooms. Great overnight stop
Aug 25, 2018
Had a fantastic stay only drawback was being woken up with the sound of throughway noise. Everyone was helpful and pleasant
Aug 24, 2018
The campground was nice, people were very friendly but the freeway road noise was terrible and this would keep me from coming back or recommending it to a friend.
Aug 24, 2018
Was not told ANYTHING about the kampground, except their "food trailer". Had to ask what site I would be in because employee did not tell me. Not told were to walk dogs, where bathrooms or laundry were, NOTHING! Very poor customer service, in my opinion,
Aug 24, 2018
Employees were friendly and helpful. Our site was level and despite heavy rain, drained fairly quickly. Food truck items were hot and tasty. Grounds were clean and well kept. The best part was showering in their new restroom facilities. They were extraordinary! Dare I say the best I've ever used on the road.
Aug 23, 2018
They did a great upgrading the bathrooms, very nice
Aug 23, 2018
Not long enough�
Aug 23, 2018
Several things were not up to the other KOA's we have stayed in. Starting at check in, the person behind the counter was not very friendly or welcoming. Lake Erie was advertised as being 300 yards away, just didn't mention that there was no access! The campsites were in need of maintenance, (grass has taken over the gravel spaces). Also, the organization of sites facing each other limits priva
Aug 22, 2018
Fantastic campground. Lots of shade. Good size sites and great staff. Will be back for sure. First time in area and was impressed with facilities at campground. Great KOA!
Aug 22, 2018
Very very clean facilities. Hospitable people, very helpful and happy. Great stay!
Aug 22, 2018
Road noise very prominent, unlikely to stay again even tho very nice facility
Aug 21, 2018
Very friendly staff, facilities clean and in good shape. Nice location on lake erie and close to lake chautauqua. Had good time at free concert saturday night!
Aug 21, 2018
Too close to the highway and train tracks for solid sleeping. Close to the lake, however there is a fence around a sheer drop from the park so you cannot access the lake from the campground, you need to walk a mile up the road to get to the beach. Exceptionally clean washrooms.
Aug 21, 2018
Very nice place kind of close sites but clean.
Aug 21, 2018
We had a very relaxing weekend. Everyone there very friendly.
Aug 21, 2018
Nice campground, however absolutely NO activities. We had heard there might be a movie but no one came around to let us know.
Aug 21, 2018
friendly, helpful, courteous. bathrooms & showers sparkled. we loved the dinner catering service. thanks for a great stay. perfect last night on the road. mike & dolly
Aug 20, 2018
nice sites, some of the nicest public restrooms we've ever seen
Aug 20, 2018
Great place to spend the weekend
Aug 20, 2018
The only issue we had at this KOA was we had reserved & paid for an end site 3 weeks prior. When we arrived they didn't have any end sites available. They of course had a reason why we didn't get our end site. Saying someone extended they stay, which we felt that wasn't reason to give our site to them.They only refunded us the difference because I went & aske for it. Other than that it was ok.
Aug 20, 2018
great facilities, clean bathrooms and showers. All employees we came in contact with were helpful and friendly.
Aug 20, 2018
Beautiful bath houses. Great stream that runs through the campground. The dogs love to visit the creek. Located near many Lake Erie attractions. Love this place! We go back every year.
Aug 19, 2018
Our stay was short but the staff was friendly and the facilities were very clean. We will be back eventually!
Aug 18, 2018
Great park, friendly staff, loved the County parkland across the street on the edge of Lake Erie. Just wish they had a dog park.
Aug 18, 2018
Just an overnight, but very nice facility!
Aug 17, 2018
Great time, excellent service.
Aug 15, 2018
Wonderful, warm, friendly and helpful staff, especially Cliff and Nate. Clean,cared for and well kept facility. Bathrooms new, clean and well maintained.
Aug 15, 2018
We love staying at Westfield KOA and love the improvements that have been made to the bath house. Now you can order from the food truck and it will be delivered at your camp site!!! Awesome!

Westfield / Lake Erie KOA
Open March 27 - November 1
8001 East Lake Road
Route 5
Westfield, NY 14787
Check-In/Check-Out Times
All Sites
Check-in: 1:00 pm, Check-out: 12:00 pm
Westfield / Lake Erie KOA
Get Google Directions

© 2020 Kampgrounds of America, Inc.