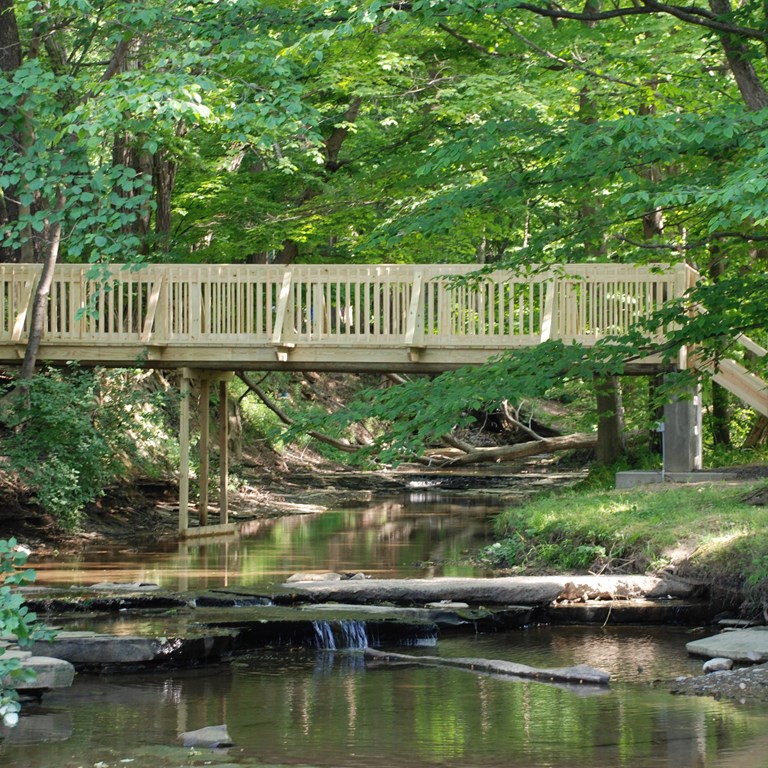 Westfield / Lake Erie KOA Reviews
Directions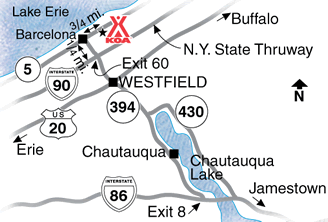 60 miles west of Buffalo, NY, 30 miles east of Erie, PA.
Exit 60 from I-90: Follow signs.
On Rt 5: Go 1 mile east of Rt 394 or 16 miles west of Dunkirk.
From I-86 Exit 8: Go north on Rt 394 to Rt 5, turn right, 1 mile to KOA.
GPS: N42.344141, W79.579864
Get Google Directions
Sep 10, 2018
Great and clean campgrounds. Pools very nice. Not too large. Many activities in the area. The only downfall was that I didn't really feel like it was very "kid friendly". My kids and many others were scolded for sliding down a hill and "messing up her grass". We apologized but felt unwelcome for the rest of the weekend.
Sep 10, 2018
The facility is well taken care of and the staff is one of the best I've seen. Thank you for a great time.
Sep 10, 2018
Fantastic!! So friendly and the pizza and fries were amazing! AAA+++
Sep 09, 2018
everything good except koa advertising wifi. None available or very weak
Sep 08, 2018
The 2 sites we stayed in the last 2 weeks had the sewer connection at the very edge of the road and we did not have enough hose to connect (I have 30'). we had to back the trailer up to reach before we left. Also the cable connection of site 73 is stripped, had to connect to 74 which was not used.
Sep 08, 2018
Very helpful staff, very clean , pool open even after season , very helpful on one of the hottest days . traffic noisy but no loud campers and lovely wooded area in the creekside cabins.
Sep 06, 2018
Loved it. Made lots of friends
Sep 05, 2018
the campsites are small and face each other so if you dont mind being able to have a conversation with your neighbor when you sitting at your table to eat then this might be for you. this was the most dissapointing trip to a KOA that i have had. when you have to stay in your camper to have a private conversation sucked. i will never camp there again
Sep 05, 2018
Really enjoyed our stay. Polite people and friendly atmosphere. Looking forward to my next stay
Sep 04, 2018
A couple that are KOA workers have dogs in a fenced area that are constantly barking, also I don't that they should be flying a Trump flag. Speed rules are not enforced.
Sep 04, 2018
Beautiful sites and bathrooms! Small pool but close to Chautauqua Gorge!
Sep 04, 2018
The ONLY reason I don't give your campground 5 stars and give it a 10 for recommending to others is because of the wi-fi. We were on site 37, about half way back from the office/store and got no wi-fi access for most of our visit. PLEASE fix this problem. If you advertise wi-fi, you should have it.
Sep 04, 2018
Our three night stay was so much fun as it has been for years. Always look forward to our annual stay. Very kid friendly with so much to do at the campgrounds. Close to plenty of other activities as well. Excelent job on shower bathroom remodel. Dennis is always so friendly nice and accommodating. Free icecream socials. Movies etc. Cant wait till next year. Thanks for another great weekend camp!!
Sep 04, 2018
Enjoyed nice place nice showers and beautiful area
Sep 04, 2018
We had a great time ... a lot of things to do in the area. We plan on coming back again. My grandchildren said it was their favorite camp ground . Thanks for an experience that we will remember for a long time .
Sep 04, 2018
Always a great stay at Westfield. Denis always has great weekend activities for both kids and adults and we know we will always have a good time!
Sep 04, 2018
Very friendly, clean, and quiet. Loved the cabin and the little creek.
Sep 04, 2018
Another GREAT stay at the Westfield KOA. This Labor Day Weekend , they had movies on Saturday & Sunday night. Like always they had great Pizza , Wings and other items available from there food trailer, delivered right to your camping site.
Sep 04, 2018
This was my first experience with a new used RV. They were very helpful showing me how to hook everything up. I needed a few parts and they had them available at reasonable prices. They even spent the time and got my tv cables set up correctly so it will be easier next time.
Sep 04, 2018
Friendly helpful staff, busy campground, with all folks being very accomodating, lovely pool and fun activities all weekend.
Sep 03, 2018
Denise and Lisa were great. Staff very friendly. Food was great. Highly recommend this KOA
Sep 03, 2018
Very accommodating and friendly staff. Clean restrooms. Convenient location.
Sep 02, 2018
We bring our grandkids every year. Always clean and everyone is friendly. They love camping in the cabin at Westfield KOA so much they don't want to go any place else! Love the pools and playground. Looking forward to coming back again next year.
Sep 01, 2018
Very very nice people and place. We stayed for 1 night and we was close to highway (only down fall). I dreamed I bought a semi... This place was very clean.
Sep 01, 2018
The Westfield/Lake Erie KOA was a convenient and pleasant stop on our first trip to the south-west corner of New York state - a beautiful area.
Sep 01, 2018
Friendly staff, very clean, and park across the street on Lake Erie.
Aug 30, 2018
great KOA and will be back there again soon
Aug 30, 2018
Easy in andout. Nice place
Aug 30, 2018
Very clean facilities, beautiful scenery, very accomidating and easy to book
Aug 29, 2018
Only stayed one night as we were heading east. Clean campground and friendly staff.
Aug 29, 2018
We have stayed at this campground many times, while taking our son back to college in the area. We have very much enjoyed the campground, very clean, organized and friendly staff. We look forward to staying there again in the spring when we pick our son up from college.
Aug 28, 2018
Too bad I-90 is so close and there is no sound barrier....the only negative. Otherwise, the campground was super clean and the bathrooms were great!
Aug 28, 2018
I didn't realize how noisy I-90 would be, and I had a hard time sleeping because of the noise.
Aug 28, 2018
Just a short two night stay. Staff was very accomodating. Used the food trailor and would recommend it highly. Easy in and out and short access to interstate.
Aug 28, 2018
Very friendly staff�
Aug 27, 2018
Very nice shady, level sites. Bathrooms very good. Wish the pool had been heated. Expected to get to Lake Erie by walking, a little bit of misleading advertising going on. Employees were helpful and friendly.
Aug 27, 2018
Friendly staff and nice clean camp.
Aug 27, 2018
We had a great time and love camping there.
Aug 27, 2018
I had the very front site and it was wonderful not being crowded. Everyone who worked there was very friendly and helpful.

Westfield / Lake Erie KOA
Open March 27 - November 1
8001 East Lake Road
Route 5
Westfield, NY 14787
Check-In/Check-Out Times
All Sites
Check-in: 1:00 pm, Check-out: 12:00 pm
Westfield / Lake Erie KOA
Get Google Directions

© 2020 Kampgrounds of America, Inc.