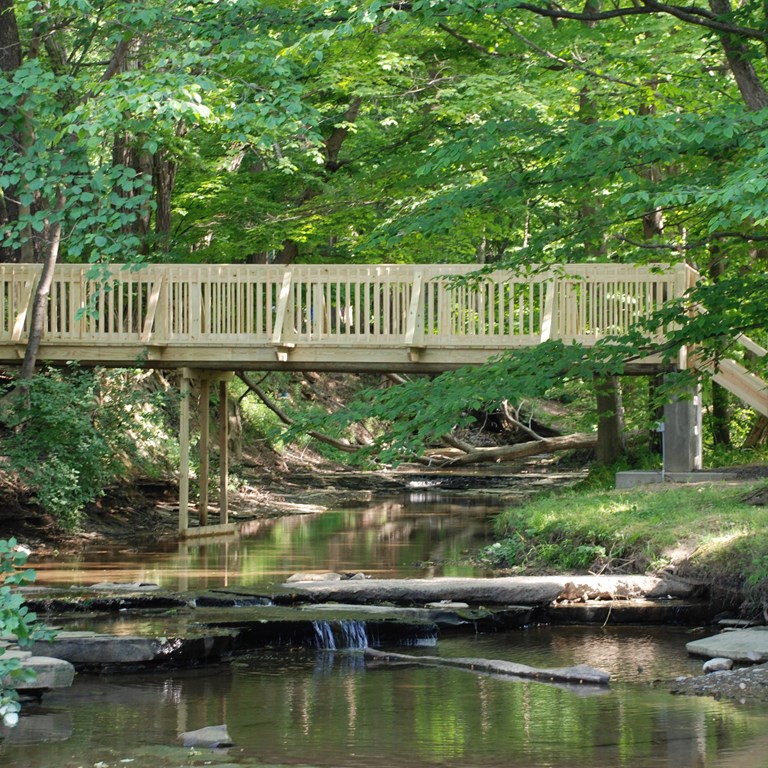 Westfield / Lake Erie KOA Reviews
Directions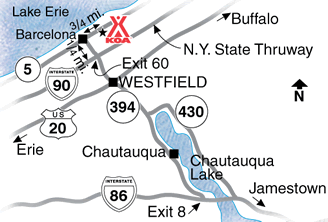 60 miles west of Buffalo, NY, 30 miles east of Erie, PA.
Exit 60 from I-90: Follow signs.
On Rt 5: Go 1 mile east of Rt 394 or 16 miles west of Dunkirk.
From I-86 Exit 8: Go north on Rt 394 to Rt 5, turn right, 1 mile to KOA.
GPS: N42.344141, W79.579864
Get Google Directions
Oct 02, 2018
Had a great time! Campers very respectful and quiet. Would recommend.
Oct 02, 2018
Great people, nice sites, just missing a dog park. We will be back in the summer!
Oct 02, 2018
Wonderful place for kids very peaceful we've been there many times and love it
Oct 02, 2018
Great location! And nice shady sites, CLEAN bathrooms and showers and nice laundry! Would definitely stay here again !!
Oct 01, 2018
Clean, friendly, and an overall great place to stay.
Oct 01, 2018
Dennis and his family are great. Dennis makes sure the grounds and facilities are in tip-top shape. Dennis helped us with an issue on our camper. Nice camp hosts....love the flags. We go here every year. Close to lake/beaches, restaurants, wineries and town of Erie.
Oct 01, 2018
Clean, orderly, well run, friendly. Great place for a one night stop on the way home, as we did, or for a few days if hanging around the lake.
Sep 30, 2018
Nice campground, but close to highway so you hear traffic noise all night. Bathrooms/Showers are great! Employees very nice!
Sep 29, 2018
We love this campground and have stayed here several times before. It never disappoints.
Sep 28, 2018
Nice staff and very friendly. Took extra time to assure we had a spot that fit our Motorhome and Jeep hook up.
Sep 27, 2018
from the moment we arrived we felt welcome. the people were very friendly and helpful. the campgrounds were very clean and neat. the baths and showers were the cleanest I have ever seen. the sites are a little close to each other,
Sep 27, 2018
We had a GREAT stay!! I pulled up the KOA on my phone and a very nice host set us up. It was beyond what I expected and we immediately decided to stay 2 nights. The grounds are so beautiful with Lake Erie across the street and the chance to fish and pick grapes??!! It was like a mini tourist destination. I LOVED IT!!
Sep 26, 2018
We stayed at this KOA for 2 nights while on our way to Branson MO. The campground was very clean, Lake Erie was right across the street, and area was nice for riding our motorcycle. Recommend this campground for those passing through or those looking for a get a way.
Sep 26, 2018
We were told site would accommodate our Motorhome and towed vehicle but we had to disconnect to fit. Other than that it was a nice site and very friendly staff.
Sep 26, 2018
Checked in for one night and ended staying for three nights. Beautiful campgrounds and great people.
Sep 26, 2018
It couldn't. Be better. All of our needs and question were addressed. Beautiful campground. Thank you Jacque and Richard
Sep 25, 2018
It is the 2nd time we camped there and enjoyed it very much both times.
Sep 25, 2018
Nice relaxing place to stay. The remodeled and up graded bathrooms are a great addition to the campground.
Sep 25, 2018
Very good. One of the best campgrounds my family stays at. Price is getting high.
Sep 24, 2018
Convenient location, friendly staff.
Sep 24, 2018
Very nice place! Very nice bathrooms. Offers food delivered to your site! Really enjoyed staying here!
Sep 24, 2018
we had a wonderful two day stay at Westfield/Lake Erie KOA. Everyone was kind and helpful. If we were ever in the area we would come back to stay with you.
Sep 24, 2018
Nice spaces. Plenty of room. Guide led us to our spot. Clean. Quiet even tho traffic on both sides of park. Laundry was nice n clean. Friendly. Nice to just walk around. Picked grapes nearby. Traveling thru the area and had a package delivered there. They called us to say it arrived. Nice people
Sep 24, 2018
We had a great stay! Read some reviews about noise because it's close to the interstate, but we tent camped and it did not bother us. In fact, we slept so well! The campground was peaceful. The showers and restrooms were very clean. Lake Erie is right across the street and the owner has a vineyard next to the campground where you can taste some grapes! We enjoyed it!
Sep 24, 2018
Very private, staff is very friendly and kind, we had a wonderful time and surely will return! �����������
Sep 23, 2018
Great place.
Sep 22, 2018
Disappointed in the fact site was not very level. Very near I90 so there was constant noise. Nice town park across street that allowed us to walk over to Lake Erie.
Sep 21, 2018
Friendly and helpful staff. Quiet campground. Unfortunately, we did not have time to take advantage of the area.
Sep 21, 2018
Staff was very nice. Let us pick grapes on the property. Right across the stree from a park on the lake. A bit expensive for what u get.
Sep 20, 2018
VERY helpfull. VERY clean campground. VERY friendly hosts. I hope to stay there again in the near future!!
Sep 19, 2018
The campground was very nice, staff was friendly, the bathrooms were not clean, the campground was small and other then the outdoor movies there was nothing to do in the campground.The campground is close to the thruway and there is a lot of road noise
Sep 18, 2018
The campground was very clean, not over crowded and the people around us were respectful. It was a great weekend!
Sep 17, 2018
Love camping at this KOA. Staff is wonderful and friendly!
Sep 17, 2018
2nd visit to this KOA this year. Absolutely love it here.. So relaxing and the people are so helpful and friendly.
Sep 17, 2018
Personnel were very friendly and attentive. Campground was very clean and quiet.

Westfield / Lake Erie KOA
Open March 27 - November 1
8001 East Lake Road
Route 5
Westfield, NY 14787
Check-In/Check-Out Times
All Sites
Check-in: 1:00 pm, Check-out: 12:00 pm
Westfield / Lake Erie KOA
Get Google Directions

© 2020 Kampgrounds of America, Inc.