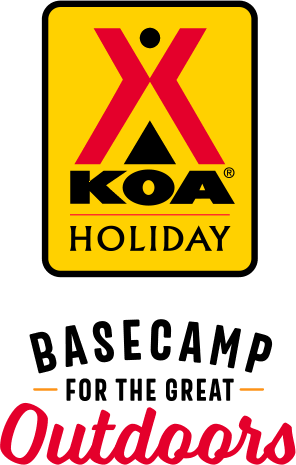 KOA Holiday Campgrounds
Whether you're exploring the local area or hanging out at the campground, KOA Holidays are an ideal place to relax and play. There's plenty to do, with amenities and services to make your stay memorable. Plus, you'll enjoy the outdoor experience with upgraded RV Sites with KOA Patio® and Deluxe Cabins with full baths for camping in comfort. Bring your family, bring your friends, or bring the whole group – there's plenty of ways to stay and explore.
KOA Holidays Feature:
RV Sites with a KOA Patio®
Deluxe Cabins with full baths
Premium Tent Sites
Group meeting facilities
Directions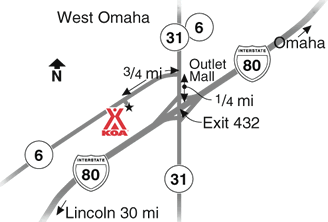 12 miles west of Omaha on I-80: Exit 432. North 1/4 mile, then west 3/4 mile on US Hwy 6. 
GPS: N41.095075, W96.264106
Get Google Directions
Aug 29, 2021
It was a busy weekend and we had to in an unlevel site but the staff was very helpful and made our stay pleasant. Rest rooms were clean and easy accessible.
Aug 28, 2021
We stayed in a cabin ! It was clean, the bed was comfortable. This was our first time in any KOA .The hosts were very friendly and helpful. .Our grandchildren enjoyed the pool, mini-golf and the play area !The grounds were also clean. The location was easy to find . Over all we were very happy with the KOA in West Omaha. My biggest concern was entering and exiting the camp ground onto the highway
Aug 28, 2021
Very pretty property. So glad to have electricity because Omaha was having a heat wave. Host were friendly and greeted us in our vehicle and got us right to our site
Aug 28, 2021
Last night before going home. Very helpful staff, pool was wonderful on such a hot evening. Easy drive to highway.
Aug 28, 2021
Well maintained campground. Very friendly staff. Easy in and out. Near interstate but you do not see or hear any noise. Would definitely stay again!
Aug 28, 2021
Outstanding!!!
Aug 28, 2021
Very clean and well maintained campground. Unfortunately, we had a mishap with your check in person. I spoke to her via telephone before arriving asking about the site and she was very unprofessional. Then upon arriving, she continued her bitter attitude and in fact overcharged us for the one night site. We travel thru your area at least twice a year but may decide to stay elsewhere next time.
Aug 28, 2021
No hot water in the showers. Old carpets just thrown out across from our site. The only thing good about our stay was the bbq dinner.
CAMPGROUND RESPONSE / COMMENTS:
Thank you for visiting our park. We listen to our guests feedback with great care. After reading your review, I'm concerned you were reviewing another park and not ours. While staying with us, your site was a patio site on the end. We don't have any carpet on our campground.
Aug 27, 2021
The staff here are absolutely fantastic! Shouts out to Crystal, Lynn, and Possum! The only reason I gave this four stars and not five is that the sites are too close together. I stayed here for eight days during August, and it was pretty much booked solid every night. While the sites were packed, it was still relatively quiet during quiet hours so that was a plus. Will definitely stay again!
Aug 27, 2021
The staff here is excellent and very helpful. The campground is very clean and well kept!
Aug 27, 2021
It was great! There was only one thing: I woke up early and went to the restroom to take a shower. Someone was sleeping on an air mattress in the last shower stall! Maybe the bathrooms need to have a code to enter.
Aug 27, 2021
Nice park. Great staff.
Aug 27, 2021
Great facilities and amenities, combined with friendly staff made for a great stay. Only (minor) negatives are a slightly high price and overnight freeway truck noise.
Aug 27, 2021
Very helpful staff. Great campground.
Aug 27, 2021
Super Clean! This KOA has a lot of occupants so arrive early and spend the day at local area activities or just relax by the pool. UBER services are available.
Aug 26, 2021
nice place, nice people
Aug 26, 2021
Everything was great. The campsites are close together and we wish we had better access to the trash (it seemed very far away.) But everything was great. Pool and jumping pillow were a major hit with our kiddo!
Aug 26, 2021
The one improvement I would like to see is signage for the "street" names. My camper was also my driving vehicle and on two nights, I returned after dark, and would have liked to see signs with "street" names and also directional arrows to help me get back to my campsite. Aside from that, it was a very pleasant place to stay. All of the staff was incredible! Thank you!
Aug 26, 2021
site was nice, long enough so I didn't have to disconnect. ordered food from office chicken nuggets over done, pizza under done
Aug 26, 2021
It was very peaceful and restful. We thoroughly enjoyed your campgrounds. They were very well maintained and staff was beyond friendly and helpful. Highly recommend this place to all.
Aug 26, 2021
Everything was wonderful. The laundry facilities could use some upgrades. Very friendly and professional staff makes this place so awesome
Aug 26, 2021
Beautifully kept park, super friendly and helpful staff, would definitely recommend and stay here again!
Aug 24, 2021
Location of site assigned, right directly next to very busy highway, and with gravel trucks hauling starting at 5:00am, and passing by every few minutes, is not camping!
Aug 24, 2021
A great place for kids!
Aug 24, 2021
My 5 year old loved the playground and pool. I wish the playground was open earlier for my early bird. The location was near a fairly noisy highway but we're well kept and organized.
Aug 24, 2021
Our stay was very brief but as always the friendliness and cleanliness of the KOA family was spot on.
Aug 23, 2021
We were placed at the campsite right next to the office wouldn't have been bad if the lights had gone off at some point in the night
Aug 23, 2021
Excellent WiFi. Camp site trash pickup is a welcome amenity. Kiddos loved the pizza made on site and the jump pillow was a hit. The hosts y'all have there are very polite and kind. We will definitely be back.
Aug 23, 2021
You all where awesome! Very nice everything!
Aug 22, 2021
Every RV gets a golf cart escort to your site. Space between sites are typical of most KOA Campgrounds. We stayed here for 7 nights and came back for 3 additional nights after trip out west. The workers are very busy keeping everything clean and do a great job! They are constantly roving for trash bags put out for pickup.
Aug 22, 2021
Poor dog park!
Aug 22, 2021
I really like the laid back atmosphere of the campground and staff. I love that there is a safe path to walk my dogs and a place to potty them. I used to stay at hotels while at towns for dogs shows. Many of the hotels do not have sufficient space to walk dogs. I like to stay on the first floor and a lot of times a hotel doesn't have that available. And the smell at hotels…UGH…not always go
Aug 22, 2021
Thank you to all the staff for making our stay wonderful. And a special shout out to Holly and her hubby for their friendship.
Aug 22, 2021
Nice campground some sites a little close very clean and staff very nice
Oct 09, 2021
Easy access in and out. Lower sites are hilly and require lots of blocks to level. Upper sites are newer and easier to level on. Staff is friendly and helpful. WiFi was decent. Kids play area was amazing - jumping "trampoline" was packed all day with kids. Zip line was also a hit. Looked like someplace families would love.
- Pegi Davis on Google
Oct 04, 2021
What a wonderful campground, I cannot recommend it highly enough. Very friendly staff who are so helpful you wonder if you might be famous… The grounds are very clean and organized. Very quiet too. The playground is a lot of fun for the kiddos too. We had a wonderful stay during our cross country journey (California to Connecticut). Also the WiFi is very fast, by far the fastest I have found at any campground- 69/10 mbps!!! Not bad at all for free internet.
- Isaac Tait on Google
Oct 04, 2021
This KOA was lovely and so were the attendants. I loved that Hunt Brother's Pizza was available in the shop so we could park and stay. My kid enjoyed the play ground and community room (has ping pong, air hockey, books, legos, and games available).
- Amber Ziegler on Google