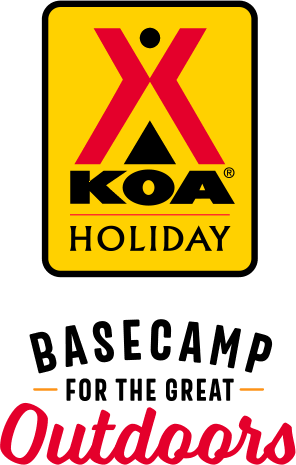 KOA Holiday Campgrounds
Whether you're exploring the local area or hanging out at the campground, KOA Holidays are an ideal place to relax and play. There's plenty to do, with amenities and services to make your stay memorable. Plus, you'll enjoy the outdoor experience with upgraded RV Sites with KOA Patio® and Deluxe Cabins with full baths for camping in comfort. Bring your family, bring your friends, or bring the whole group – there's plenty of ways to stay and explore.
KOA Holidays Feature:
RV Sites with a KOA Patio®
Deluxe Cabins with full baths
Premium Tent Sites
Group meeting facilities
Directions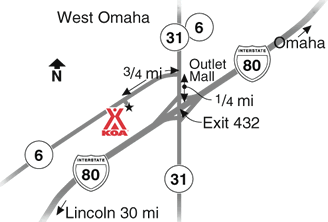 12 miles west of Omaha on I-80: Exit 432. North 1/4 mile, then west 3/4 mile on US Hwy 6. 
GPS: N41.095075, W96.264106
Get Google Directions
Sep 04, 2021
It was clean, friendly and convenient to what we wanted to see
Sep 04, 2021
Not a bad overnight stop. Stayed here twice. First site was terrible. About 3 feet from a cabin where occupants looked into our camper. Second stay much better with larger site. Bathrooms could have been a bit cleaner, but not terrible
Sep 04, 2021
We only stayed for one night. Our site was conveniently located near the entrance/exit for an early start in the morning. Bath house and laundry room were spotless and located next to each other so I could easily do both at the same time. Bonus! Loved watching the kids on the Jumping Pillow. They were having a great time.
Sep 04, 2021
Layover for a 3 week cross-country trip. The campground was clean and the employees were very courteous. We especially liked the garbage pickup at the site.
Sep 04, 2021
gr8 place, friendly staff, love the no code bathroom and laundry entrance! Pizza was tasty
Sep 03, 2021
Everyone was so helpful and friendly
Sep 03, 2021
We were just in for one night with a travel trailer. Really liked the dog area. Sites were a bit small/close to each other, but adequate. Didn't use the facilities so can't comment.
Sep 03, 2021
Stayed at campground outside Omaha. Restroom clean nice laundry facilities
Sep 02, 2021
I would love to see the owners invest in replacing the entrance driveway to help eliminate the roughness and potholes throughout. I wouldn't recommend staying on the site we were on because after the rainstorm it pushed all of the rocks and gravel onto our site and left the areas off the slab muddy. I had to track through mud as I was loading everything up the next day to leave.
Sep 02, 2021
Campground had had lots of rain and the roads needed significant maintenance. The entrance was quite bad with potholes just off the highway and all the way to the checking. Staff was friendly and helpful. Site was fairly level with good hookups.
Sep 02, 2021
A plus on everything. Showers were incredible. Super location.
Sep 02, 2021
We weren't there very long, but were very appreciative of the free coffee in the morning. The campground was very clean and off the highway, which made it nice and quiet at night. We stayed in a cabin, which smelled a little like mildew, but it had a screen door, which was great to keep the mosquitoes out and air the cabin. Would stay here again and enjoy some of the many activities.
Sep 01, 2021
Couldn't of asked for better accommodations. Place was clean and extremely well organized. Possum, John, and the rest of the crew were incredible. The girls at the front desk were not only helpful, but they were personable and entertaining as well. Looking forward to my next visit.
Sep 01, 2021
Good service �
Sep 01, 2021
Friendly staff. Great shade trees.
Aug 31, 2021
Love your location! We come back every year!
Aug 31, 2021
The park is well maintained however there upper area needs trash and dog walk areas. The staff is very helpful and friendly.
Aug 31, 2021
Family-friendly KOA. Clean bathrooms and staff was great! Many area attractions nearby. Don't miss the Henry Doorly Zoo & Aquarium when in town.
Aug 31, 2021
We were only there for overnight, but the park was clean and well-kept with lots of activity possibilities.
Aug 31, 2021
Very convenient to highway but you couldn't see from campsite. Campsites were nice. Would stay again.
Aug 31, 2021
Very accommodating. Nice park. People work hard to keep it up and it shows. Loved the wireless.
Aug 31, 2021
Came late, left early. Packet was ready. Dark and didn't even use any amenities.
Aug 30, 2021
Very nice! Great ammenities, friendly staff, and we'll maintained! The only concern was the sound of the cicadas, which cannot be controlled by KOA.
Aug 30, 2021
Cabin was very clean with a huge deck and patio. The staff were helpful and friendly. Pizza was good and delivered hot and fresh to our campsite. Pool felt great in the hot temps. The park needs updated badly and the main road in has some pretty big pot holes that need worked on, but overall, this was a great KOA. We had a nice time!
Aug 30, 2021
Nice campground and staff very helpful. Enjoyed the stay.
Aug 30, 2021
Friendly helpful staff, well maintained, very good WIFI we have been visiting this KOA since 2008.
Aug 30, 2021
Very friendly and helpful staff. We will be back.
Aug 30, 2021
The staff was very friendly and helpful from the minute we arrived. Restrooms were clean and sites were nice. We enjoyed our stay!
Aug 30, 2021
Easily the best place to stay in Nebraska! Always a great experience.
Aug 30, 2021
Great place to spend the weekend with my grandkids.
Aug 30, 2021
I arrived after hours. The reservation tag was not there. I only knew the site number because a KOA rep called me while on the road. I asked for the sire number. It was very dark and difficult to find site 15 as I could not find it on the map at the reservation board. Another camper that had just arrived helped me figure it out. Again my reservation tag was missing.
Aug 29, 2021
The entire staff are so friendly. We come back every year. Facilities are always clean. Every RV spot is very spacious.
Aug 29, 2021
Slots too tight. Put my big rig in too tight of a spot.
Aug 29, 2021
Their internet has really been upgraded but the sites are still dirt/gravel and not the most level. Staff is very friendly and helpful. If I could I would give it a 4.5 but can't give it a 5 star. Yes I would stay there again because of staff and internet.
Oct 13, 2021
Great place to stay!!!
- MELENIE GAGNON on Google
Oct 12, 2021
Great one night stay. Hosts were super friendly and helpful. Our site was 210 and had grass and level gravel pad with full hookups.
- susanna zandes on Google
Oct 09, 2021
Easy access in and out. Lower sites are hilly and require lots of blocks to level. Upper sites are newer and easier to level on. Staff is friendly and helpful. WiFi was decent. Kids play area was amazing - jumping "trampoline" was packed all day with kids. Zip line was also a hit. Looked like someplace families would love.
- Pegi Davis on Google