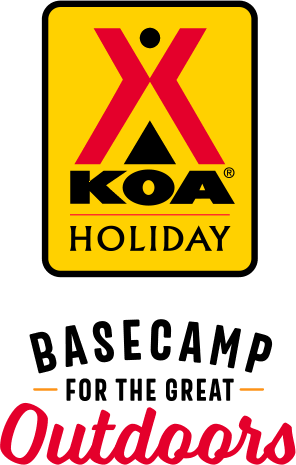 KOA Holiday Campgrounds
Whether you're exploring the local area or hanging out at the campground, KOA Holidays are an ideal place to relax and play. There's plenty to do, with amenities and services to make your stay memorable. Plus, you'll enjoy the outdoor experience with upgraded RV Sites with KOA Patio® and Deluxe Cabins with full baths for camping in comfort. Bring your family, bring your friends, or bring the whole group – there's plenty of ways to stay and explore.
KOA Holidays Feature:
RV Sites with a KOA Patio®
Deluxe Cabins with full baths
Premium Tent Sites
Group meeting facilities
Directions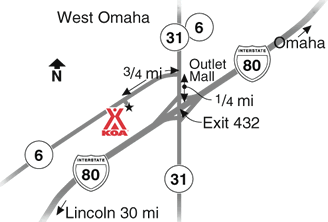 12 miles west of Omaha on I-80: Exit 432. North 1/4 mile, then west 3/4 mile on US Hwy 6. 
GPS: N41.095075, W96.264106
Get Google Directions
Aug 26, 2021
Beautifully kept park, super friendly and helpful staff, would definitely recommend and stay here again!
Aug 24, 2021
Location of site assigned, right directly next to very busy highway, and with gravel trucks hauling starting at 5:00am, and passing by every few minutes, is not camping!
Aug 24, 2021
A great place for kids!
Aug 24, 2021
My 5 year old loved the playground and pool. I wish the playground was open earlier for my early bird. The location was near a fairly noisy highway but we're well kept and organized.
Aug 24, 2021
Our stay was very brief but as always the friendliness and cleanliness of the KOA family was spot on.
Aug 23, 2021
We were placed at the campsite right next to the office wouldn't have been bad if the lights had gone off at some point in the night
Aug 23, 2021
Excellent WiFi. Camp site trash pickup is a welcome amenity. Kiddos loved the pizza made on site and the jump pillow was a hit. The hosts y'all have there are very polite and kind. We will definitely be back.
Aug 23, 2021
You all where awesome! Very nice everything!
Aug 22, 2021
Every RV gets a golf cart escort to your site. Space between sites are typical of most KOA Campgrounds. We stayed here for 7 nights and came back for 3 additional nights after trip out west. The workers are very busy keeping everything clean and do a great job! They are constantly roving for trash bags put out for pickup.
Aug 22, 2021
Poor dog park!
Aug 22, 2021
I really like the laid back atmosphere of the campground and staff. I love that there is a safe path to walk my dogs and a place to potty them. I used to stay at hotels while at towns for dogs shows. Many of the hotels do not have sufficient space to walk dogs. I like to stay on the first floor and a lot of times a hotel doesn't have that available. And the smell at hotels…UGH…not always go
Aug 22, 2021
Thank you to all the staff for making our stay wonderful. And a special shout out to Holly and her hubby for their friendship.
Aug 22, 2021
Nice campground some sites a little close very clean and staff very nice
Aug 22, 2021
Friendly people. Additional services (pizza and propane) were very welcome
Aug 22, 2021
Enjoyed thank N you
Aug 21, 2021
Terrible site ( 63 ) Too short and not even close to level. There were any number of good sites that were not being used. .Even though it is a pull through I had to back out to avoid trees. dangerous getting into camp ground from highway. Employees were friendly, especially Steve.
Aug 21, 2021
Site 34 was a mud pit on the connection side after the rain. The site next to ours had a slider that went into our site.
Aug 21, 2021
Crowded, mud, big rocks hard to walk on, entrance and exit lousy couldn't see traffic coming.
Aug 21, 2021
Best internet ever at a campground!!!
Aug 21, 2021
Awesome campground for children the bounce pad and the pool were awesome sites were clean and easy to hook up we even had an awesome guy in a golf cart will definitely be back if we're in the area!
Aug 21, 2021
Best koa I've stayed at
Aug 20, 2021
Very clean park, friendly staff!!
Aug 20, 2021
What a lovely camp ground! The staff was terrific. The grounds are clean and nicely manicured. The pool was open and very clean. It was a nice surprise find for a tired traveler.
Aug 19, 2021
Very nice Staff….. this was my second stay and would return as I travel cross country.
Aug 19, 2021
When returning to Texas we decided to stop and visit friends in Omaha and spent two nights at West Omaha/NE Lincoln KOA. Have stayed her before and found it was as good, if not better then at our previous stays. Restroom/showers are updates and kept clean. We had a nice flat site and did not have to do any leveling. The location is away from Omaha and Lincoln and is quiet and peaceful.
Aug 19, 2021
Very friendly staff, very clean park with kid activities. 20 min from Omaha zoo and downtown Omaha.
Aug 19, 2021
Too crowded, sites too close, we wanted a deluxe pull through and ended up on an unlevel gravel site where we could look in neighbor's windows.
Aug 18, 2021
I was harassed by an older employee with a mustached at the park for parking on the grass. When my front tire on the passenger side of the truck was half on and half off of the grass. On top of that the grass under the tire was all ready dead. He pound on my trailer door for a good 15 seconds. After moving the truck 5 inches to the side. I went for a walk and seen a lot of parking on the grass.
Aug 18, 2021
The sites were pretty close but all amenities were exactly as advertised. Seems the three KOA's we stayed at for overnighters on this trip were great! Just a bit too close to others though
Aug 18, 2021
Great place and very friendly staff.
Aug 18, 2021
The only complaint we have is that the neighbors who had a cabin just a few yards from our tent, stayed up late enjoying their camp fire and their radio, talking and laughing together hours past the camp quiet time... because we were in a tent, we had no option for shutting out their noise... But we would come back again and hope for quieter neighbors with NO radio!
Aug 17, 2021
As we booked months ahead of time, should have been put in a bigger spot that fit our camper better.Grandkids enjoyed playground and zip line. Putt putt golf needs a little attention ( cleanup and maybe painting the boards. Enjoyable stay.
Aug 17, 2021
We enjoyed our stay. All the staff were very friendly and the campground facilities were above expectations. The only downside was the highway noise, but we were in a tent and that couldn't be avoided.
Aug 17, 2021
Short stay but very good. Bathroom was clean, site was really level, and the campground was clean and neat.
Aug 16, 2021
We stayed overnight to split up an Ohio to Colorado road trip, and it was fantastic. Site was level, easy to get out of. No complaints whatsoever.
Aug 16, 2021
My grandson enjoyed the cabin and the play area. Was disappointed with the up keep of the miniature golf area. The cabin was great , and very clean. Staff was very helpful.
Sep 18, 2021
Very quiet...new spots in the back are bigger but you hear more of the interstate traffic. Best cable we've had on our 2 month trip!
- Lynn Hampton on Google
Sep 14, 2021
Super fast wifi!!!!!! Great stay, friendly hosts, a dog park with grass and Hunts pizza delivered piping hot to your door in 20 mins.
- Trays O'Reilly on Google
Sep 11, 2021
Great for stops lots of stuff
- Ivan Tchesnokov on Google