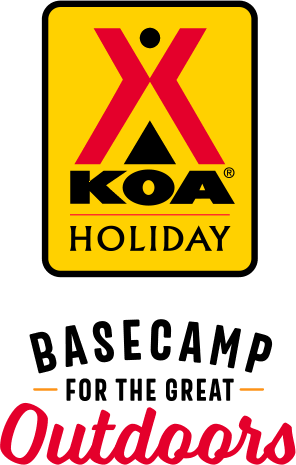 KOA Holiday Campgrounds
Whether you're exploring the local area or hanging out at the campground, KOA Holidays are an ideal place to relax and play. There's plenty to do, with amenities and services to make your stay memorable. Plus, you'll enjoy the outdoor experience with upgraded RV Sites with KOA Patio® and Deluxe Cabins with full baths for camping in comfort. Bring your family, bring your friends, or bring the whole group – there's plenty of ways to stay and explore.
KOA Holidays Feature:
RV Sites with a KOA Patio®
Deluxe Cabins with full baths
Premium Tent Sites
Group meeting facilities
Directions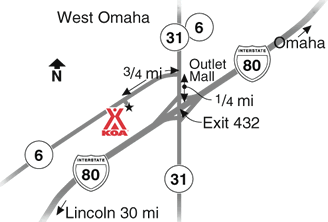 12 miles west of Omaha on I-80: Exit 432. North 1/4 mile, then west 3/4 mile on US Hwy 6. 
GPS: N41.095075, W96.264106
Get Google Directions
Sep 20, 2021
Very helpful and friendly staff. Campsite was perfect. Grounds well maintained and clean. Close to interstate so easy on and off. Right next to upscale outlet mall. ( my wife thanks you) Ipersonally had no trouble with the entrance and I have a 30 foot travel trailer. Just take it wide.
Sep 20, 2021
super friendly employees that make you feel welcome
Sep 20, 2021
Overall, the campground was nice. I was really glad we upgraded to a site with a patio as there was a good amount of shade and privacy. I wish that the attractions were in better condition. The bounce pillow was broken, and the other playground structures and dog park were in pretty rough shape.
Sep 20, 2021
Convenient location. Clean. Easy access. Friendly. We were next to road and playground. Very noisy.
Sep 20, 2021
Average, nothing special. We were on an end site on the exit path. Lots of traffic went by
Sep 20, 2021
People at check in very friendly, clean, quiet and you can either go to Omaha or Lincoln. Ashland's a cute place as well. They are adding more spots
Sep 20, 2021
Everything absolutely perfect. Hardworking people doing their best 24/7.
Sep 20, 2021
Very nice camp ground
Sep 20, 2021
Stayed one night. Very well kept KOA. Clean rest rooms. A little off the beaten path by but no road noise.
Sep 19, 2021
Easy access into Omaha and surrounding area.. Clean campground. Nice spacing between sites. This is the first time high-speed internet was actually high-speed.
Sep 19, 2021
The staff could not have been more accommodating!! Thanks so much!!
Sep 19, 2021
My site was terrible. Way to short and close to neighbor.
Sep 19, 2021
Nice staff. Very helpful. Had a back in deck site. Woods and cornfield behind us. It was quiet and peaceful.
Sep 19, 2021
Sonja was very sweet on the phone. Made same day reservation, we were going to be arriving late, and she called back before she closed the office and checked in with us. That has NEVER happened to me before, in 50 years of camping! Smart customer service action! Of course, we didn't have cell phones 50 years ago!
Sep 19, 2021
Clean, convenient, and quieter than most campgrounds. I'm glad that I stopped there.
Sep 18, 2021
Wonderful place. Clean restrooms. Good pizza but difficult to place order due to staff shortages.
Sep 18, 2021
Very friendly and helpful
Sep 18, 2021
VERY nice campground and sites. The staff were all friendly and helpful. We appreciated that the office was open later than 5 pm.
Sep 17, 2021
The campground is well taken care of but to charge a visitor a. Fee or to have a fee to reserve a specific spot on top of the daily camping fee is a little much. Not to mention the large increase in price from one year to another
Sep 17, 2021
The people were very friendly. We stayed in a deluxe cabin; the bed was so uncomfortable that we hardly slept, and our bodies hurt in the morning. There were cobwebs on the fan and ceiling. I would never stay in a cabin there again. We have stayed in cabins at other campgrounds, and never had beds/mattresses so uncomfortable.
Sep 17, 2021
They were very helpful
Sep 17, 2021
Ladies at the desk are very nice and pleasant to talk to. Grounds were very clean
Sep 16, 2021
Women/men bathrooms shower needs a handicap. Staff were very friendly and helpful. We will be back when in the area.
Sep 16, 2021
Nice and quiet
Sep 16, 2021
Great koa, the entrance off of Highway six is a real thrill and challenging but outside of that great park
Sep 16, 2021
Second time back! Love the many activities they have available for guests!
Sep 16, 2021
I employees were very helpful and friendly. Entrance was difficult to see and navigate.
Sep 16, 2021
Everyone was very friendly. Koa was well kept and clean. Thank you for a great stay!!
Sep 16, 2021
Dirty and dusty and the was unfriendly.
Sep 15, 2021
One night on our way west. Staff very friendly and reservation ready when we arrived
Sep 15, 2021
Checkin went great, camp ground was clean and well maintained. Saturday morning my husband took our two small dogs for a walk. Not to far from our trailer in grass behind a camper 223, when a man came out screaming and yelling at my husband to get our dogs out of his yard. He was extremely hateful and rude, said he worked at the KOA. There wasn't any signs of any kind regarding private property
Sep 15, 2021
Very nice park, but the only issue is trying to get into the park. The entrance is really tight for a larger rig. But all in all a great place
Sep 15, 2021
Nice quiet campground. Friendly people and clean facility.
Sep 14, 2021
We love this KOA! It's close enough to home for a quick getaway, and far enough that it is out of town. Staff is always pleasant and willing to help however needed. And the pizza is spectacular! The dogs love to get out and sniff new things. Meeting people from all over is a bonus.
Sep 14, 2021
An easy pull through site with full hook up and a picnic table. Many nice things to do at this camp in a wooded setting. Nice clean bathrooms with showers. Friend peoplely. Easy on and off I-80. Just follow the smell of fresh-baked pizza and you will find camp and supper.
Sep 14, 2021
We were out in the new expansion area. The area is really nice. Wide, grass covered areas with a gravel pad. Full hookups! This area is a 10 and will be great when some trees mature. The problem is that you're way in the back and ALL of the amenities are up front. When parks plan these expansions, why don't the add a dog park or easy access to showers, playgrounds etc? This is the reason for t
Sep 14, 2021
Nice grass, roads a little narrow for big rigs but doable.
Sep 13, 2021
Everyone is so kind!!! And they are correct in stating that the pizza is excellent. Only downfall is the gravel and that the bounce pillow was down for repair.
Sep 18, 2021
Very quiet...new spots in the back are bigger but you hear more of the interstate traffic. Best cable we've had on our 2 month trip!
- Lynn Hampton on Google
Sep 14, 2021
Super fast wifi!!!!!! Great stay, friendly hosts, a dog park with grass and Hunts pizza delivered piping hot to your door in 20 mins.
- Trays O'Reilly on Google
Sep 11, 2021
Great for stops lots of stuff
- Ivan Tchesnokov on Google