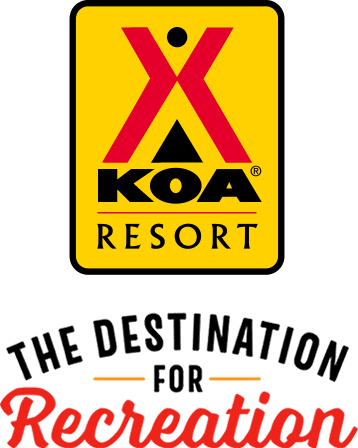 KOA Resort Campgrounds
KOA Resorts offer a carefree vacation in the great outdoors. Enjoy robust recreation and staff-led activities, kick back and relax by the resort-style pool, or grab a bite to eat, all while never leaving the campground. And with plenty of RV Sites with KOA Patios® and Deluxe Cabins with full baths to meet your needs, it's the ultimate camping getaway.
KOA Resorts Feature:
RV Sites with a KOA Patio®
Deluxe Cabins with full baths and linens
Premium Tent Sites
Resort-style pools
Indoor and outdoor group facilities
Directions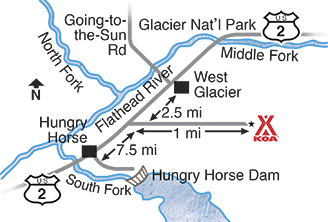 2 1/2 miles west of West Glacier on Highway 2: 1 mile east on paved road.
GPS Info: Some GPS devices try to direct you to a destination in Kalispell, MT., rest assured, we are in West Glacier on Highway 2. Some Apple devices need ZIP code 59901. GPS Coordinates: 48 degrees 27'51.74"N, 113 degrees 58'51.30"W
Get Google Directions
Aug 28, 2021
Tent camped for 2 nights. Very nice resort, the hot tub was a nice addition. Our camping area was off to the side of the park in a pretty and peaceful area away from the RVs. Would definitely come back!
Aug 27, 2021
Very nice and sparkling clean facility that is well laid out.
Aug 26, 2021
The quality of the bathrooms vary widely. Some are really nice, others are pretty ratty.
Aug 26, 2021
Hot tub was amazing! It can be a little noisy at night if you're near the bathrooms. Would be good if there were recycling bins.
Aug 26, 2021
Nice KOA. Glamping . Breakfast great. Clean.
Aug 25, 2021
What a great place to stay. Everything was awesome. Thank you KOA.
Aug 25, 2021
Awesome place. The only thing is only if it had more bathrooms.
Aug 24, 2021
Very clean facilities and great amenities
Aug 22, 2021
I only have one recommendation from my stay and that is the sand in the tent camping sights tent set up area. The sand gets everywhere and when it rains it gets stuck to the bottom tent. Other "camp resorts" I have stayed at had a rock type base which eliminated the mess. Other then that the site was amazing!
Aug 19, 2021
Very comfortable with great amenities!!
Aug 19, 2021
This was one of the most beautiful campsites I have ever stayed at. The location to Glacier National Park is unbeatable. It was a 3 minute drive to the park entrance. The campsites and bathrooms were very clean. The restaurant was delicious. The service in the park store was excellent and helped us plan our trip to the very last minute details. We enjoyed our stay very much!
Aug 19, 2021
Although it was raining during our stay we enjoyed our time. The grounds were well kept and the staff was friendly. I would certainly stay here again.
Aug 17, 2021
This is the best KOA ever. It is so close to the west entrance. It was super clean and overall pleasant. 10/10 would recommend
Aug 17, 2021
We enjoyed our stay a lot! We liked the entertainment both nights we stayed and we also enjoyed Lazy Bear Cafe. We were disappointed with the family pool-it was smelling weird and was dirty. But overall we liked our campsite and our experience and the location of the campground!
Aug 17, 2021
My 11 year old daughter and I stayed in site T109. Very spacious and not right by the road, we loved that. We didn't use the pool but Gaga ball was a hit. The restaurant on site was a bonus after a long day of hiking and the updated restrooms/showers were amazing! We didn't want to leave.
Aug 16, 2021
Best KOA I've been to
Aug 15, 2021
This place was amazing. So nice it could be the destination of the vacation.
Aug 14, 2021
The staff were professional to the guests. You can tell that they take pride in representing KOA.
Aug 11, 2021
Campground is very clean and well maintained. There was a mixup with our reservation but the staff did their best to rectify the situation. Close to Glacier national park which was nice.
Aug 09, 2021
Overall super nice property and friendly staff. We stayed at the far tent ground which was mostly ok and quiet- Our bathroom area was a bit run down and broken/dirty, but if you were willing to hike to another building, it was fine. Biggest bummer for us was that we came with group of 4 families and we all ended up being completely scattered over the park which made it annoying to coordinate.
Aug 08, 2021
Beautiful campground with clean showers , laundry mat, and great place to eat. Staff was extremely helpful and will be usually KOA sgsin
Aug 08, 2021
Nice place, nice people
Aug 08, 2021
This place is awesome!
Aug 06, 2021
I unfortunately had to leave early because of a family emergency, the refund of my remaining nights was professional and appreciated!!....I am DEFINITELY (!!!) Coming back as soon as I can, thank you all so much for the life changing experience
Aug 04, 2021
Great for a long stay, already regretting not spending more time here while exploring Glacier.
Aug 02, 2021
This was the cleanest, best maintained and most impressive enjoyable KOA I have ever stayed at.
Aug 02, 2021
So thankful that it worked out to stay here; it was an answer to prayer for sure. I did get a little lost in the dark trying to find my site, but the staff was helpful and friendly. I would definitely like to come back and stay longer!
Aug 01, 2021
Best KOA in MT.
Jul 31, 2021
Great time. Great place. See you next year!
Jul 29, 2021
Very nice family campground. Very friendly staff. Restrooms, showers and laundry were all fairly clean and in good condition. Could use a few more dish washing stations. Pools and extracurricular activities for the kids were very welcome. Will stay again if in the area.
Jul 29, 2021
Such a fun place! Kids loved to pool. We loved the music from Nick Crawford :)
Jul 27, 2021
It was clean, our site was spacious and quiet, and we had easy access to clean restrooms and showers.
Jul 26, 2021
Love coming here. Starting to get little expensive at the restaurant.
Jul 23, 2021
The nicest KOA we have ever stayed at! The tent sites were beautiful, spacious and private. The amenities were a big bonus too!
Jul 23, 2021
W Glacier KOA is the BEST KOA in the nation!!!
Jul 18, 2021
Adult pool/hot tubs, bathroom/showers, and kids areas were fantastic! Meal accommodations were less than desirable....dinner had a very limited, expensive menu (ribs, steak, or salmon only) & breakfast menu was better, but expensive and VERY SLOW service.
Jul 17, 2021
Great family friendly camp ground. Very dusty, bathroom by tent sites rundown and the dishwashing shrink is so far away from the tent sites be ready to walk a long ways.
Jul 16, 2021
Gorgeous place to camp! Staff was super friendly and helpful!
Jul 13, 2021
Very quiet tent campground at the back end of the resort close to the nature trail. Nice, flat spaces made for easy set up and sleeping. Our site was fairly private yet close enough to other sites to allow for a group experience. Clean and super convenient to bathroom and Glacier National Park. Staff was very friendly and helpful. We would definitely stay here again!
Jul 12, 2021
The campground was very clean and the staff was amazing. Our tent site had zero privacy being located at the end of the row next to the cabins. But walking around saw that most tent sites had great tree coverage for privacy. The nightly activities were wonderful.
Jul 12, 2021
Fantastic site that keeps us coming back each year. Friendly staff! Great experience. Thank you!
Jul 11, 2021
I have stayed at many KOAs, and I think this was the best. The staff was super friendly and helpful, and the facilities were clean, modern, and well maintained.
Jul 10, 2021
We loved that this campsite is so close to the West Glacier entrance and enjoyed our tent site which was separate from the main RV area and had lots of trees for shade. There is little/no cell phone coverage or access to the internet. The bathrooms were small and dated and by the end of the day were quite messy. Location, location, location is the main benefit for this park and we would return.
Oct 23, 2021
Glacier KOA is our favorite National Park destination. The staff is so awesome and kind! Jack Flanigan is my favorite staff member, he is always very helpful and knowledgeable on Glacier and different hikes or activities. He remembers me every year! Besides being 5 minutes from the most gorgeous National Park, the KOA has really fun activities for kids! We tie dyed matching shirts, played games, heard live music and also had a ton of delicious ice cream! Their pool is fabulous and I especially love their detail to the landscaping! The most beautiful wild flowers bloom and the view of the flowers with the mountains in the back is incredible! We love Glacier KOA so much our only problem is now we don't want to try any new parks since this one is so great!
- Starr Smith on Google
Oct 14, 2021
Fabulous
- Ann Leonard on Google
Oct 14, 2021
Very nice family oriented great spots and lots to do. Recommended
- Elaine Counts on Google