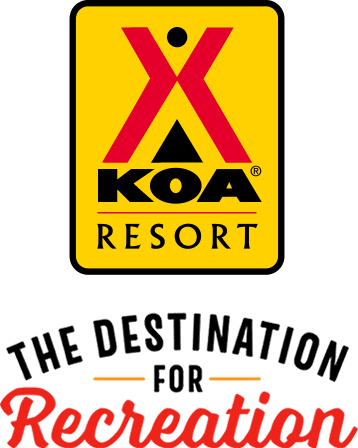 KOA Resort Campgrounds
KOA Resorts offer a carefree vacation in the great outdoors. Enjoy robust recreation and staff-led activities, kick back and relax by the resort-style pool, or grab a bite to eat, all while never leaving the campground. And with plenty of RV Sites with KOA Patios® and Deluxe Cabins with full baths to meet your needs, it's the ultimate camping getaway.
KOA Resorts Feature:
RV Sites with a KOA Patio®
Deluxe Cabins with full baths and linens
Premium Tent Sites
Resort-style pools
Indoor and outdoor group facilities
Directions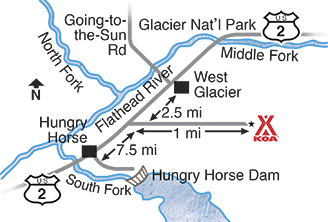 2 1/2 miles west of West Glacier on Highway 2: 1 mile east on paved road.
GPS Info: Some GPS devices try to direct you to a destination in Kalispell, MT., rest assured, we are in West Glacier on Highway 2. Some Apple devices need ZIP code 59901. GPS Coordinates: 48 degrees 27'51.74"N, 113 degrees 58'51.30"W
Get Google Directions
Oct 18, 2021
Great Stay! Bathrooms were super clean. If we are in the area again we would definitely stay again! Thank you
Oct 12, 2021
Beautiful campground, immaculate bathrooms, phone service, roomy campsites, and plenty of amenities with a gorgeous view. I'm not sure what else you could ask for - this is a definite must-stay campground!
Oct 08, 2021
Great facilities, super friendly staff.
Oct 05, 2021
Loved our stay! Very clean restrooms. Great WiFi connection
Oct 04, 2021
Nice campsite and clean bathrooms! Would definitely stay again!
Oct 03, 2021
First time camping and it was the best experience!
Sep 30, 2021
We loved (tent) camping here! We stayed for 6 nights and it was our favorite campground of this and the ones we stayed at near Yellowstone and Grand Teton. The bathrooms and showers were clean & new, our campsite great, our 5 year old loved the playground, the staff was friendly & helpful, the gift shop nice. A great location to explore Glacier National Park from each day.
Sep 30, 2021
The Campground was clean and well maintained. It was nice to have laundry available, and restrooms/showers conveniently located to our campsite. The campsite was spacious and quiet and tucked away in the trees. Our site had a picnic table, bench, and fire ring. The Campground is perfectly located just outside of Glacier National Park and is close to grocery stores and gas stations.
Sep 28, 2021
Nicest KOA we've ever stayed at and Mike the owner is a great asset to this facility. We had some issues with an employee cabin and he personally came to our campsite and made things right. I would highly recommend this campground. We will be back!
Sep 28, 2021
Clean bathrooms. Well-maintained grounds. Friendly staff.
Sep 24, 2021
Only bad thing. Someone stole my knit hat when left momentarily on the bathroom counter when using the facilities near the office. Luckily they did not take my jacket! Not blaming the campground. Just be mindful of theft potential. A problem everywhere nowadays…
Sep 23, 2021
Great space and staff!
Sep 23, 2021
Great ammenities and friendly staff. We'll be back!
Sep 22, 2021
This was the NICEST KOA I've ever seen! The grounds and garden areas were amazing! The facilities from the pools to all areas were very clean and well taken care of. The campsites were nice, and the areas for RV's were also very nice and had shrubs and all around the areas to provide some more privacy. It was a "Resort" and very nice and the bathrooms were also clean and laundry room as well.
Sep 20, 2021
Friendly staff and extremely clean and well laid out.
Sep 20, 2021
More than welcoming staff, efficient and friendly. Fantastic breakfast and dinner from the on site restaurant. Clean and updated facilities.
Sep 19, 2021
The restrooms were very clean and a generally nicer accommodation than most private gyms. The restaurant had terrific food for what was left in the season and the staff was extremely friendly!
Sep 19, 2021
Great location with lots of activities. Clean bathrooms and friendly staff
Sep 17, 2021
Tent camping space rented for a single overnight stay after a long hike in Glacier NP. Very nice to see walking trails straight from the site as we have a dog. Showers were top notch. We enjoyed a nice evening meal at the grill on site. Friendly staff. When I saw the sign claiming this to be a KOA RESORT, I was dubious, turns out it really is a Resort.
Sep 15, 2021
Great clean staff were very friendly. Only bad mark. Wifi went down day one and never came back on. Need to stay on that.
Sep 15, 2021
It was nice to find a pool open after Labor Day! Conveniently located. We booked a tent campsite and noted (with some jealousy) the beautiful, green manicured grass adjacent to each RV site... while our tent sites were dry and dusty. The raised tent platform was rough gravel and dust which got onto and into everything. A grass pad (or even a bed of river pebble) would've greatly improved our stay.
Sep 15, 2021
Very clean and well maintained. Staff was also friendly and courteous.
Sep 14, 2021
Loved our location within the KOA. Had a issue with out bathroom. There was no place to put belonging while using the shower. A large stool would be great. Also, the trashcan was overflowing and it was like that when we got to camp around 6pm and stayed that way until after we left the next morning.
Sep 13, 2021
Only 2 night stay, but such a beautiful KOA. Loved it !!!
Sep 13, 2021
Camp site we thought was sand, was more like hard clay, facility was pretty nice, didn't get our discount and still waiting to see if we get all our points on our koa rewards card. Would probably stay again but in our Rv.
Sep 13, 2021
This is the nicest KOA we have ever stayed in!
Sep 12, 2021
Friendly, fast check in, well maintained, lots of options
Sep 11, 2021
Very clean bathrooms! Very nice hot tub/pool area for adults only. Great stay, wish we were there longer!
Sep 07, 2021
Would have been 5 stars but the 2 breakfast sandwiches to go took 45 mins and put us behind for the entire day.
Sep 07, 2021
The best KOA we have ever stayed at!!!!
Sep 05, 2021
Location was great and easy to get to. Facilities were very clean and showers hot with good water pressure. Only issue (which is not against KOA) is that I feel too many users leave too many lights on around their tent/ RV sites. Makes star gazing difficult.
Sep 02, 2021
It was very clean, they have a wonderful cafe named "Lazy Bear", the staff was friendly and i had a very nice time there
Aug 30, 2021
We had a tent site and it was a great space. So many extras and amenities. The bathrooms did need a little attention, the trash was overflowing, but in these short staffed times, it was understandable.
Aug 29, 2021
Everything was excellent except for the noisy and somewhat unruly employees staying at the employee cabin next to our site. Much loudness and banging around well into the morning. My son overhear on employee ask another (around 2am on Monday), "do you want to f**k or s**k?" It was an unforcomfortable family conversation that followed. We were not happy about that rudeness at all.
Aug 29, 2021
The people uo at the front office were great. The first night we stayed in a tent and an it was very cold. We asked if we could move to a cabin and they took care of us instantly. We discovered there was an overlooking on that cabin and they came through again for us an got us a cabin. The rest of the stay was warm and cozy. The park and restrooms were extremely clean.
Oct 23, 2021
Glacier KOA is our favorite National Park destination. The staff is so awesome and kind! Jack Flanigan is my favorite staff member, he is always very helpful and knowledgeable on Glacier and different hikes or activities. He remembers me every year! Besides being 5 minutes from the most gorgeous National Park, the KOA has really fun activities for kids! We tie dyed matching shirts, played games, heard live music and also had a ton of delicious ice cream! Their pool is fabulous and I especially love their detail to the landscaping! The most beautiful wild flowers bloom and the view of the flowers with the mountains in the back is incredible! We love Glacier KOA so much our only problem is now we don't want to try any new parks since this one is so great!
- Starr Smith on Google
Oct 14, 2021
Fabulous
- Ann Leonard on Google
Oct 14, 2021
Very nice family oriented great spots and lots to do. Recommended
- Elaine Counts on Google