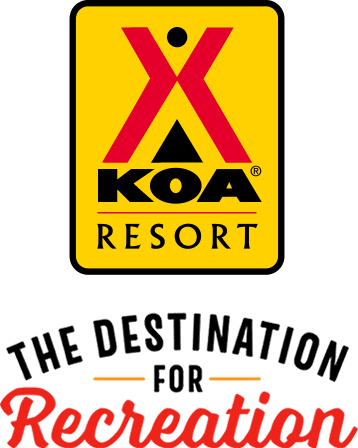 KOA Resort Campgrounds
KOA Resorts offer a carefree vacation in the great outdoors. Enjoy robust recreation and staff-led activities, kick back and relax by the resort-style pool, or grab a bite to eat, all while never leaving the campground. And with plenty of RV Sites with KOA Patios® and Deluxe Cabins with full baths to meet your needs, it's the ultimate camping getaway.
KOA Resorts Feature:
RV Sites with a KOA Patio®
Deluxe Cabins with full baths and linens
Premium Tent Sites
Resort-style pools
Indoor and outdoor group facilities
Directions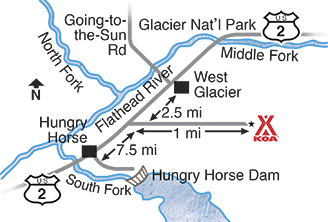 2 1/2 miles west of West Glacier on Highway 2: 1 mile east on paved road.
GPS Info: Some GPS devices try to direct you to a destination in Kalispell, MT., rest assured, we are in West Glacier on Highway 2. Some Apple devices need ZIP code 59901. GPS Coordinates: 48 degrees 27'51.74"N, 113 degrees 58'51.30"W
Get Google Directions
Sep 20, 2021
We had a great time but your exit is to tight for big rigs
Sep 20, 2021
We have been going for the last 3 years. Owners SD and this time back was kinda sad. Hot tubs are no longer salt water tubs that get cleaned every night and are now chlorine. Bathrooms not as clean along with the grounds. The hours of office/lobby and restrant hours were reduced. Kinda a bummer all the way around.
Sep 20, 2021
Friendly staff and extremely clean and well laid out.
Sep 20, 2021
Staff was very friendly and helpful, this KOA is really nice, lots of flowers and lovely landscaping, conveniently right outside of Glacier National Park!
Sep 20, 2021
More than welcoming staff, efficient and friendly. Fantastic breakfast and dinner from the on site restaurant. Clean and updated facilities.
Sep 19, 2021
Beautiful campground and awesome location!
Sep 19, 2021
You have a wonderful park. Easy in and easy out. Clean. Great restaurant. Fun entertainment. Close to the park making it great to get an early start. And the people were very nice. My only frustration was the water pressure. It would drop to 20psi and lower which became frustrating.
Sep 19, 2021
Cabin was clean. The staff was very friendly. Great location for the west glacier entrance.
Sep 19, 2021
Nice maintained, quite facility with all the amenities.
Sep 19, 2021
Great location to the west entrance to the park. Very nice staff, restaurant, camp store and the entire facility. Only issue we had in our 40' MH was that the site we were in (149) with a tent pad behind us was very narrow and close to both neighbors! Most other sites were wider & had bushes or more grass/area between the sites, some even with concrete patios. Reserve early as it stays full!!
Sep 19, 2021
Just one night but it was great…very relaxing! Delicious dinner and fun cocktail at the restaurant! The guys working there were so friendly and nice. The staff in the campground office were great too. Provided such a friendly welcome when we arrived! The grounds were so lovely and so nice for an evening walk. The bathrooms and showers were excellent too…so clean! Thanks for a great stay!
Sep 19, 2021
The park was great with nice amenities and grounds, my only issue was when checking in I was told that my fellow travelers and I didn't get sites next to each other because I didn't pay my deposit to hold the site, which was not true, I had my receipt, then I was given another reason and that I should have called after making the reservation, she put the blame on me when I think it was their e
Sep 19, 2021
Super nice campground! Loved staying here while visiting the National Park. Employees very helpful and pleasant. Best dog park we have ever seen! Will definitely stay here again!
Sep 19, 2021
Wonderful staff, great facilities. Wonderful stay! Definitely coming back.
Sep 19, 2021
Everything was incredible...but, the hot tub could have been warmer...
Sep 19, 2021
By far the BEST KOA we have ever stayed at. Excellent service and awesome cafe. Thank you
Sep 19, 2021
The restrooms were very clean and a generally nicer accommodation than most private gyms. The restaurant had terrific food for what was left in the season and the staff was extremely friendly!
Sep 19, 2021
Very clean and people very helpful
Sep 19, 2021
Great location with lots of activities. Clean bathrooms and friendly staff
Sep 18, 2021
Enjoyed the campground, had a wonderful stay!
Sep 18, 2021
Would have been better if not for the bright lights in your face from the laundry mat lights that are on 24/7. Need to at least put up blinds in the windows. Sitting outside at night was not very enjoyable.
Sep 18, 2021
The park is simply gorgeous. Very well kept and clean. We loved our spot and this was our second trip to this KOA and Glacier. Great email reminders prior to our check in definitely recommend.
Sep 18, 2021
We loved this campground. Clean and well landscaped. It was one of the nicest we have stayed at. Every one of the KOA staff was so nice and helpful. Miclelle not only helped me change my reservations, helped me determine the best way to get there after I had made a wrong turn in Billings, but I had car trouble with my towed and she found me a mechanic to work on it. Food was great there also.
Sep 18, 2021
Campsites were very well maintained and landscaped. Staff was very friendly and helpful.
Sep 18, 2021
I had a wonderful stay in a cabin at this campground! The cabin was well-appointed and even had a heater! The KOA had many nice accommodations and amenities for families, including families with children. The staff were all pleasant, friendly, and helpful. The restrooms were very clean and well-maintained. This KOA is just a few miles from the entrance to Glacier and a great choice for visitors!
Sep 18, 2021
If I could rate your park more than a 5 I would! Every KOA should be a tenth as nice and so many are a disappointment. Yours did not disappoint! Have already shared pictures and info with friends. We will be back if ever we come this way again! Thank you!
Sep 18, 2021
Love the wonderful flowers in your park. Staff very friendly and helpful. Beautiful RV spaces.
Sep 18, 2021
We really enjoyed our time at your KOA. Our cabin was quite comfortable and we were so pleased to have a frig and microwave in it. I not seen that in other KOA cabins. The newer bathroom was nice. The handicap shower took a little time to become available. If your other showers had grab bars, those not severely handicapped would feel more secure about using them. Nice quiet nights.
Sep 18, 2021
Best and most beautiful camp ever- I would highly recommend and surely return.The most beautiful landscape and setting- I probably took 30 pictures of the camp to show my family and friends
Sep 18, 2021
Great KOA. Spaces in some of the areas are tight, but others are not. With our slides out we could not walk around the motorhome. Stayed in a super landscape. Would pick a different spot. Also stayed at west Glacier RV, doesn't have the amenities but very very close to west glacier and spots are big! Koa is a bit nicer but both are fine.
Sep 18, 2021
We had an issue with our rv and the staff was absolutely wonderful!!
Sep 17, 2021
Great site was perfectly level on site. Had ice cream shop with good variety. Highly recommended.
Sep 17, 2021
Everything top-notch! Well run faciity. One of the best KOA's we've stayed in
Sep 17, 2021
Love the adult pool section and the grounds are beautiful!
Sep 17, 2021
quiet campground; great trails to walk on; loved the Sunday night pizza and quick eating options they offered
Sep 17, 2021
Loved the KOA beautiful landscape and the cafe food and waitress!!
Sep 17, 2021
Wonderful campground. The staff was friendly, the grounds were immaculate. Enjoyed our visit.
Sep 17, 2021
Our cabin was extremely clean, well laid out, and supplied with useful kitchen items. Ample towels and linens. It became a standard for other places we stayed. I do believed we were dinged at the Lazy Moose"(?) cafe. $10 for four ounces of mediocre wine served in plastic cups was extremely over the top. A rip-off. Staff was very nice, particularly one young man who gave us good advice on hi
Sep 17, 2021
We tried to have breakfast at 7:10 and after 20 minutes no one had even acknowledged us so we left. We tried to have ice cream at 8:55 and they were already closed, even the sign said they were open until 9:00. Schedules apparently do not mean anything. The ladies restroom needed some attention. The quality of service has slipped from several past visits.
Sep 17, 2021
This was by far the best campground I ever stayed at. We will definitely be going back.
Sep 17, 2021
W Glacier KOA is a delightful surprise, will definitely stay there again!!
Oct 11, 2021
Great campground resort worthy of its being the #1 KOA in the country. Great sites and great amenities (two pools, hot tubs, restaurants, bar, weekend entertainment, fantastic doggie parks etc.) plus lots of different accommodation choices from RV site to camping cabins to larger cabins capable of handling large families and groups
- David Mabry on Google
Oct 06, 2021
Help was very friendly. It was very clean. Would stay there again if I get back this way.
- Peggy Bukovatz on Google
Oct 05, 2021
Tucker Lodge, despite being in the middle of the KOA campground felt fairly private; now we were there in late September, so perhaps it would feel different if the campground was filled. Nicely kept and well furnished with full kitchen with all modern appliances. Includes washer and dryer. Now there is only one bedroom with a queen bed. Then there is an open loft with 2 queen and a bunkbed. So the only rooom with real privacy is the single bedroom. The loft is wide open to the living area. Two full baths - 1 down and 1 in the loft. Nice fireplace and a fire pit outside. Just minutes from the park entrance.
- HoustonFamily on Trip Advisor