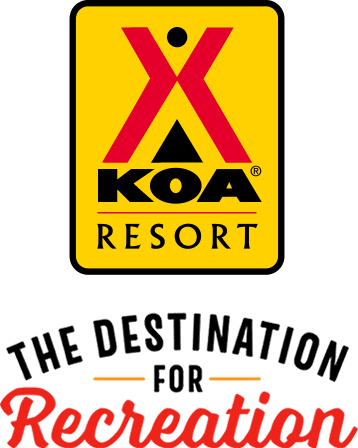 KOA Resort Campgrounds
KOA Resorts offer a carefree vacation in the great outdoors. Enjoy robust recreation and staff-led activities, kick back and relax by the resort-style pool, or grab a bite to eat, all while never leaving the campground. And with plenty of RV Sites with KOA Patios® and Deluxe Cabins with full baths to meet your needs, it's the ultimate camping getaway.
KOA Resorts Feature:
RV Sites with a KOA Patio®
Deluxe Cabins with full baths and linens
Premium Tent Sites
Resort-style pools
Indoor and outdoor group facilities
Directions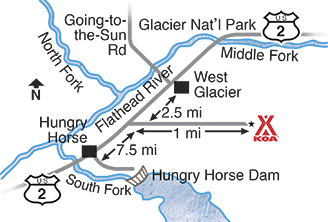 2 1/2 miles west of West Glacier on Highway 2: 1 mile east on paved road.
GPS Info: Some GPS devices try to direct you to a destination in Kalispell, MT., rest assured, we are in West Glacier on Highway 2. Some Apple devices need ZIP code 59901. GPS Coordinates: 48 degrees 27'51.74"N, 113 degrees 58'51.30"W
Get Google Directions
Sep 24, 2021
Loved the size of the lots. The lot we stayed at was level and spacious. Grass was mowed and green. We enjoyed the fire ring with benches.
Sep 24, 2021
Beautiful location with large, well groomed sites. This was our favorite stay during our entire trip!
Sep 24, 2021
Everyone was so accommodating and the grounds were spotless. I would gladly stay there again!
Sep 24, 2021
Only bad thing. Someone stole my knit hat when left momentarily on the bathroom counter when using the facilities near the office. Luckily they did not take my jacket! Not blaming the campground. Just be mindful of theft potential. A problem everywhere nowadays…
Sep 23, 2021
Very nice and clean. Very friendly people.
Sep 23, 2021
The young lady that checked me in was very nice and helpful. If we ever go back to West Glacier I will definitely stay there .The only bad thing I have to say is their firewood was terrible.
Sep 23, 2021
Very friendly staff and extremely well-kept campground. The landscaping and flowers are excellent. Would definitely stay here again.
Sep 23, 2021
Loved the Deluxe pull-thru sight.
Sep 23, 2021
The campground itself is very nice. The exit area is very poorly done. It would be even worse if a camper had been there using the dump station. We tow a 35' 5th wheel. It was a bit difficult to get through that section.
Sep 23, 2021
The campground was very clean and well taken care of. Most of the staff were friendly and competent, with the exception of Kim. When I asked for a correction on the purchase price on discounted souvenirs she gave me the runaround, questioning whether I had purchased them, even though they were on the receipt, stalling to refund my credit card until finally I said this is not worth it for $3.
Sep 23, 2021
Very friendly staff, super clean and well-maintained campground. I'll definitely return.
Sep 23, 2021
Quiet, clean, comfortable, and affordable.
Sep 23, 2021
Great space and staff!
Sep 23, 2021
Great ammenities and friendly staff. We'll be back!
Sep 22, 2021
Park was beautiful and very well maintained. Staff was super friendly and always helpful. Sites were clean, grass trimmed, hedges trimmed. The best rv park we've stayed at.
Sep 22, 2021
Stunning and quiet location only 5 minutes from the park entrance.
Sep 22, 2021
This was the NICEST KOA I've ever seen! The grounds and garden areas were amazing! The facilities from the pools to all areas were very clean and well taken care of. The campsites were nice, and the areas for RV's were also very nice and had shrubs and all around the areas to provide some more privacy. It was a "Resort" and very nice and the bathrooms were also clean and laundry room as well.
Sep 22, 2021
Absolutely beautiful KOA! Felt like a 5 star resort!
Sep 22, 2021
This is the most beautiful, well equipped KOA I have ever visited. Close to the park. Great to come back to after a full day.
Sep 22, 2021
Gorgeous campground!
Sep 22, 2021
It was very busy yet all the staff were very helpful and always took time to answer any of our questions. Our spot was open as promised. They have a great walk area for dogs besides a fenced in area where you dog can run leash free. Perfect area for camping and close to Glacier National Park.
Sep 22, 2021
Beat campground around. Stunning!
Sep 21, 2021
the koa carts sped everywhere. we were moved from our spot where the other three of our group were to the other side of park.
Sep 21, 2021
One of the nicest KOA we have stayed at over the years. Beautiful campsites and gorgeous views of Glacier National Park. Very nice amenities and super close to Glacier. Staff was very friendly and the camp was clean and well cared for. Already have reservations for next year. Book early!
Sep 21, 2021
What a great facility. Everything from the friendly office staff to the delicious food served at the cafe exceeded our expectations. The landscaping and attention to detail was amazing. We will be back.
Sep 21, 2021
Very clean, enjoyable and great amenities.
Sep 21, 2021
We had such a great trip! The staff was friendly and the campground was beautifully maintained. The only downside was how expensive the restaurant was. We will be back!
Sep 21, 2021
Friendly helpful staff at check in .
Sep 21, 2021
The nicest campground we have stayed in. Best location if you are going to Glacier Park..only a few minutes away. Very clean and roomy. We will always use this KOA while visiting Glacier Park.
Sep 21, 2021
It depends…if it is for RV camping I give them a 10 it was gorgeous…cabin completely utterly overpriced and the beds were horrendous!
Sep 21, 2021
Fantastic park. Beautiful grounds. The restaurant and ice cream shops were very fun. The staff here are wonderful. A great place to stay.
Sep 21, 2021
Everyone I encountered offered exceptional service. Going above & beyond! From the gentleman who greeted me when I arrived, to the friendly staff who wished me well when I departed. This place is imacculant. I felt very comfortable here. They are eagerly there to make your vacation 1 to remember. Impressed to see them taking measures to sanitize often touched surfaces & contactless check in. :)
Sep 21, 2021
Beat KOA we have ever stayed at
Sep 20, 2021
This is truly the nicest KOA, I'd rated it a 5+ if possible. It's nestled in a forest with mountains all around. The positives are the amenities, location, and easy access to West Glacier. They have a variety of tenting, RV and cabin sites. The RV sites were level and good positions for water/sewer. The restaurant and ice cream parlor were delicious. POOR/small laundry. Stayed 12 days-LOVED
Sep 20, 2021
Superb campground with excellent personnel
Sep 20, 2021
Shower stalls have no bench, only 7 of the 10 washers work and 2 did not spin water from clothing for $3.00 a load, rip off. This is a large park and only one shower house and laundry? Very disappointing. Grounds were level and clean but finish the project and fix the laundry and shower house.
Sep 20, 2021
This KOA was the nicest one we ever stayed at!
Sep 20, 2021
Best most beautiful campground I've even stayed in. It has it all. Friendly employees. Darling cafe. Hot tubs, pools, playground for kids and games for all like corn hole. I can't say enough about the experience. I wish all KOA campgrounds modeled after this one. I wish all campgrounds in general did as well. Oh ya, the park was nice too.
Sep 20, 2021
Most beautiful KOA we have seen. Wonderful place
Sep 20, 2021
Fabulous KOA ... best Rv park we have visited !
Oct 11, 2021
Great campground resort worthy of its being the #1 KOA in the country. Great sites and great amenities (two pools, hot tubs, restaurants, bar, weekend entertainment, fantastic doggie parks etc.) plus lots of different accommodation choices from RV site to camping cabins to larger cabins capable of handling large families and groups
- David Mabry on Google
Oct 06, 2021
Help was very friendly. It was very clean. Would stay there again if I get back this way.
- Peggy Bukovatz on Google
Oct 05, 2021
Tucker Lodge, despite being in the middle of the KOA campground felt fairly private; now we were there in late September, so perhaps it would feel different if the campground was filled. Nicely kept and well furnished with full kitchen with all modern appliances. Includes washer and dryer. Now there is only one bedroom with a queen bed. Then there is an open loft with 2 queen and a bunkbed. So the only rooom with real privacy is the single bedroom. The loft is wide open to the living area. Two full baths - 1 down and 1 in the loft. Nice fireplace and a fire pit outside. Just minutes from the park entrance.
- HoustonFamily on Trip Advisor