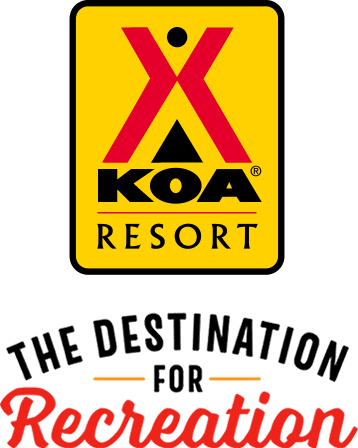 KOA Resort Campgrounds
KOA Resorts offer a carefree vacation in the great outdoors. Enjoy robust recreation and staff-led activities, kick back and relax by the resort-style pool, or grab a bite to eat, all while never leaving the campground. And with plenty of RV Sites with KOA Patios® and Deluxe Cabins with full baths to meet your needs, it's the ultimate camping getaway.
KOA Resorts Feature:
RV Sites with a KOA Patio®
Deluxe Cabins with full baths and linens
Premium Tent Sites
Resort-style pools
Indoor and outdoor group facilities
Directions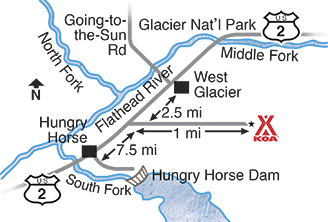 2 1/2 miles west of West Glacier on Highway 2: 1 mile east on paved road.
GPS Info: Some GPS devices try to direct you to a destination in Kalispell, MT., rest assured, we are in West Glacier on Highway 2. Some Apple devices need ZIP code 59901. GPS Coordinates: 48 degrees 27'51.74"N, 113 degrees 58'51.30"W
Get Google Directions
Sep 28, 2021
Nicest KOA we've ever stayed at and Mike the owner is a great asset to this facility. We had some issues with an employee cabin and he personally came to our campsite and made things right. I would highly recommend this campground. We will be back!
Sep 28, 2021
Clean bathrooms. Well-maintained grounds. Friendly staff.
Sep 28, 2021
Laundry facilities inadequate/ needs repair Bathrooms clean and nice, locations way to far away from RV sites
Sep 27, 2021
The sites were large and level. The entire campground was kept very clean, well manicured, and the view was spectacular. The campground staff were very friendly.
Sep 27, 2021
A beautiful park with everything you need for a great vacation. Close to the park and many other activities
Sep 27, 2021
The West Glacier KOA was the best campground we have ever stayed at in the 40+ years we have spent camping. The staff was extremely nice and helpful, especially for things to do, places to hike, and where to eat and shop. The Lazy Bear Cafe was adoreable and served up the best steak we have ever eaten. The facilities were well kept and clean. We splurged on the Patio site and it was worth it.
Sep 27, 2021
This is one of the most beautiful campgrounds we have ever stayed at. The sites are well maintained with beautiful views of the mountains. Restroom are extremely clean and well appointed and the staff were most helpful. The location close to West Glacier is ideal.
Sep 27, 2021
The cabin we stayed in was perfectly appointed, very friendly staff, absolutely beautiful place to stay!!
Sep 27, 2021
We stayed in the DELUXE CABIN (FULL BATH WITH SHOWER), PATIO STUDIO W/SUITE and really enjoyed our stay there. We did not participate in many of the amenities so I cannot speak to those but the cabin was very comfortable and we would definitely go back. Only downside, as with many places in these areas, is the lack of WiFi.
Sep 27, 2021
BEAUTIFUL spot and amazingly friendly & accommodating staff. We rolled in 4 mins after closing, we sheepishly knocked on the door hoping they'd still check us in. Not only did they stay late, the never made us feel like we were putting them out keeping them from closing up & going home. They were generous with their time & super friendly, didn't feel rushed out. 9/24/2021
Sep 27, 2021
Great facilities & location is perfect
Sep 27, 2021
Great place to Camp, very beautiful everybody was really nice and it is a huge area to accommodate every type of Camper , RV. There's a little bit of something for everybody to do for the whole family right there in the campground lots of hiking trails and then you're at the base of Glacier National Park so all up and down the highway there is zip lines and all kinds of attractions.
Sep 27, 2021
Our stay was absolutely wonderful. We had one hiccup, a worker, staying in a RV with a aggressive shepherd and a beagle type dog, she just leaves them in the fenced in dog area unattended! You cannot enter the area because of the shepherd. She doesn't even pick up her poop,
Sep 27, 2021
Loved both cabins we were in!! And your staff-especially Kim and Christy were amazing!!!
Sep 26, 2021
It is beautiful, clean and the staff was super. My only complaint is the site numbers are hard to find. Would be better to have the rows listed at end of each section. Example: row 1 through 10. It is such a huge park it would be great to have someone take you to your spot,
Sep 26, 2021
What a beautiful park, most likely the nicest one I have ever stayed in, All the employees I came in contact were extremely helpful and nice. ��
Sep 26, 2021
It is the best KOA I have ever stayed in and I have stayed in many over the years.
Sep 26, 2021
Best campgrounds we've ever stayed at. Super friendly and helpful staff!
Sep 26, 2021
This is my favorite KOA! The cabins are clean and have everything a person needs. The staff are very friendly. I will be back to stay.
Sep 25, 2021
We had a great stay. The West Glacier KOA is a great base camp while exploring Glacier National Park. And the Hot Tub after a days hike hit the spot....
Sep 25, 2021
Perfect location and beautiful KOA! Site was level and beautifully landscaped. Check in was easy and staff was very pleasant. We will definitely be staying here again!
Sep 25, 2021
A well kept resort with an excellent staff. Great location off the main road, but still close by to access the wonderful GNP sites.
Sep 25, 2021
Excellent location. Beautiful area. Loved the cabin. Had a great walking trail and dog park. Would definitely recommend.
Sep 25, 2021
Best campground we've stayed at. The only area I didn't like is that by our spot there was very spotty wifi if at all. I believe that if we are paying resort prices then every spot should get the same benefits. Adding a wifi extender is not pricey and would accommodate those in the far back. Other than that the location is great as well as their grounds and amenities. Staff was great and helpf
Sep 25, 2021
Very Nice Place , Great stay. Enjoyable.
Sep 25, 2021
The nicest campground we have ever stayed at. Loved the dog park and the hot tub. The sites had grass on the sides which I always prefer. They also sell propane but it was on the expensive side. This is really close to the park entrance.
Sep 25, 2021
We stayed in a large cabin. It was very nice, well kept and clean. It's a beautiful KOA park. I would return!
Sep 25, 2021
Great cabin with nice amenities and amazing views. Super convenient to Glacier National Park and other nearby towns. Will definitely stay sgain
Sep 25, 2021
nice place,clean, close to park, nice staff
Sep 24, 2021
Best KOA we've stayed at so far. Gorgeous setting. Very large property. We reserved one of the deluxe patio sites. Nicely landscaped. Plenty of room between sites. They have their own ice cream shop, serving some very tasty Huckleberry ice cream. We also needed an extra night, because of high winds the day we were leaving. Worked great, because we stayed in the same site. Will stay again.
Sep 24, 2021
I have been staying in KOA's for years. This KOA is the best I have ever been to. I cant wait to come back.
Sep 24, 2021
This was our first time doing any sort of camping and we totally enjoyed ourselves. I feel the by staying here the bar has been set pretty high for future site. When we come back to this area we will definitely stay here again.
Sep 24, 2021
Well maintained, nice facilities. Spotty internet though.
Sep 24, 2021
We were very disappointed. We paid for a premium site but we're on the end right beside the laundry. It was very busy night and day, lots of vehicle traffic and light pollution. Additionally, we were looking forward to having breakfast at the lazy bear but they stopped serving breakfast saying they ran out of food and wouldn't be restocking because it was end of season — but there is a month
Sep 24, 2021
This is a beautiful campground. Staff were pleasant and friendly. Clean bathrooms, laundry and showers. Large dog areas. Pool and SPA area excellent. Like the ideas of a adult pool area. Close proximity to Glacier NP.
Sep 24, 2021
Loved our stay! Great park great staff
Sep 24, 2021
Our stay at West Glacier KOA was so nice. The staff were kind, the views were beautiful and they had the best amenities. We'll definitely be back again
Sep 24, 2021
Great site in a great park with great people. Very close to the Park for easy access. The cafe pizza was really good, with a cold beverage and fire going it was a perfect end to the day. Highly recommended.
Oct 11, 2021
Great campground resort worthy of its being the #1 KOA in the country. Great sites and great amenities (two pools, hot tubs, restaurants, bar, weekend entertainment, fantastic doggie parks etc.) plus lots of different accommodation choices from RV site to camping cabins to larger cabins capable of handling large families and groups
- David Mabry on Google
Oct 06, 2021
Help was very friendly. It was very clean. Would stay there again if I get back this way.
- Peggy Bukovatz on Google
Oct 05, 2021
Tucker Lodge, despite being in the middle of the KOA campground felt fairly private; now we were there in late September, so perhaps it would feel different if the campground was filled. Nicely kept and well furnished with full kitchen with all modern appliances. Includes washer and dryer. Now there is only one bedroom with a queen bed. Then there is an open loft with 2 queen and a bunkbed. So the only rooom with real privacy is the single bedroom. The loft is wide open to the living area. Two full baths - 1 down and 1 in the loft. Nice fireplace and a fire pit outside. Just minutes from the park entrance.
- HoustonFamily on Trip Advisor