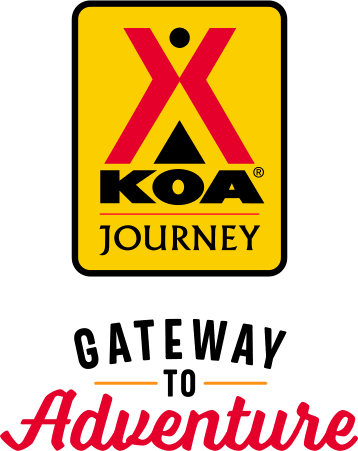 KOA Journey Campgrounds
KOA Journey campgrounds are the perfect oases after a day on the road. Whether it's along the way or a quick getaway, they've got you covered. Located near the highways and byways of North America with long Pull-thru RV Sites, they deliver convenience to the traveling camper. Pull in, ease back and take a load off.
KOA Journeys Feature:
Pull-through RV Sites with 50-amp service
Premium Tent Sites
Well lit after hours check-in service
Directions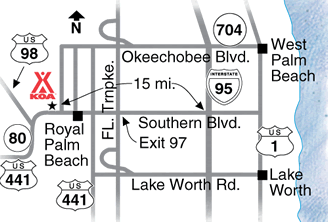 Take I-95 to Exit 68 (Southern Blvd). Head west on Southern Blvd 15.5 miles, then right on Lion Country Safari Rd. Go 2 miles, right at campground sign. Or take FL Turnpike to Exit 97. Head west on Southern Blvd about 10 miles, then right on Lion Country Safari Rd, 2 miles on right.
Get Google Directions
Jun 09, 2021
We loved the pool and friendly people.
Jun 09, 2021
Wonderful experience. Thank you LCS and KOA staff. We'll be back!
Jun 08, 2021
Great location. Staff are very friendly and helpful. All facilities are clean and maintained. Love the cabin experience.
Jun 08, 2021
The staff are courteous and very helpful.
Jun 07, 2021
Very courteous and helpful staff! Clean, quiet... a great place to stay!
Jun 03, 2021
It was perfect!! I just purchased the camper 2 weeks prior so I was my first trip!!! Friendly and wonderful ladies at the front desk...all the way to the very helpful gentleman that made sure are camper was in just the perfect spot!!!!! Thanks for making the trip a blast!!! P.S. the wait time for getting into Lion country Safari is a heck of a lot better than having to wait halfway down the roa
Jun 03, 2021
I love it there. The staff is very friendly. Everything is clean and organized.
Jun 02, 2021
Awesome campground. Great experience. Thank you
Jun 02, 2021
Always a great time here. Love hearing the lions roar
Jun 02, 2021
It was pleasant although I asked for a shaded site and it wasn't while there was shaded spots empty. Pool was clean and staff was friendly. I found it a little pricey for not too many amenities and the Safari being additional cost. At least there was a discount per ticket. The Safari was great and my girls loved it.
Jun 01, 2021
We stayed for sometime at the KOA . It was fantastic and the Manager Kathy and the staff were fantastic. Always looking out for us.Thank you to all of you !We will miss the RV life but so love our new home in Sebastian,Fl
Jun 01, 2021
Everything was great
Jun 01, 2021
the manager was the best
Jun 01, 2021
We loved the campground. It was clean and quiet, in the morning you could hear all of the birds. The only bad thing was the shower rooms got excessivly hot. The bathrooms were not new but they were clean. We will definitely be back and hopefully for a longer stay.
Jun 01, 2021
Staff was great; friendly and helpful. Loved being able to hear the safari animals. Nice campsites.
Jun 01, 2021
We enjoyed our stay. The restrooms were clean and well kept, the pool was clean and the sites were litter free and well maintained. The staff in the office were friendly and helpful. It was a great weekend!!
Jun 01, 2021
Great location and we felt safe
Jun 01, 2021
Awesome as usual. Love Love Love the pool! PS . . And the dog park.
May 29, 2021
Great and helpful staff, Kathy and Margaret especially. The fellow that helped us with propane was wonderful also. The campground is clean, layout well and wonderful. Pool great too! We loved the roar of the lions throughout the day and night. Great vacation and birthday celebration. Thank you for all your help! CinMar
May 28, 2021
LOVED OUR STAY @Lion Country Safari!!! Very helpful and kind staff. We are staying for a month next year. I can't wait!!! I loved waking up to Lion's roaring. Well worth the $$.
May 26, 2021
Clean, quiet, friendly staff.
May 25, 2021
We loved site 112. We had a wonderful time as always. The staff is always professional and helpful! Wouldd be nice if a little cheaper!��Ϝ�
May 24, 2021
Uneventful and relaxing.
May 24, 2021
The stay was very very good!!!!!!!.
May 24, 2021
Office staff was amazing and so was the campground. Clean and quiet at night ! Loved hearing the lions roar
May 20, 2021
Campground was clean and neat. Everyone was nice and helpful. Great discount on Lion Country Safari tickets!
May 20, 2021
Thank you for allowed me and my service animal to feel welcome. Bathroom and shower have been keep clean. Staff are very friendly and helpful. �
May 19, 2021
Wasn't expecting the safari to be so nice. Short stay on our way to the Keys but enjoyed our stay at lion country Koa. Had a nice couple in the site next to us Mark and Cindy he was celebrating his 79th birthday.
May 18, 2021
Conveniently located next to Safari. Very limited bathrooms throughout campground. Bathroom needs ventilation and more frequent cleaning.
May 17, 2021
Such a great environment! We will definitely be back!!
May 17, 2021
For us, campground was very convenient as we were there for Lion Country Safari. We are campers who enjoy the outdoors and rarely have a need for internet. We relax. Very pleasant stay.
May 17, 2021
loved hearing the lions roar, nice shade at the site, and pool was nice
May 17, 2021
ITs very cool to wake up to the lions roaring in the morning! The sites are ok nothing to write home about and at least mine was a gravel site several are just weeds and grass.
Jun 08, 2021
Great place to go for a family trip
- Diane Ernest on Google
Jun 03, 2021
A must to experience.
- Trenton Brewton on Google
May 30, 2021
Awesome campground. Staff is great and campground is clean. You can hear the animals from the safari at night
- Michelle Weld on Google