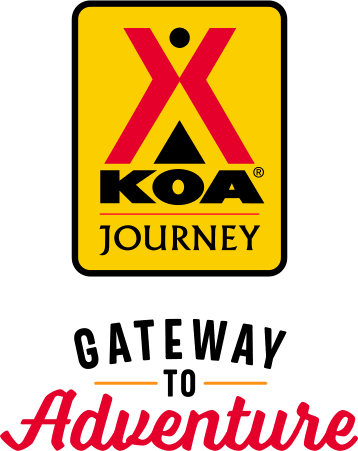 KOA Journey Campgrounds
KOA Journey campgrounds are the perfect oases after a day on the road. Whether it's along the way or a quick getaway, they've got you covered. Located near the highways and byways of North America with long Pull-thru RV Sites, they deliver convenience to the traveling camper. Pull in, ease back and take a load off.
KOA Journeys Feature:
Pull-through RV Sites with 50-amp service
Premium Tent Sites
Well lit after hours check-in service
Directions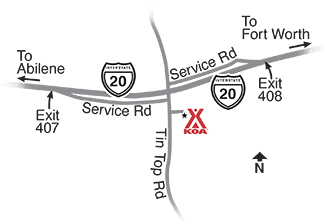 I-20 West Bound: Exit 408. Stay on service road crossing over Main Street/Hwy 51. Continue west on service road down the hill to stop sign. (Home Depot will be on your right). Turn left (south) onto Tin Top Road. Go straight under I-20. Continue on Tin Top about 1 block, we are on the left.
I-20 East Bound: Exit 407. Continue on Service Road for about 2 miles. Turn right (south) onto Tin Top Rd. Continue on Tin Top about 1 block, we are on the left.
GPS: N32.725036, W97.795830
Get Google Directions
May 25, 2020
Our car battery died and David helped us get it going. The manager of the KOA was super nice. Everything was perfect! We had the best spot for our tent. Thanks for a great time!
May 19, 2020
You had multiple sites open and placed me in the muddiest site. Wish I could share the photo of my ruined sneakers when I stepped out of my car into the quicksand.
May 12, 2020
The Manager, Denise, was awesome and doing her best with little resources. During the month we were there, our site was only mowed once (lawn mower broken). The restrooms and laundry facility were very clean. The plaice is a little run down.
May 12, 2020
The RV space was spacious and clean. The only negative that I have is that the dog park needed mowing as the grass was tall and full of burrs.
Apr 28, 2020
Denise made our stay exceptional. Needed to help extend our stay by two weeks and she took care of everything. Thank you Denise wishing you all the best.
Apr 28, 2020
The staff is friendly and helpful. The park is clean, quiet and green . We definitely will return when we travel that way. It is close to shopping, Weatherford is a nice clean town
Apr 18, 2020
Was clean except for doggie poop can. It was not emptied the entire time we were there, but the camp was poop picked up and I agree totally... but you could also expect that the can would be cleaned out daily... it was quiet as people were staying in. it lacked amenities. it was a basic camp with lots of folks that live there permanently. not conducive to in/out travelers.
Apr 08, 2020
Very good Laundry. The campsite has loose gravel, not so good to stay.
Apr 07, 2020
this is just ok for an overnight stop but would not stay any longer
Apr 07, 2020
Over night but nice to have power
Apr 06, 2020
We love this campground! We stay there frequently when we go to see family in that area. The people who manage it are the absolute BEST!!
Apr 01, 2020
I was charged $35 for a tent site that was too far away for Wifi. The showers were out of order and the bathrooms were closed. I had a diverticulitis attack and was unable to use the bathroom and had to travel to a nearby restaurant a couple of times. I understand that there was a problem with the pluming but being charged $35 for a spot to sleep in my car with no shower or toilet is way much.
Mar 31, 2020
There was lots of rain and flood damage that was getting fixed while we were there. The women's restrooms didn't have eno toilet paper. They cleaned them daily and only put one roll of toilet paper in each stall. It was used up or gone by 1 or 2PM most days. We used our own toilet paper. The morning of the 24th after using toilet in ladies room water backed up through main floor drain by showers.
Mar 23, 2020
Staff is very friendly but the property is run down and not very maintained. No landscaping, high grass.
Mar 19, 2020
1st time camping and it was an awesome experience at your campgrounds. Really loved your Texas sinks in the restrooms. Will definitely be back!!
Mar 14, 2020
We were only there for 2 1/2 days, nice campground for relaxing. Staff very friendly. A good overnight stop.
Mar 07, 2020
Small site, couldn't put slides out.
Mar 06, 2020
Friendly people at check in. The site we were in was not very level. It rained one day we were there and the site got pretty muddy. Lots of places to eat and stores nearby. Would stay there again for an overnight stay but not for multiple nights. Staying at a KOA currently where all the ducks are in a row.
Mar 04, 2020
Simple, quiet campground. Very close to town.
Feb 29, 2020
The staff was very friendly. Check-in was smooth. Our space was level and easy to pull into. The playground had swings and teeter-totters. The only negative was that they were waiting on their permit to dispense propane, so we were unable to fill up. Other than that, we had a great stay.
Feb 26, 2020
Park was not what I would think of as quality KOA..seemed to have limited space for short term visitors sites very close together and seemed like an after thought. my site had water or sewage from site to me...Staff member I checked in with was friendly.
Feb 23, 2020
Weekend get away
Feb 19, 2020
We had a problem with our slide out and since it was Sunday we could not locate a mobile service to assist. Three of the fulltime RVers graciously assisted us in the repair and we were extremely grateful. We fixed the problem and left early Monday. Forever in their debt.
Feb 16, 2020
Small, pie-shaped site that was several inches out of level (our site and the one next to it "melded" together at one end). The water spigot was close enough to the ground that it made it difficult to get a hose on it and the valve had a steady leak around the shaft that created a muddy spot slanting over toward the RV.
Feb 16, 2020
The Weatherford KOA is an easy stop over place when we are traveling. It was to bad we could not fill up our propane tank while we were there.
Feb 07, 2020
The cable tv does not work. The WIFI was horrible. The parking pads are not very level.
Feb 07, 2020
Very nice campground for a quick stay
Feb 05, 2020
Loved our stay Dennis was awesome!!! We even met the owner Mr Williamson he was very welcoming, very well kept campground, we will definitely be staying with KOA Weatherford/Ft Worth West again
Feb 04, 2020
We had a water leak problem so we didn't have running water. We mentioned it to the lady that checked us in. She sent two guys over to look at our problem. They couldn't figure it out so they called Dave. Dave climbed into our basement and tighten the fittings up and problem solved. This was on a Saturday so we could of been setting there for a couple days.
Jan 27, 2020
Weatherford KOA is challenging to locate, even with GPS. Pull-thru, full hookup sites are limited.
Jan 25, 2020
I had to call to make a reservation, as the online system was down. Probably not their fault. I got there late ~9:30. The site was easy to find. It looked like they had just put in some fresh rock to harden the parking area, and it was level. Very muddy though off the rock and near the shore power pole and other connections.
Jan 17, 2020
Not bad for an overnight stop, at least the bathrooms were decent. It's not well lit at all, seems old, there are too many bugs, nothing majorly wrong but not great
Jan 07, 2020
Our spot was entirely to close. Our slides nearly touched on both sides. The gravel on my spot very un-level. The dog park was great.
Jan 06, 2020
I'm giving a 2 because its affordable. Any more expensive and I would be giving a 1. It's dated and the road noise is brutal. I am in a little pop up camper and they put me right next to the road. Semis going by, the interstate is extremely loud too. The site I'm in is pretty unlevel. Sites are super close together too. I should have boondocked. KOAs really have let me down lately.
Jan 06, 2020
Not well maintained, does not feel safe.
Jan 02, 2020
Convenient location, relatively quiet, could be a little more clear on late arrival directions of which way to go to pull thrus. Very easy hookup thou
Jan 02, 2020
Just stayed 1 night. Strictly looking for electric and internet. Both were good.
Dec 31, 2019
One call and they were ready with a perfect, easy access, pull-through site. No muss, no fuss in the office. Easy in, easy out. I really used none of the other amenities, just plugged into power for a silent (no generator) night.
Apr 23, 2021
Franklin always does us good. That guy is always cracking me up while inspecting our vehicles. He is a ray of sunshine.
- Casey Benton on Google
Mar 18, 2021
Fantastic RV park right off I-20, but secluded and quiet. The best part of this RV park is onsite RV parts and services!!!
- Paul Miller on Google
Mar 01, 2021
Propane refill
- Timothy Smith on Google