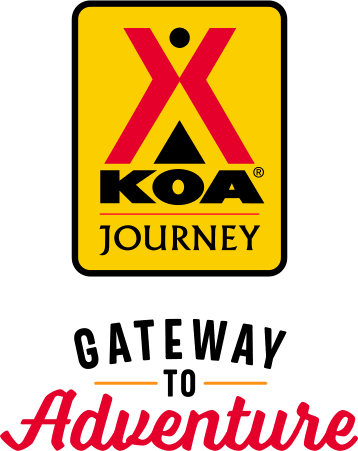 KOA Journey Campgrounds
KOA Journey campgrounds are the perfect oases after a day on the road. Whether it's along the way or a quick getaway, they've got you covered. Located near the highways and byways of North America with long Pull-thru RV Sites, they deliver convenience to the traveling camper. Pull in, ease back and take a load off.
KOA Journeys Feature:
Pull-through RV Sites with 50-amp service
Premium Tent Sites
Well lit after hours check-in service
Directions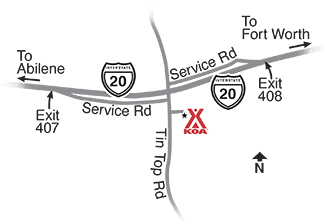 I-20 West Bound: Exit 408. Stay on service road crossing over Main Street/Hwy 51. Continue west on service road down the hill to stop sign. (Home Depot will be on your right). Turn left (south) onto Tin Top Road. Go straight under I-20. Continue on Tin Top about 1 block, we are on the left.
I-20 East Bound: Exit 407. Continue on Service Road for about 2 miles. Turn right (south) onto Tin Top Rd. Continue on Tin Top about 1 block, we are on the left.
GPS: N32.725036, W97.795830
Get Google Directions
Aug 16, 2020
Park is nice. I liked the grass areas until the miniature fire ants attacked me and my dogs. Those little critters are brutal!
Aug 09, 2020
Very nice. Office staff very friendly! Convenient to everything!
Aug 07, 2020
The facilities were fine. The staff was friendly. The reason I only gave a rating of 3 is due to the fact that none of the staff wore masks. I find it very disturbing when we are currently in the midst of a pandemic. I do not appreciate the staff having such a disregard for my (or anyone's) safety.
Aug 07, 2020
Staff very helpful
Aug 03, 2020
Stayed overnight, came in late, the park had our info ready at the door. Loved the Texas state shaped bathroom sinks.
Aug 03, 2020
Great stay very quiet park friendly people
Aug 03, 2020
It looks more like a full time living trailer park. The grounds were clean but the trailers (that looked like they were there all the time) were dirty looking. The night we stayed another camper came to our door because someone stole his propane tanks from his trailer so then I felt unsafe there. On another note the receptionist who greeted us at the check in desk was 5 STAR all the way!!!!!
Aug 03, 2020
The tent campsites were fantastic and well maintained and the staff was friendly and accommodating. Very clean restrooms. Great experience.
Jul 31, 2020
Great staff and a really wonderful campground. Lots of grass!
Jul 31, 2020
Very helpful.
Jul 28, 2020
Very dirty chairs at the pool! Need cleaning. A lot of trash on the canal side behind the tents.
Jul 27, 2020
The site we had (#10) had a large yard and a big shade tree and was lovely. It's worth asking for that site when you make your reservation. There are a lot of spaces, though, which are very close together and appear to inlcude many full time residents of the park. However, it was very convenient to shopping, restaurants and was an easy trip into Fort Worth.
Jul 27, 2020
Despite there being many other spots open they put it right next to the street which was very noisy. Further the black tank connection had no threads in the elbow from our trailer leaked accordingly and was very messy.
Jul 27, 2020
Our stay was great thanks to Dave he did everything to make our stay comfortable n made sure we had everything we need everybody was friendly
Jul 25, 2020
Great campground. Dave the manager was super nice and very friendly. Campground was clean and pool was kept very well. We will certainly be back.
Jul 24, 2020
Very wore down and a bit scary . First two electric boxes we tried didn't work. Staff were easy to get on the phone after hours and sent help
Jul 16, 2020
Really, that's about a 4.5. The sites aren't paved. The loose rocks were hard to walk on for us seniors. We LOVED the little dog park, the grounds were clean and well-kept, and the bathrooms were SPOTLESS! Check-in was a breeze and very welcoming. The location is great for Weatherford. We WILL be back.
Jul 13, 2020
We really liked staying at this KOA. We don't care much for fancy resorts and this was more like a 'mom and pop' business which is just what we were hoping for. The owners are welcoming and helpful and treated us like friends. The caretaker does a nice job of keeping the pool clean and the extensive lawns neatly mowed. Ours was a very pleasant stay and we hope to return in the near future.
Jul 13, 2020
Staff is very friendly and helpful. Spots are well kept. Convenient location to places we like to visit.
Jul 12, 2020
We had a lovely stay. This is a smaller KOA but it was very clean and the staff was super nice.
Jul 12, 2020
It was just an overnight stay - however we were very pleased with the facility
Jul 09, 2020
I cancelled my reservation an was still billed for my visit! This is theft!
Jul 06, 2020
It was nice but didnt expect fireworks inside of park. The spaces are closer together than what we've been used to.
Jul 04, 2020
More like a trailer park
Jun 30, 2020
Nice little park, staff very friendly and helpful. All utilities worked fine, plenty of room for our motorhome. Could use a bit of sprucing up but we would definitely come back
Jun 27, 2020
WE had a great time, thank you very much.
Jun 27, 2020
We were in Weatherford for a wedding and this place was nice. The people around us were very friendly and I would stay there again
Jun 25, 2020
Lots of ants and sites not level. Gravel base to soft.
Jun 24, 2020
Good experience. Fair rate.
Jun 24, 2020
no problems. enjoyed the stay. friendly and helpful folks. first night in my new RV!
Jun 20, 2020
The front desk friendly. The sites are clean with a shade tree, picnic table, w/full hookups including cable tv. There is a rv repair center on site. We were in site #1, at the road separated by small brush. It appears there are full timers living there...but still, it was quiet! For adults, it is a good 1 or 2 night stay with laundry on site.
Jun 16, 2020
Hot showers. Clean bathrooms. Overnight quick stop W after hours checkin. so we did not see anything else
Jun 15, 2020
Facility is sufficient, in an odd location that it is not very appeasable but the KOA itself is very nice and clean with the appropriate amenities.
Jun 12, 2020
It is a convenient stopover as we cross this part of Texas.
Jun 09, 2020
We our beginner RV'ers and we were looking for somewhere close to get our first RV experience. I have heard thru friends that KOA campsites were nice place to stay and they were right. Ck in was fast and easy the staff very friendly. We enjoyed our stay and will definitely stay at another KOA
Jun 09, 2020
One of the best KOA'S we've been in. Spacious lots, very clean. Quiet.
Jun 08, 2020
It was very pleasant
Jun 08, 2020
Was EXCELLENT all the way around.
Jun 08, 2020
Nice family run site. Friendly staff, clean accommodations, nice library, cool store.
Jun 07, 2020
Nice, quiet campground. Everything was clean and the pool was awesome. Good location and close to restaurants and stores. Needs a little improvement on the fire pit sites in the tent area. And our water access pipe was barely above the ground.
Jun 04, 2020
This is an AWESOME campground! We have stayed there often. Always clean, and extra friendly and helpful staff. Dog park is nice as well as playground. Bathhouses spacious and clean. We enjoy it every time we go through there! Cindy Frederick, Odessa Texas
Apr 23, 2021
Franklin always does us good. That guy is always cracking me up while inspecting our vehicles. He is a ray of sunshine.
- Casey Benton on Google
Mar 18, 2021
Fantastic RV park right off I-20, but secluded and quiet. The best part of this RV park is onsite RV parts and services!!!
- Paul Miller on Google
Mar 01, 2021
Propane refill
- Timothy Smith on Google