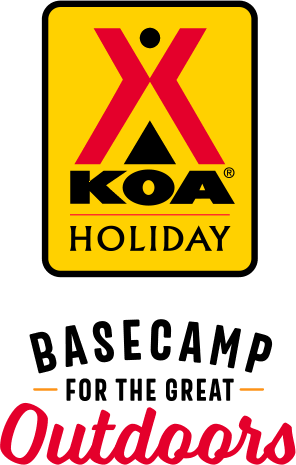 KOA Holiday Campgrounds
Whether you're exploring the local area or hanging out at the campground, KOA Holidays are an ideal place to relax and play. There's plenty to do, with amenities and services to make your stay memorable. Plus, you'll enjoy the outdoor experience with upgraded RV Sites with KOA Patio® and Deluxe Cabins with full baths for camping in comfort. Bring your family, bring your friends, or bring the whole group – there's plenty of ways to stay and explore.
KOA Holidays Feature:
RV Sites with a KOA Patio®
Deluxe Cabins with full baths
Premium Tent Sites
Group meeting facilities
Directions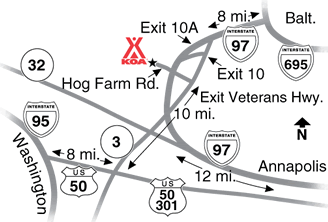 From North/Baltimore I-695 to I-97 South to Exit 10A. Right on Veterans Hwy 2 miles to 1st right turn, go under hwy turn left, go 2 blocks to Hog Farm Rd on right. Follow signs.
From South I-95 North to Hwy 50 East to Hwy 3 North. Exit at Veterans Hwy. One block to first left turn. Go under highway turn left, go 2 blocks to Hog Farm Road on right. Follow signs from there.
Get Google Directions
Jun 28, 2020
We enjoyed the DC area and the campground was nice, but a couple of things were annoying. 1) The store for the campground closes at 5pm, too early when people are just getting back from enjoying the sights in DC. 2) Tent are not allowed on RV sites for our 12 year old son. It was in no-one's way nor obstructed anything. They wanted us to pay an additional $52 a night for a tent site.
Jun 28, 2020
Very good camp, super clean, and the staff was very friendly.
Jun 28, 2020
Upon arrival I was informed that all amenities were closed due to Covid-19. A fact that was not disclosed while I was paying for my reservation on the phone. However, they had no problem charging me the full rate. During my stay, not a single employee smiled at any paying customer. I wouldn't stay at this location again, even if it were offered for free.
Jun 27, 2020
We had a nice stay, but I think the rates could have been adjusted do you the reduced amenities because of the virus.
Jun 25, 2020
It was a nice campground. Clean and very spacious. Nice flat roads for bike riding. Only downside was the pool was closed.
Jun 25, 2020
There were campers dumping 5 gallon buckets of waste from the back of their SUV into the dump station. Also, there was a family staying in a cabin that was smoking weed and being very very loud through the night. There were small children in this group. This is unacceptable to me on so many levels. I was extremely disappointed with my stay.
Jun 16, 2020
First time at the campground. Well kept, clean and Tidy campground. Very friendly staff and helped us out with a dead battery! Coming back in 2 weeks!
Jun 16, 2020
Excellent staff, staff was friendly and helpful. Only wish that we had more discretion over site selection
Jun 15, 2020
We reserved a patio this time and we really liked it. The outdoors was great. Bathrooms and showers were always cleaned, The campground is very well maintained. We have a dog, so we like the canine area.
Jun 15, 2020
Park was great. However, check in, not so much. Requested a specific area and told I would get it, we did not. Moved into that area after three days. Also over charged and could not get anyone on the phone to address the issue. However, the money showed up back in our account but still, never got a call back from the manager. That would have been nice.
Jun 14, 2020
The staff is very helpful
Jun 14, 2020
Patio site was awesome, very spacious with room for our trailer and truck. Only drawback was it was acrossed from cabins, and the children AND adults from the rental cabins, kept using our site to cross through as a short cut...not 1 time, but 5+ even though each time I respectfully told them not too. As well, they let their 8+ kids play (and throw crush rocks near our truck)and run on our grass.
Jun 02, 2020
Convenient location, really the only positive remark I can make. Site was not level, and there was no cable TV. Amenities were closed due to Covid 19, which is no ones fault. Still way too much money for a quick stop over!
May 24, 2020
Very friendly people and we had a beautiful site. Will be returning very soon.
May 21, 2020
Great location great sites
May 20, 2020
The way we checked in was Safe Good job
Apr 17, 2020
The staff are always very friendly and helpful, even during this challenging time. We love going there even though it's just 5 miles from our home.
Mar 30, 2020
Nice location to go visit family or see the Capital when life returns to normal. Nice kept campground. The lower level did not allow local TV. Nice walking paths to walk the dogs. The dog playground was perfect for our pets.
Mar 29, 2020
We had to get our RV back to New Hampshire so we were just passing through. We were highly impressed with how they were handling social distancing yet you could still get things you might need!
Mar 26, 2020
Was a very enjoyable experience the staff were very friendly and helpful
Mar 17, 2020
Nice friendly campground. Easy parking.
Mar 09, 2020
We had a malfunction (failed door latch) (did ask for area service providers from office that they shared). We were parked across from the office. While we did not expect anyone to "fix" our problem, no one even checked on us--though it became dark and we were working outside with a flashlight, crawling in and out of the RV through our a window-no one checked to see if we were OK. Disappointed.
Jan 14, 2020
Place was clean and taken care of. I rated it a 3 because of the small size of the sites.
Nov 28, 2019
Noisy, dirty, unlevel sites, no cable, no wifi. Need I say more.
Nov 28, 2019
My credit card was overcharged for a cabin that wasn't even mines
Nov 14, 2019
Very noisy location near 2 freeways but that makes easy access. Nice staff.
Nov 14, 2019
Excellent. No issues. Very friendly and helpful.
Nov 14, 2019
I stay here a few times a year but only for one night. It is the half-way point whenever I travel up and down I95 from NH/GA. Always clean staff is always helpful and, when requested, I often get the site I sant next to the Dog Run. Thank you, team, for the great job!
Nov 14, 2019
Nice clean quiet. Would give it 5 stars but its very overpriced compared to other KOAs and we've stayed in KOAs all over the country.
Nov 12, 2019
Lovely campground. Sites were a bit close together for comfort. MANY campfires contributed to an unpleasant atmosphere. Parties continued loudly until well after quiet hours. Dogpark was clean and well tended.
Nov 07, 2019
I checked in on Friday, late afternoon and things were fine. There was a group of about 15-20 people who rented sites directly behind me and they were extremely loud and unruly both Friday and Saturday nights well into the morning - 3am. The rules of the park were not followed in terms of noise and my husband and I did not sleep a wink. I will never return to this KOA ever!!!!
Oct 31, 2019
Outstanding as usual �
Oct 31, 2019
Pleasant as always. we come every year for our granddaughters birthday and enjoy the Halloween activities
Oct 31, 2019
We love Millersville KOA! Halloween weekend was a blast! So great to see all the activities for the kids! We will see you next year! Many thanks to the staff for all the work they put in to the weekend.
Oct 12, 2021
Great value for an overnight stay.
- Barbara Holtze on Google
Sep 28, 2021
A wonderful out doors experience, living off the grid😂😂😂
- Joe lane on Google
Sep 08, 2021
September 7th, 2021 We stayed over the Labor Day holiday. We travel a lot and can say this is one of the best that we have stayed. The staff were beyond friendly, they were engaging. Always a wave, a hello, how is it going. Earl is a goofball on the phone and in person. The sites were level and clean. The bathrooms were clean. The dog park was fabulous! Our dog picked up her Frisbee and carried it there to let us know that is what she wanted. We recommend and will be back again. Thanks everyone!
- Sandra Austin on Google