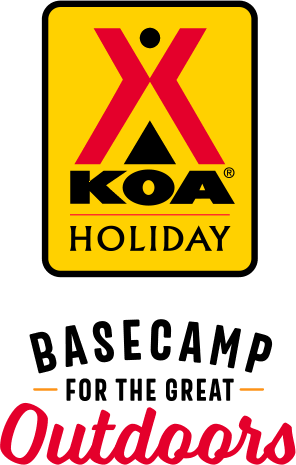 KOA Holiday Campgrounds
Whether you're exploring the local area or hanging out at the campground, KOA Holidays are an ideal place to relax and play. There's plenty to do, with amenities and services to make your stay memorable. Plus, you'll enjoy the outdoor experience with upgraded RV Sites with KOA Patio® and Deluxe Cabins with full baths for camping in comfort. Bring your family, bring your friends, or bring the whole group – there's plenty of ways to stay and explore.
KOA Holidays Feature:
RV Sites with a KOA Patio®
Deluxe Cabins with full baths
Premium Tent Sites
Group meeting facilities
Directions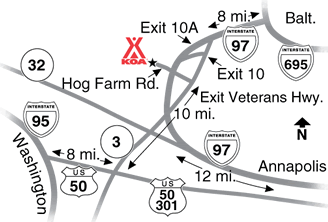 From North/Baltimore I-695 to I-97 South to Exit 10A. Right on Veterans Hwy 2 miles to 1st right turn, go under hwy turn left, go 2 blocks to Hog Farm Rd on right. Follow signs.
From South I-95 North to Hwy 50 East to Hwy 3 North. Exit at Veterans Hwy. One block to first left turn. Go under highway turn left, go 2 blocks to Hog Farm Road on right. Follow signs from there.
Get Google Directions
Oct 01, 2020
The place was super clean and the staff was very friendly. The sites were a nice size and had a fire ring. Great for kids, clean playground. We will be back
Oct 01, 2020
Management was very nice and accomodating. My only concern was the very high pricing for the sites. Very used to paying between 30 and 50 a night. We stayed at a brand new place with concrete pads and free laundry and only paid $23 a night?? Paid between $69.95 and $77 a might there??
Oct 01, 2020
This was an overnight stay before home. I was in the lower lot which is all gravel and not very level and not able to level the trailer while hooked up to the tow vehicle.The campground is at the junction of Rt 97 & Rt 32 so lots of road noise..Close quarters but manageable. Did not like the closeness of the fire pits between the lots.A wind fire could reach each trailer. Family place. Nice staff.
Oct 01, 2020
The facility was well-maintained and everything went as planned. I checked in late and my paperwork was waiting for me. Friendly staff and a lot of amenities in the area
Oct 01, 2020
I enjoyed my stay at DC Capital KOA very very much- the host was extremely helpful, knowledgeable, professional and personable- the grounds were clean and everything was conveniently located, very well laid out... I can't wait till my next visit-
Sep 25, 2020
We only stayed one night, but everything was perfect.
Sep 25, 2020
Lovely area.....away from the busy city but close enough to visit.
Sep 25, 2020
good location & staff.
Sep 22, 2020
Nice convenient location. Pricey.
Sep 19, 2020
This KOA is conveniently located for the metro DC and Annapolis area. The sites are gravel and need to upgrade to the newer KOA's that have concrete sites, fire pits, etc. Especially for being located in the DC area- our nation's Capitol and showcase for our country! This is our second visit to this KOA and we go full time in our RV 4 months a year. Love your Value rewards program!
Sep 19, 2020
Very pretty Surroundings and pleasant staff. Accessible from several routes. Would stay here again.
Sep 19, 2020
We were there for an overnight stay. Staff was welcoming and sites were easily accessible
Sep 18, 2020
It is a beautiful campground. The office staff was extremely nice and helpful. I recommend this campsite. The only sad part for children is the pool is closed. Of course this is pandemic related. Bathrooms were spotless as were the showers.
Sep 18, 2020
We enjoyed your campground!
Sep 18, 2020
Everything was good
Sep 18, 2020
very convenient to great places to visit! staff very helpful Nicest KOA we've seen! Spacious and shady in back and quiet. Good wifi!
Sep 17, 2020
Always liked this KOA and after the upgrades they made, I like it more.....
Sep 17, 2020
Older park and it shows it. It needs maintenance and detailing. Grass and gravel are messy - no clear delineation. Other parks at this price range are far better manicured and kept up. The new blacktop is nice in front but the whole park needs that same level of attention to detail.
Sep 17, 2020
Clean freindly, accommodations
Sep 17, 2020
Such amazing place first time in a Koa and super excited to see others but definitely highly reccomend this place..
Sep 17, 2020
A nice quiet campground. We used it as our base to do some sightseeing in the area. The site was great, no problems whatsoever, and by far, it was the best wifi I've ever encountered in a campground!
Sep 17, 2020
Campground was okay. Too many fees, fees for everything.
Sep 17, 2020
activities where closed on weekend. Staff was some what friendly
Sep 17, 2020
Nice place going to stay again
Sep 17, 2020
Very friendly, great amenities. Spots are tight, but no more than any other KOA
Sep 17, 2020
The staff was helpful and friendly, everything was clean, and we loved having some privacy at our campsite. It was a great, peaceful stay.
Sep 17, 2020
It was our first koa stay we was in DC for business decided to take camper and it wasn't a bad distance we decided to take Uber and it was $60 one way but I didn't want to deal with the traffic and finding a place to park.The Park was nice and the employees were all awesome and was even told to Always be careful so I would be able to come back and stay again at check out .Yes we would stay aga
Sep 17, 2020
Staff was very friendly and accommodating. Sites were well maintained. The only thing I would suggest is to install a water spigot at the dump station so I could connect my black tank flush hose.
Sep 17, 2020
Never happy with the site location. they charge more money to request a site, even if is available. There Prices are too high to begin with.
Aug 22, 2020
Great staff. Clean campgrounds and caring people. They really attempted to make things great for kids even though they were limited due to Covid.
Aug 22, 2020
We only stayed overnight while traveling through the area. Seems like a small clean kampground in a good location for exploring the DC area.
Jul 30, 2020
Great friendly people working at this location. Also very helpful in keeping us on our site once we decided to stay longer. Thank you
Jul 30, 2020
Very clean and location is good. Friendly mgr
Jul 18, 2020
Awesome campground, great location. We will definitely be back!!
Jul 09, 2020
We would have preferred a more shaded area-as next time we will request a shaded spot. It was very conveniently located to major area attractions. Staff was also very friendly.
Jul 09, 2020
We were excited to book this campground because they had a tour bus that would take us into the capital are. Found out after it was too late to cancel that the tour was cancelled for the year. The pool was closed too, 90 degrees and no pool! No discount either for not having anything mentioned in there ad available. As far as the campground area it was very clean and quiet.
Jul 09, 2020
Very quiet, clean, and well located park. Camp personnel very courteous and professional. The "no guest" policy due to virus did not make sense and my guests would be no more likely to have the virus tan I would.
Oct 18, 2021
Great time in a cabin for bachelorette party
- Jennifer Berry on Google
Oct 12, 2021
Great value for an overnight stay.
- Barbara Holtze on Google
Sep 28, 2021
A wonderful out doors experience, living off the grid😂😂😂
- Joe lane on Google