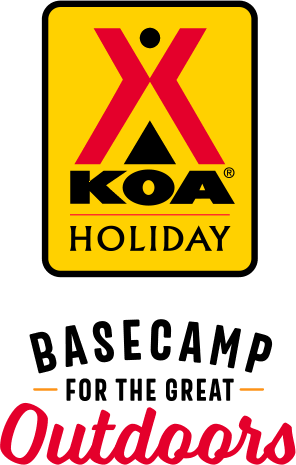 KOA Holiday Campgrounds
Whether you're exploring the local area or hanging out at the campground, KOA Holidays are an ideal place to relax and play. There's plenty to do, with amenities and services to make your stay memorable. Plus, you'll enjoy the outdoor experience with upgraded RV Sites with KOA Patio® and Deluxe Cabins with full baths for camping in comfort. Bring your family, bring your friends, or bring the whole group – there's plenty of ways to stay and explore.
KOA Holidays Feature:
RV Sites with a KOA Patio®
Deluxe Cabins with full baths
Premium Tent Sites
Group meeting facilities
Directions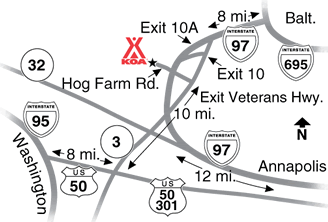 From North/Baltimore I-695 to I-97 South to Exit 10A. Right on Veterans Hwy 2 miles to 1st right turn, go under hwy turn left, go 2 blocks to Hog Farm Rd on right. Follow signs.
From South I-95 North to Hwy 50 East to Hwy 3 North. Exit at Veterans Hwy. One block to first left turn. Go under highway turn left, go 2 blocks to Hog Farm Road on right. Follow signs from there.
Get Google Directions
Apr 07, 2021
Well situated. clean restrooms, A very nice convenience store, and well-kept grounds! We will be back! Thanks
Apr 07, 2021
For larger RVs you have to camp in the open sun. The sites are very small and very close to the. For the price tag per night you would expect a little more. It's located next to a busy highway and it can be noisy when sitting outside but it's not unbearable. Most gatherings of outdoor activities are prohibited due to covid including the pool. And told covert is over it's not worth the money
Mar 14, 2021
I stayed there the dayafter they reopened in March, so the camprground was not up and running fully and it ewas niot fully booked. I am reserving a full review for my next visit. I do plan to stay there again, as it it convenient for visiting relatives in the area. My only complaint is that they advertise FULL HOOKUPS, but there is no cable TV service.
Mar 12, 2021
Although a lot of things were closed we were made to feel welcome
Dec 10, 2020
Decent campground. Close to DC. Sites are very very small. Bathrooms were clean
Dec 09, 2020
Our site was not level. It was also not 70 feet. Since we were only there for one night we expected to leave truck connected to trailer but water/sewer connection was too far away to do so.
Nov 03, 2020
Although we liked the grounds, we found the majority of the staff to be unfriendly. Our daughter and grandson came to visit us one day, but we were forced to pay the additional fee for the entire week. Chances of us visiting this campground again are slim to none.
Nov 02, 2020
Friendly staff. Clean bathrooms. Nice campsites.
Nov 02, 2020
Our second time here, and we loved it, as usual. Very nice campground, and great people to work with.
Nov 01, 2020
The staff is fantastic, very friendly and helpful. The campground is clean. Many of the spaces are pretty tight. Having a campfire was difficult. We made it work, but it wasn't easy.
Nov 01, 2020
One night, campground very nice, clean and well appointed.
Oct 31, 2020
The site was very nice, easy to pull in and hook up the utilites. This was one of the campground's Halloween weekends and we were very pleased with the activities for our grandchildren and the way in which the staff handled the changes forced by the pandemic.
Oct 31, 2020
We were only able to stay two nights. We've "graduated" recently from tents to a camper recently, and appreciated how friendly and helpful everyone was as we're still learning our gear. We'd like to come back with more of our family next year, maybe rent a cabin for them.
Oct 31, 2020
The location of the campground is great. Most of the sites are good. Overall the campground and the store were good, not great, certainly not awesome. Our site was awful. We had site #63. You absolutely don't want that site. It has a bunch of stumps on it. You can only use 1/2 of the site at best. No room under awning, Just stumps. It's actually dangerous. They blamed Covid. Unbelievabl
Oct 31, 2020
The lower sites where we were camped were a little uneven and not very level. Hookups were adequate. Campground itself was clean and well maintained. Best bathrooms and showers I've seen in a KOA. Excellent camp store. Friendly and helpful staff. We'll definitely return but next time stay in the upper pull-throughs nearer the front of the campground.
Oct 31, 2020
Non stop road noise very loud. It is like camping on side of a major highway during rush hour. Sites so small people could not even fit their rv in. Hiking trail nkt maintained. Never ever camping here again. So sad. Such a waste of money spent.
Oct 31, 2020
This was our first trip out with our travel trailer. We were very pleased with the campground's appearance, ease of access, and facilities. We needed some assistance at the site and were readily helped by campground staff. We look forward to camping here again.
Oct 31, 2020
It was fine. We were there overnight to break up a trip to PA.
Oct 31, 2020
I've always avoided this Park because on Business trips--I need cable and, at their prices, they should provide it. Now I have DISH Anywhere and it works fine off my HotSpot, but, not on their WIFI--so, kind of--Stay in a hotel area.
Oct 31, 2020
Excellent as always.
Oct 31, 2020
The lower level camp sites aren't level side to side. The crew used a noisy leaf blower all day long.
Oct 13, 2020
IT'S AWESOME! WE JUST LOVE IT AND MY NON-CAMPIN- LOVING DAUGHTER, LOVED IT! WIN WIN! THANK YOU!
Oct 12, 2020
Thoroughly enjoyed it. Loved the location and access to multiple areas and the campground itself was very comfortable and pleasant.
Oct 12, 2020
Very friendly staff, campground is clean and well kept. However, campground had no cable and limited local channels.
Oct 12, 2020
They charge to much expensive
Oct 12, 2020
We had so much fun!!...This was our 1st time staying here and the staff and other camper made us feel very welcome!!...There was so much to do at the campground for kids, we will DEFINITELY be returning!!
Oct 09, 2020
KOA's are our favorite. The ones we have stayed at are clean with great service. Our first choice in camping will remain KOA.
Oct 04, 2020
People were great. Place is very well kept. Grills were not maintained. Will return.
Oct 03, 2020
With Covid19 many things were closed. Park is convenient for my work in the area but with pool and other amenities closed my wife had nothing to do. We like it here though.
Oct 02, 2020
Lovely wooded campground with clean amenities and nice staff
Oct 02, 2020
Camping at Capitol KOA is always a pleasure. I have been camping there for over 10 years. It's close to home, clean and well managed. Cheryl and Bob go above and beyond to ensure a great stay. All of the staff are courteous and helpful.
Oct 02, 2020
Site was ok. The wifi was not consistent so it was annoying.
Oct 01, 2020
Very clean campsite. Not as close to DC as I would have liked but I enjoyed my stay there.
Oct 01, 2020
We always enjoy our stay at the Capitol KOA!
Oct 01, 2020
Initially it was a bit confusing to find our site due to hidden markers, but then we met up with someone to help us. I was surprised to find the sites so uneven. But we enjoyed our time, was quiet other than the hum of traffic.
Oct 01, 2020
It was a perfect location for our group. My only complaint was the rain and muddy conditions in Meadow 1. But this isn't something could be changed by the camp ground.
Oct 01, 2020
I stay there twice a year. The staff (office and maintenance) continues to be very friendly. My site #51 was far from being level. Had to put wood blocks under 3 of my 4 wheels plus under my jacks. You need to add rock to level out the site. That would have made my stay a perfect 10.
Oct 18, 2021
Great time in a cabin for bachelorette party
- Jennifer Berry on Google
Oct 12, 2021
Great value for an overnight stay.
- Barbara Holtze on Google
Sep 28, 2021
A wonderful out doors experience, living off the grid😂😂😂
- Joe lane on Google