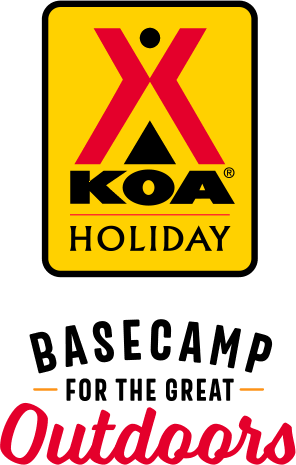 KOA Holiday Campgrounds
Whether you're exploring the local area or hanging out at the campground, KOA Holidays are an ideal place to relax and play. There's plenty to do, with amenities and services to make your stay memorable. Plus, you'll enjoy the outdoor experience with upgraded RV Sites with KOA Patio® and Deluxe Cabins with full baths for camping in comfort. Bring your family, bring your friends, or bring the whole group – there's plenty of ways to stay and explore.
KOA Holidays Feature:
RV Sites with a KOA Patio®
Deluxe Cabins with full baths
Premium Tent Sites
Group meeting facilities
Directions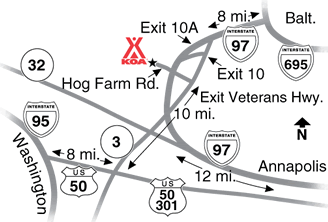 From North/Baltimore I-695 to I-97 South to Exit 10A. Right on Veterans Hwy 2 miles to 1st right turn, go under hwy turn left, go 2 blocks to Hog Farm Rd on right. Follow signs.
From South I-95 North to Hwy 50 East to Hwy 3 North. Exit at Veterans Hwy. One block to first left turn. Go under highway turn left, go 2 blocks to Hog Farm Road on right. Follow signs from there.
Get Google Directions
Jul 15, 2021
Very nice place. Highly recommend.
Jul 15, 2021
Great staff help - thank you!!
Jul 15, 2021
In the middle of Cicada X season, the team made it bearable to be with the bugs!! Great site, nice pool, shop was helpful, playground was loved by grandkids!
Jul 15, 2021
quick overnight stay as we were heading north. would love to come back to this park and stay longer. exceptionally clean and great scenery.
Jul 15, 2021
Those working there are very nice and friendly, from the office to those working to keep the campground pristine. The entire place is landscaped, flowers and bushes everywhere, even between some of the campsites. Plenty of wooded site with mature trees. The water tasted good and no issues with low voltage electric like we have had at several campgrounds. Beautiful place to stay & a nice pool.
Jul 15, 2021
Bathrooms were always dirty. The campsite was at a weird angle which made it difficult to get our camper and vehicle off the road, and the hookups were barely reachable. The office workers were so very friendly though.
Jul 15, 2021
Not much to do during the week and a lot of full timers living in the camp. Pool was OK but much of the amenities were dated and needed plenty of upkeep
Jul 04, 2021
Had a great site and electric, water and sewer all worked great. KOA handled our incoming mail and packages perfectly. We used the laundry three times during our stay and it is one of the best laundries we have experienced. Loved the camp store! The KOA is perfectly located to visit DC, Baltimore or Annapolis and it is such a beautiful place, too.
Jul 02, 2021
We have stayed a this camp ground three times and enjoyed it each time: clean, well maintained and pleasant staff. Thanks Hammonds
Jul 02, 2021
We chose this KOA to be close to our nephew's Commissioning week at the Naval Academy. The campground was nice,, but we were disappointed that we could not take the bus to DC while we were there.
Jul 02, 2021
This is the bast campground around!! Their customer service is fantastic. Cheryl and Bob do an amazing job running the campground and their staff is so so accommodating. Tricia is such an asset to the team and always willing to assist customers any way she can! Thank you Capitol KOA
Jul 02, 2021
Road noise was high. Too expensive. Stayed for a month and didn't get any price break. Have several full timers there and I know they didn't pay $1900 per month.
Jul 02, 2021
Campground was well kept and clean. Bathrooms could use updating. Our site was not level at all. Looked like many campers had a similar issue. If I came back I would request a specific site to not be in the same situation again.
Jul 02, 2021
I never wrote reviews but felt the need to here. The staff was dramatically unfriendly, the accommodations were lacking and not in line with what I see at almost every other Koa. It's the one campsite I've stayed at that I can say I won't return or recommend.
Jul 02, 2021
good stay, need to install grab/safety bars in handicaped shower
Jul 02, 2021
Used this site as our overnight stops on our way both North and South to/from Maine during our 2 and a half week excursion. Found the campground to be clean and well appointed and the staff to be friendly and helpful. Would highly recommend as a stop through or an extended stay due to its convenient location to I95 as well as the Capitol area.
Jul 02, 2021
Mud puddle no pad no one can change you and we where stuck there 6 days. Not had the best experience with KOA not sure I would use any KOA again.
Jul 02, 2021
The park was well kept and staff very helpful.
Jun 25, 2021
Very relaxing
Jun 07, 2021
Courteous prompt check in. All hook ups worked satisfactorily. Campground was very quiet during our stay.
Jun 06, 2021
The campground was very nice, but not quiet. We were across from a group of drinking, loud music playing, constantly swearing group of old men. We realize that you can't control people's behavior but it was unruly and the drunker they became the more and more obnoxious. We will be back. We did like the campsite and proximity to everything.
Jun 04, 2021
Stay was nice however, disappointed that Shuttle to DC was not running so we could see some sites.
Jun 03, 2021
Aside from terrible, unsecured UPS and other deliveries, it was fine.
Jun 03, 2021
Short, sweet, just passing through.
May 17, 2021
Stay here when we visit our son in Crofton, MD. Very close to their home which is terrific. We camped at KOAs when I was a kid traveling with parents in the late 60s and early 70s out west. Found KOAs to be very clean and nice. The Wash. DC/Capitol KOA is the best I have been at. Thank you!
May 17, 2021
Office was very friendly and accommodating. I loved the walking trail. Sites were ok but Pull Throughs were too close together. Its close to home so will go back, but closer to the woods this time and not a pull through.
May 17, 2021
Staff were not wearing masks at check in, even though there was a mask mandate in place at the time. In addition, the sites we were on and surrounding us were not level at all and very difficult to back into.
May 17, 2021
Very nice park. Of course we were there in April so it was to cold for the pool. It is a beautiful park. Everyone was very friendly and we were taken care of like at all the KOA parks we have been in. WiFi worked at this park unlike the Koa In Fredericksburg MD, that park is hidden among the trees. Beautiful too. If we did go back to Maryland we would stay at this park again!!
May 17, 2021
A window on my trailer was shattered while I was staying at the park. Also, it is a long grind through seemingly endless traffic signals into Washington D.C.
May 16, 2021
Expensive, outdated, in level site to the extent our doors wouldn't close. Not impressed especially for the price
May 16, 2021
Lack of street markings, pool not open, children riding bikes without supervision, all over the road, expensive
May 16, 2021
Ok. Campsites need leveling for trailers; fairly simple intervention, and for the site rental prices charged, appropriate. Basically, not many other camping alternatives this near to DC.
Sep 08, 2021
September 7th, 2021 We stayed over the Labor Day holiday. We travel a lot and can say this is one of the best that we have stayed. The staff were beyond friendly, they were engaging. Always a wave, a hello, how is it going. Earl is a goofball on the phone and in person. The sites were level and clean. The bathrooms were clean. The dog park was fabulous! Our dog picked up her Frisbee and carried it there to let us know that is what she wanted. We recommend and will be back again. Thanks everyone!
- Sandra Austin on Google
Sep 02, 2021
We just finished a week's stay here. It was a nice stay, staff was friendly. Yes the pool is closed but not a big deal for us. We had a 50 amp site and no issues. Only complaint I have is low water pressure but still not a big deal. We used laundry room often. Bath houses clean. Nice tidy landscaping. We have two little kids and a dog.. all around good visit.
- Cheryl Miller on Google
Sep 02, 2021
Nice pull thru sites, power and wifi. Thank you.
- Catherine A (Thankful&Blessed) on Google