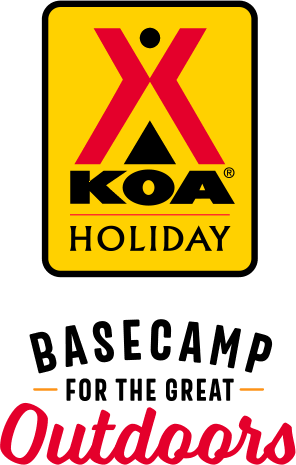 KOA Holiday Campgrounds
Whether you're exploring the local area or hanging out at the campground, KOA Holidays are an ideal place to relax and play. There's plenty to do, with amenities and services to make your stay memorable. Plus, you'll enjoy the outdoor experience with upgraded RV Sites with KOA Patio® and Deluxe Cabins with full baths for camping in comfort. Bring your family, bring your friends, or bring the whole group – there's plenty of ways to stay and explore.
KOA Holidays Feature:
RV Sites with a KOA Patio®
Deluxe Cabins with full baths
Premium Tent Sites
Group meeting facilities
Directions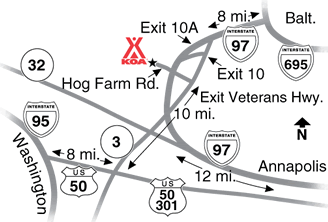 From North/Baltimore I-695 to I-97 South to Exit 10A. Right on Veterans Hwy 2 miles to 1st right turn, go under hwy turn left, go 2 blocks to Hog Farm Rd on right. Follow signs.
From South I-95 North to Hwy 50 East to Hwy 3 North. Exit at Veterans Hwy. One block to first left turn. Go under highway turn left, go 2 blocks to Hog Farm Road on right. Follow signs from there.
Get Google Directions
Aug 13, 2021
The campground is nicer than I remember from 15 years ago. The staff, particularly former teacher with the red van and with whom I chatted a couple of times, was very helpful. The dogs and I enjoyed our stay very much.
Aug 13, 2021
It was a pleasant stay . Not a lot of walkways tho so had a lot of kids back and forth thru our campsite . All in all a nice stay to visit Washington DC
Aug 13, 2021
Great location, but the charge for visitors seems a bit over the top, no cable tv and the only campsite we've visited that did not collect trash daily.
Aug 13, 2021
A clean, well-run facility with friendly, helpful staff.
Aug 13, 2021
Pretty little place in the woods. The swimming pool was small with a lot of kids using it�Ͻ. So we filled up our dog pool and sat in it. It was so hot and muggy. Only to be told in person and email that we needed to have a life guard on duty or drain the pool! ��Ϝ also their dumpster was full when we arrived and then started to over flow for days���
Aug 13, 2021
Everyone was very nice and extremely helpful Campgound was well maintained and clean We had a truly enjoyable stay
Aug 13, 2021
beautiful site very courteous staff, not a lot to do but very n in ce campsite I am coming back and would definitely recommend to others I already have.
Aug 13, 2021
Christmas in July was great for the kids. Dog park could use improvement (see KOA Lookout Mtn. Georgia). Pull thru sites were level and clean. I always wish for more shade. Loved the well stocked camp store.
Aug 13, 2021
Nice level site - and close to the store/pool. Dog park was a bit unkept - folks not cleaning up after their dogs. Fairly quiet for being so close to the road. Staff was great and we hope to come back again.
Aug 13, 2021
We are new to the camper trailer parks and requested Full Hook-ups. We learned that the sites we liked were Water & Elec (no Sewer) as they were located on the perimiter, wooded and more private. Facility was clean. Staff was friendly.
Aug 13, 2021
To short would love to come back for another visit.
Aug 13, 2021
Our area was just very small and cramped
Aug 13, 2021
Everything was dirty….. campsites dirty…. Rude staff… this place sucks!!! Maybe try employing helpful staff without an attitude…. And maybe try cleaning the sites… mud everywhere…. I've stayed at over 200 KOAs… this place gets a it's a dump from me!
Aug 13, 2021
Very nice campground and staff
Aug 13, 2021
Ok at best for an overnight stop, People were nice enough but sites are extremely close to each other…
Aug 13, 2021
Nice campground.
Aug 10, 2021
Wished they would check out and load KOA points more often than once a month or at least tell you that at check-in.
Aug 08, 2021
Staff was awesome and very knowledgeable I have referred friends and will be back.
Jul 21, 2021
too many dogs! also need grab bars in showers.
Jul 21, 2021
clean well kept facility. Friendly staff.
Jul 17, 2021
Nice, clean facility. The staff was very nice.
Jul 16, 2021
Very good Area. Close to DC and Baltimore. Wish they would get rid of the stupid speed hump at the entrance because it ruptured a break line on our truck. Kind folks. Clean Facilities. Ample amounts of shade. Well Kept grounds with no trash.
Jul 16, 2021
Friendly staff, clean camp sites and good location.
Jul 15, 2021
Nice location convenient to Washington/Baltimore/Annapolis. Space was not level and a little short for our rig but easy in and out. Shower/restrooms were nice. good laundromat. Plenty of walking area for pets. K9 Park got very wet and muddy from rain but couldn't be helped. We would stay here again when traveling to the area.
Jul 15, 2021
Our stay at the Capital KOA was overall very good. The staff were very friendly and helpful. The site we were assigned was not very level as we had to use approximately 4 1/2" of blocking to keep our rear wheels in contact with the ground. This site also had a 4" curb we had to drive off to get out of our site. Both of these items were unexpected, but not insurmountable. We'll stay here a
Jul 15, 2021
Perfect spot to stay since it's close to family….nice clean dog park area….easy to get to main highways…
Jul 15, 2021
Nice hosts and clean facilities.
Jul 15, 2021
The site was not level, the hookups were inconveniently located, the pool was dirty.
Jul 15, 2021
Always clean abs always friendly. Great accommodations!
Jul 15, 2021
Was very nice place. People were helpful and facilities well maintained. hot water went out in showers on our last day but that was minor, went to the pool showers. Enjoyed the pool and the quiet surroundings. i hope they get their shuttle service running again. I'd like to see more 50 amp service with sewer service
Jul 15, 2021
The roads through the camp were very narrow, with rather sharp curves. Parking a vehicle was difficult, when we had (local) guests. We were on a long trip, only staying overnight, coming and going. We were unable to use the "pull-through" of our site due to trees, and other vehicles, having to back our trailer up to exit.
Jul 15, 2021
Nice stay always clean.
Jul 15, 2021
Enjoyed our stay! Clean, nice pool. Our site backed up to another site's campfire....so we suffered with smoke in our RV.. Hosts were pleasant.
Jul 15, 2021
We had a very uneven site and we couldn't run our refrigerator for 3 days because we couldn't get level. On our departure day it took us 3 hours to hitch because we had a new Hensley hitch and it was our first time using it. My husband had just had 4 levels of his back fused and I was very stressed out. The people in the office were not very nice to us about checking out 30 min. late.
Jul 15, 2021
Shady spot. Enjoyed the pool. Staff very friendly. Store well stocked. Suggest waiting to start the movie until sun goes down so it can been seen on the outdoor screen. Would be prefer that specific sites could be reserved instead of not knowing what site you'll be on until check in.
Jul 15, 2021
Location, location, location. So close to downtown DC. Nice park, too. The front part suits those that don't like trees and want direct sun, the back part suits those of us who prefer trees and shade. Well run, very pleasant, etc.
Sep 08, 2021
September 7th, 2021 We stayed over the Labor Day holiday. We travel a lot and can say this is one of the best that we have stayed. The staff were beyond friendly, they were engaging. Always a wave, a hello, how is it going. Earl is a goofball on the phone and in person. The sites were level and clean. The bathrooms were clean. The dog park was fabulous! Our dog picked up her Frisbee and carried it there to let us know that is what she wanted. We recommend and will be back again. Thanks everyone!
- Sandra Austin on Google
Sep 02, 2021
We just finished a week's stay here. It was a nice stay, staff was friendly. Yes the pool is closed but not a big deal for us. We had a 50 amp site and no issues. Only complaint I have is low water pressure but still not a big deal. We used laundry room often. Bath houses clean. Nice tidy landscaping. We have two little kids and a dog.. all around good visit.
- Cheryl Miller on Google
Sep 02, 2021
Nice pull thru sites, power and wifi. Thank you.
- Catherine A (Thankful&Blessed) on Google