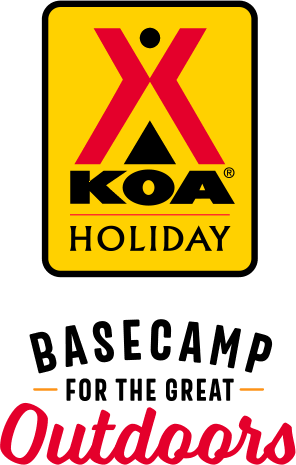 KOA Holiday Campgrounds
Whether you're exploring the local area or hanging out at the campground, KOA Holidays are an ideal place to relax and play. There's plenty to do, with amenities and services to make your stay memorable. Plus, you'll enjoy the outdoor experience with upgraded RV Sites with KOA Patio® and Deluxe Cabins with full baths for camping in comfort. Bring your family, bring your friends, or bring the whole group – there's plenty of ways to stay and explore.
KOA Holidays Feature:
RV Sites with a KOA Patio®
Deluxe Cabins with full baths
Premium Tent Sites
Group meeting facilities
Directions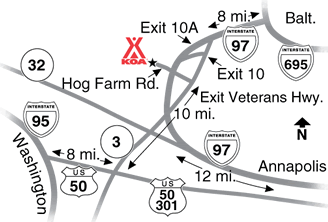 From North/Baltimore I-695 to I-97 South to Exit 10A. Right on Veterans Hwy 2 miles to 1st right turn, go under hwy turn left, go 2 blocks to Hog Farm Rd on right. Follow signs. From South I-95 North to Hwy 50 East to Hwy 3 North. Exit at Veterans Hwy. One block to first left turn. Go under highway turn left, go 2 blocks to Hog Farm Road on right. Follow signs from there.
Get Google Directions
Aug 08, 2019
Great staff that was very helpful in docking and directions. Would like cable and payed sites for the price.
Aug 07, 2019
Staff was very courteous. Having shuttle bus to DC was convenient. Rented a deluxe cabin, it was clean and necessities were provided. Campground was clean and had lots of things to do. Only down fall is that the sites are tight for an RV and where I had to park my truck it was very tight.
Aug 06, 2019
Great staff, fun play items for the kids. Laundry facilities were very nice and the machines worked. Clean showers. A great place to stay while you explore our nations capitol.
Aug 06, 2019
Pool water was green all 5 days of our stay. Only 1 life guard so everyone had to stay out while he/she were on break. Pull- through sie #6 wouldn't accomodate towing our vehicle. Site itself had no cable or antenna reception!
Aug 06, 2019
Loved the campground. Share this as hopefully someone at KOA head office will consider policy change. Large family with seven kids. State park, provincial parks, all recognize single family without surcharge. Paying $20 surcharge nightly so my kids can swim and jump on the pillow is hard. We travel coast to coast with our kids. Would stay more but policy puts sites over $110usd a night.
Aug 06, 2019
The team was great. The shuttle to Washington was nice.
Aug 06, 2019
Clean site, friendly atmosphere. Infants/toddlers that are not toilet trained are not permitted in pool.
Aug 05, 2019
The shuttle into DC is a great thing. Drivers were great and go above and beyond to make your trip good. Bathroom facilities could have been maintained better. Shower and bathroom areas do not have great ventilation and are extremely hot this time of year. Some campsites for RVs are not very level and need some work.
Aug 05, 2019
Overall it was a pretty good trip, I live in Maryland and did not know there was a law for Anne Arundel County for young children not being able to wear water wings while swimming, however, i do not understand why horse playing and ball throwing were allowed. A young child was on top of shoulders and the lifeguard did not say anything and I would think that would not be allowed.
Aug 04, 2019
most camp sites other then the premium ones are slanted and sloped and makes it harder and takes more time to level your trailer. Staff are polite and courteous. . washrooms and showers are clean and well kept.
Aug 03, 2019
I loved every minute of our stay. It was quiet, staff was great and I'm definitely coming back in the future.
Aug 03, 2019
Very nice and spacious campground. Very clean bathrooms and well kept grounds and facilities.
Aug 03, 2019
we only stayed 2 nights. but I would stay again. very nice people. very helpful.
Aug 03, 2019
Loved it! Very nice, accommodating people! Would stay again! Great pool, great store, great trampoline.
Aug 02, 2019
Our first time, will use koa again. Great entertainment things for our 10-12 year old grandsons. Loved being in a cabin in the woods. Only down side was the sour smell in cabin. We think from AC unit.
Jul 31, 2019
Nice campground w/lots of amenities. It is sort of far from DC but the closest KOA. It is also good for visiting Mount Vernon.
Jul 31, 2019
Our site was convenient to all the amenities, open for our satellite TV, wonderful pull through! The areas were clean, the staff very friendly and helpful - especially Kate, and has so much for the children. Highly recommend this KOA - we will be back - thanks!
Jul 31, 2019
Very clean, nice features. Everything worked. Easy check in. Very nice desk people. But it only takes one thing to tic a customer off and the whole experience is tainted. Your policy that my guest coming to pick me up to take us to dinner had to pay $5 for the car and $5 each just to drive to our camp site is so patently stupid, I will be pissed for months.
CAMPGROUND RESPONSE / COMMENTS:
The policy is you register at the front desk and pay guest fee. They are told if you return within 15 minutes you would receive your money back. Since most people intend to stay longer they never come back in fifteen minutes to receive refund and leave park.
Jul 31, 2019
The shuttle to Washington DC was incredibly helpful. The campground was clean with great, family fun facilities (ping pong table, pool, and jump pad). Having two shower house facilities also was a big plus! Already recommended this campground to my in-laws who are planning a trip to DC.
Jul 31, 2019
Staff was kind and helpful. Prices were a little high.
Jul 31, 2019
This was my children's first time camping and they had so much fun. Will return really soon
Jul 30, 2019
Nice campsite, perfect for one night stay when you need to be near Washington DC. Traffic noise is there, but not as bad as we thought it would be.
Jul 30, 2019
This was my first visit to Washington DC. The staff at the KOA were fantastic. Super friendly and always there to assist. My only issue is that the highway nearby is extremely loud at night but that's not there fault. The shuttle to the Capital was was a bonus so that I didn't have to drive into the city and find parking. Overall a great camping experience.
Jul 29, 2019
The camper cabin was perfect. It was quiet and comfortable. The amenities (bath houses, pool, games, jumping pillow) were all well kept. My kids had a blast. Hopefully we will make this trip again and stay at this KOA again.
Jul 29, 2019
The restrooms are not well ventilated and therefore very warm on hot days. Likewise for the showers and they are also very small. There was a lot of debris in the pool and the water was not clear. The lifeguard was much less than pleasant.
Jul 29, 2019
Cabin was perfect size, nice new deck, nice table/chairs, and fire pit. Pool clean. Bathroom and showers always clean.
Jul 29, 2019
The site unlevel, deep gully on left side, tree roots in sitting area, firepit 2' feet from sewer drain. Unhappy with site #68.
Jul 29, 2019
Staff for phone service poor. Mediocre campground for the price. Have stayed there several times due to family lives close by.
Jul 29, 2019
Great campground, to much traffic noise
Jul 29, 2019
Management is clueless and oppressive. Stay here only if you like being harassed and abused.
CAMPGROUND RESPONSE / COMMENTS:
This camper refused to come in and register his unregistered guests who refused to come to the office. They had been asked three times to come to pay the guest fee. He was rude to his neighbor and got in another fight with another guest in the park over a firepit. He was dealt with quickly and was asked to leave the park.
Jul 27, 2019
Everyone was very nice and helpful. We are planning on coming back for a longer stay. So much to see.
Jul 27, 2019
Overnight stop, very clean, staff all were very helpful, would not mind spending a couple of days there!
Jul 27, 2019
Perfect place for our family of 5 to stay! Amenities were clean, plenty of activities for the kids and cabin was well maintained. Wish we had stayed longer!!
Jul 27, 2019
Staff were lovely! Thank you for a great stay!
Jul 27, 2019
Our stay was very good. A little pricey for camping so I would have expected cable tv and/or a better wifi system. Otherwise, the staff was great and the campground is very clean and well kept.
Jul 27, 2019
Great stay, perfect location between DC and Annapolis .
Nov 22, 2020
This was a great campground for us to stay at for one night as we continued on a long trip.
- John Anderson on Google
Oct 12, 2020
It is Awesome! We love it, we can't wait to go again! My non-campin-lovin daughter, fell in love with it! Win win! See you soon !
- Paola Macc on Google
Oct 23, 2020
Friendly people. But our site was very unlevel. They were able to move us before we went to bed which was great!
- Michelle Goodman on Google