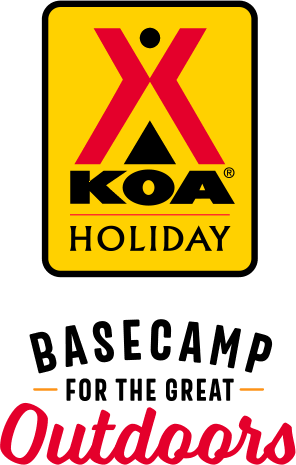 KOA Holiday Campgrounds
Whether you're exploring the local area or hanging out at the campground, KOA Holidays are an ideal place to relax and play. There's plenty to do, with amenities and services to make your stay memorable. Plus, you'll enjoy the outdoor experience with upgraded RV Sites with KOA Patio® and Deluxe Cabins with full baths for camping in comfort. Bring your family, bring your friends, or bring the whole group – there's plenty of ways to stay and explore.
KOA Holidays Feature:
RV Sites with a KOA Patio®
Deluxe Cabins with full baths
Premium Tent Sites
Group meeting facilities
Directions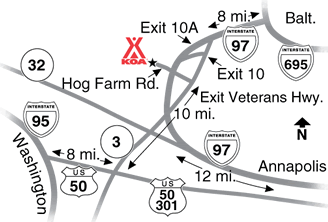 From North/Baltimore I-695 to I-97 South to Exit 10A. Right on Veterans Hwy 2 miles to 1st right turn, go under hwy turn left, go 2 blocks to Hog Farm Rd on right. Follow signs. From South I-95 North to Hwy 50 East to Hwy 3 North. Exit at Veterans Hwy. One block to first left turn. Go under highway turn left, go 2 blocks to Hog Farm Road on right. Follow signs from there.
Get Google Directions
Aug 20, 2019
Toilettes avec fuite d'eau sur le plancher les 4 journées passées là. Terrains réservés si mauvais que je ne l'aurais pas mis en location, heureusement le personnel a pu faire des changements pour me satisfaire.
Aug 20, 2019
Overall good camp site with good facilities. Nice location to visit Washington.
Aug 20, 2019
The daily shuttle service into Washington DC is an excellent value. Highly recommended, you don't have to worry about traffic and parking. We took it for four days and it helped make for a very memorable experience. The staff are very friendly and helpful. Special thanks to Tony who was our driver most days. A very nice man.
Aug 20, 2019
This is my third time staying here. The first two times were 4 and 5 years ago. I live locally and all three times including this time were to have small camping themed birthday party. The KOA site itself is great - the staff are friendly and nice EXCEPT the check in woman. She is NOT NICE at all. The other two times I had been 4 & 5 years ago were so nice and accommodating. This time was CRAZY.
Aug 19, 2019
The only thing I was disappointed about was I actually splurged and reserved the Deluxe patio site but none were available when I arrived.
Aug 19, 2019
Great place to see our capital from, staff was very helpful with options to get there and back
Aug 19, 2019
Great stay. Wife did laundry and thought it was good compared to some KOAs. The shuttle into DC could leave an hour earlier and return an hour or two later for maximum time in DC. Good hosts.
Aug 19, 2019
Great place to stay
Aug 19, 2019
Staff was super helpful and offered us reassurance as new rv'ers
Aug 19, 2019
Great campground, very close to Annapolis-Baltimore-Washington, D.C. Wonderful facilities and one of the best stores we've seen and we have stayed at many KOA campgrounds throughout the U.S.
Aug 18, 2019
The stay was really good. The campground is located in a great location that is close to DC, Baltimore, Annapolis and other attractions (Six Flags, etc.). Even though the facilities are a bit dated, they were clean and taken care of by the staff. Staff was very helpful and if they didn't have a direct answer, they went to find and it and got back to you. I would stay here again!
Aug 18, 2019
Would have been nice to have cable TV!
Aug 18, 2019
The campground was clean and well kept. The staff was amazing. Everyone we spoke with was so friendly and helpful. Thank you!
Aug 18, 2019
Our stay was very last minute but luckily the campground had an opening available. I would stay here again if I ever rent an RV again and wanted to stay at a close location, within an hour of our home in Northern Virginia,
Aug 17, 2019
Clean & friendly staff. A nice one!
Aug 15, 2019
So clean and so close to both Baltimore and Washington DC. Our pull through site was just right for our camper we'll be back
Aug 15, 2019
Good tent spot, good place to grill, kids enjoyed the playground and pool.
Aug 14, 2019
The site was small. I could not get my tow vehicle off the road. The curb in front of my site made it difficult to get my tow vehicle out and when we left it made it difficult for us to get the tow vehicle and trailer out. But everything else about the campground was great.
Aug 14, 2019
Like Staying in a Parking Lot. Twice as expensive as any other KOA. You wont see me back.
Aug 13, 2019
The pool Policy was odd, I have never been in a pool where we had to get out for 10 to one time 20 min of an hour so they could test the water and clean. Was very frustrating. Not sure if a state regulation or your KOA, but in traveling all over this great country I have never ran into this at a KOA or any other campground.
Aug 13, 2019
Great people good service.
Aug 12, 2019
Nice location and peaceful. The staff was very nice. The tv didn't work very good in the cabin and bathroom had mold on walls. Didn't bring these concerns up to staff when staying there wasn't that big of an issue.
Aug 12, 2019
Very convenient provisions for travels to & from WDC and and around the sights there. The fenced in dog area was enjoyed by our Bella. Thank-you to the 2 shuttle drivers who were very nice & provided a cold bottle of water.
Aug 12, 2019
Pool was nice and clean. Bathrooms were clean most of the time. A lot of campers there over the weekend and did not clean up after themselves making it a mess. But the staff did a good job keeping up with the slobs. Had to pay for the fire wood. I like to bring my own, but whatever not a big deal ($7.00). Close to everything in DC, had a great vacation.
Aug 12, 2019
Dirty and flooded men's bathroom that is close to the office (all the time). Spiders, spider webs and mouse droppings in the Cabin. No kids activities planned during the week or on the weekend. Unfriendly service and rude behavior of the management working in the office with the customers. Poor site maintenance and not a fun place to stay. We didn't like Capital KOA campsite or its management.
Aug 12, 2019
Really nice place, will stay again������
Aug 11, 2019
Loved the setting of our cabin- our air conditioner barely worked warm and extremely damp at all times in our cabin- respiratory issues- so it was difficult. Bathrooms poorly maintained and cleaned. Nice staff and great location for the Metro
Aug 11, 2019
Stayed for 7 days. Fantastic time. Staff were all friendly and helpful. Had a problem with my trailer hitch and they actually fixed it for me even though it's not part of the KOA experience to have on site mechanic they went the extra mile. Store was well stocked and shuttle service to Washington is a must. DO NOT try and drive and park downtown you waste you time and money. I'll be back!!
Aug 10, 2019
Everything was great. The only down side was we rented the large cabin that sleeps 8 and another cabin that sleeps 4. With 6 adults we were only allowed 1 car per site. The third car had to pay $35 for the week and park at the office even though our large cabin had room for a second car.
Aug 10, 2019
delightful every time! the staff is very helpful and courteous!
Aug 08, 2019
Staff was very nice! Nice place to stay! We love thé pool!
Nov 22, 2020
This was a great campground for us to stay at for one night as we continued on a long trip.
- John Anderson on Google
Oct 12, 2020
It is Awesome! We love it, we can't wait to go again! My non-campin-lovin daughter, fell in love with it! Win win! See you soon !
- Paola Macc on Google
Oct 23, 2020
Friendly people. But our site was very unlevel. They were able to move us before we went to bed which was great!
- Michelle Goodman on Google