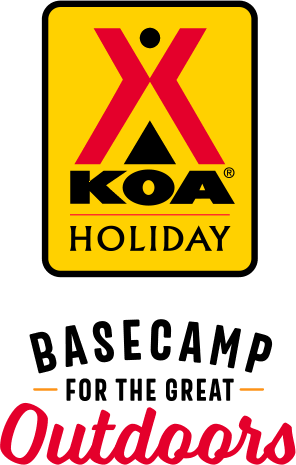 KOA Holiday Campgrounds
Whether you're exploring the local area or hanging out at the campground, KOA Holidays are an ideal place to relax and play. There's plenty to do, with amenities and services to make your stay memorable. Plus, you'll enjoy the outdoor experience with upgraded RV Sites with KOA Patio® and Deluxe Cabins with full baths for camping in comfort. Bring your family, bring your friends, or bring the whole group – there's plenty of ways to stay and explore.
KOA Holidays Feature:
RV Sites with a KOA Patio®
Deluxe Cabins with full baths
Premium Tent Sites
Group meeting facilities
Directions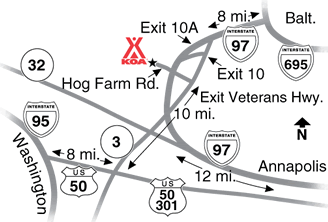 From North/Baltimore I-695 to I-97 South to Exit 10A. Right on Veterans Hwy 2 miles to 1st right turn, go under hwy turn left, go 2 blocks to Hog Farm Rd on right. Follow signs. From South I-95 North to Hwy 50 East to Hwy 3 North. Exit at Veterans Hwy. One block to first left turn. Go under highway turn left, go 2 blocks to Hog Farm Road on right. Follow signs from there.
Get Google Directions
Oct 08, 2019
Friendly Staff. The kids loved the play ground.
Oct 07, 2019
Outstanding as usual!
Oct 07, 2019
Check in was easy. The staff helped us to our spot in the dark. The pull through was super convenient with my class A.
Oct 07, 2019
This was our first time staying at Capitol KOA as we were using it to easily access Annapolis, MD via Uber. Our site, the Deluxe 30/50 pull thru, was spacious, clean, and ready for our arrival. Site was not level so be prepared to break out the leveling blocks. Staff was extremely friendly, rapidly checked us in, and escorted us to our pad. We will be returning for another stay.
Oct 07, 2019
The staff was very helpful and nice, we had no problems with any employees. But the other guests were extremely rude, being very loud, playing music, using strobe lights, and throwing bottles until 5 in the morning. Since the sites are so close together, this was a huge problem. My husband and I ended up sleeping in our car. We were surprised that no one ever came over to ask them to stop.
Oct 07, 2019
30' RV. Very unlevel campsite. (Yes we have levelers) Felt like we were camping in a parking lot. Could hear highway noise. Haul your own garbage to dumpsters. Good playground for kids and nice staff and store. Small bathhouse. No 50 amp sites.
Oct 07, 2019
Staff was very friendly. When we had issues with neighbors parking everywhere they took care of it right away.
Oct 07, 2019
We only stayed for one night but the site we were given included a ditch just outside our camper door. My wife tripped and fell trying to get around the ditch. The really sad part about it was I knew the site given was not going to be a very good site and asked to be moved. We were discouraged to change sites although there were plenty of other safer sites. Site 76 is not a safe site to put anyone
Oct 06, 2019
Clean friendly and helpful staff
Oct 06, 2019
We would definitely stay here again. Everyone was very professional and friendly.
Oct 04, 2019
Lots of traffic noise from the highway which is just over the hill. Disappointing that the pool was already closed. Temps were in the 90's. Staff was super helpful, gave great instructions on how to get to and use the Metro.
Oct 03, 2019
We stayed 3 days and 2 nites . The bathrooms were never cleaned . The cabin was very comfy and the lady at the office at nite was VERY helpful, with that said the last day when we were leaving we waited till 8 am (when you open so the sign says ) we walked up to the door that was locked and a young girl opened the door and not very nicely stated "is there something we can do for you" rude! We
Oct 02, 2019
The staff was really great, we got there after closing time but they opened up for us. They made us feel welcome. We would stay there again.
Sep 30, 2019
This was our second time at the campground this year. My children really enjoy camping there as there is plenty of activities for them to do. The staff there is very courteous and friendly. We will definitely be back again.
Sep 29, 2019
Just 2 nights. Drove to train station, parked the car and off to DC! The drive is a little longer than expected. The staff there is very friendly!! Facilities are very clean.
Sep 28, 2019
Premium sites were extra nice, everything was modern and clean. When we first checked in office was very helpful and was able to stay another night with her help. The help on Fri morning had changed and they were not helpful and not very courteous. Would still stay again and recommend to others. ThAnk you.
Sep 25, 2019
Though you should know our lady Helen at the front desk was nice and very patient with me as I didnt understand how to get to Baltimore. However Katie at the other desk kept butting in being really negative and nasty . She interrupted and said I wouldnt go to Baltimore if I was you. You probably shouldn't have people talking bad about your tourist attractions. We did fine visiting the Aquarium.
Sep 24, 2019
My site was clean and level. The staff was very friendly and helpful. I would go back again.
Sep 24, 2019
Our second time at this location. We like it's location for access to the District and our friends in Annapolis.
Sep 18, 2019
We stayed for 7 nights as we toured all the major sights in DC, Annapolis and Virginia, The Campground was great - met all of our needs. The staff were incredibly helpful with suggestions about the Metro and whatever else we asked. A very well run KOA. I would definitely return if the need arose.
Sep 17, 2019
A bit noisy next to Rt 32 highway traffic. Every staff member was very courteous, but it would have been nice to have trash pick up rather than hauling my own to the dumpster. Wi-fi was almost non-existent and no cable TV. Camp store was okay, but lacking certain essentials.
Sep 17, 2019
Staff is great and friendly. I would have given higher scores however the shuttle and pool closes after Labor Day as stated on the web site then off season rates would be nice.
Sep 17, 2019
You have a beautiful campground in a great location. It is well maintained and well staffed. My only complaint was that the shower/bath was closed from 9-11 for cleaning. Not having the shower available at 9:00 in the morning was a problem. Surely the staff could get this done after the campground clears out after 11:00. Just seemed to be a bad time for closed showers/bathhouse.
Sep 16, 2019
Outstanding facility great for going to NAVY football games!
Sep 16, 2019
Cabin was clean, landscaping around k121 needs some help as it was very dusty from being straight dirt. Loved the dog area. We were surprised how little road noise there is even with being just over the hill. Sat evening we were disappointed to see a very unprofessional moment between two employees in the office as he was screaming at her for not double checking an RV length, please address this
Sep 16, 2019
Debbie was the best, you guys really do have a wonderful employee. She was so helpful and accommodating!
Sep 16, 2019
Smaller campground, sites are super tight and close together. Unless you sacrifice privacy of the small wooded area you will be on top of the site next to you.
Sep 16, 2019
The spaces were long enough for our larger rig and were level. Great showers, bathrooms, dog run and kid play areas. Nice store. Quiet hours (at night) were not respected in the park and spaces are very close together so it wasn't peaceful. I expect KOAs to have solid Internet access for the price charged per night, but the Internet here was pretty slow.
Sep 16, 2019
Never a disappointment. We have stayed there many times.
Sep 16, 2019
This site worked well for visiting DC as long as you have a car (off season) to get to the Metro. Staff was friendly and quickly corrected a billing error. Bathrooms were clean. We were in an RV but noted that tent sites are secluded which is a plus for them. Our only complaint/ comment is that we were awaken most mornings by barking dogs. Not sure how to train the owners!
Sep 16, 2019
A last minute close to home camp night with the grandkids. The staff were very nice at the campground and we had a nice site. The kids enjoyed the trampoline and we had a great time.
Sep 15, 2019
Nice clean place. People are friendly and helpful. A bit noisy being do close to the highway.
Sep 15, 2019
I loved the facilities and staff.
Sep 14, 2019
Very clean/ good location
Sep 14, 2019
Great time as usual!
Sep 14, 2019
The staff was super friendly and helpful and the campground was in great condition. Will return next year. Thanks to everyone.
Sep 14, 2019
Very nice campground.
Sep 12, 2019
Great stay, quiet, ice cream social. Shuttle into DC that was prompt and on time. Great way to get into DC.
Sep 12, 2019
Wonderful!!!!
Sep 12, 2019
Very friendly staff. Clean campground. Nice pull through site. A little pricey, especially since the pool was closed. It closes after Labor Day. Nice little store. We had a nice stay.
Sep 12, 2019
With the exception of one female employee who was rude and basically refused to assist us in finding our site because she was told that she was not allowed to work past 3:15. However this was our second stay and overall had a very pleasant stay and would highly recommend this KOA to anyone
Jan 03, 2021
No site map or pricing displayed for late night check ins. The bathrooms seemed to be closed for the winter.
- Simon Denton on Google
Jan 02, 2021
I am so surprised by the negative reviews because we look forward to staying here along our next travels. We have stayed at a lot of KOA's along our travels and this has been one of our favorite stays. Our site, amongst others, were extremely clean. Quiet at night and didn't hear any traffic whatsoever. We arrived after hours and had an easy, contactless check-in. It's dog friendly and it had a lot of areas for us to walk them. Seemed like everyone picked up after their dogs as well. This photo was looking out from our site. Again, we really look forward to stopping here and staying in the future.
- Erika Steele on Google
Jan 01, 2021
Gravel sites were nice and well cared for. Spots are kind of narrow but thats typical for most campgrounds these days. They allowed us to stay during their off season, so we couldn't have campfires but they did have a nice playground. The sites that back up to the woods are gorgeous and the cabins have porches on the wooded side, so you can sit on the porch swing facing nature instead of the rest of the campground. The nature trail was wet but what we could traverse was beautiful. We would stay here again for sure.
- Jennifer Romanczuk on Google