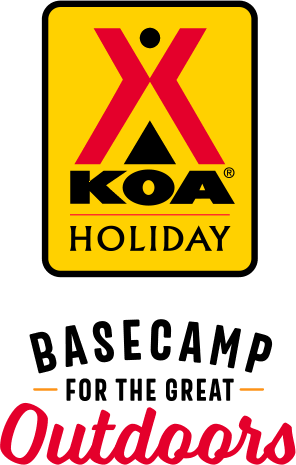 KOA Holiday Campgrounds
Whether you're exploring the local area or hanging out at the campground, KOA Holidays are an ideal place to relax and play. There's plenty to do, with amenities and services to make your stay memorable. Plus, you'll enjoy the outdoor experience with upgraded RV Sites with KOA Patio® and Deluxe Cabins with full baths for camping in comfort. Bring your family, bring your friends, or bring the whole group – there's plenty of ways to stay and explore.
KOA Holidays Feature:
RV Sites with a KOA Patio®
Deluxe Cabins with full baths
Premium Tent Sites
Group meeting facilities
Directions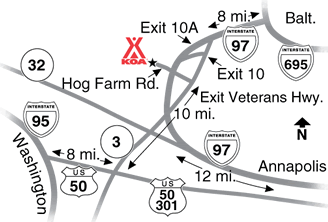 From North/Baltimore I-695 to I-97 South to Exit 10A. Right on Veterans Hwy 2 miles to 1st right turn, go under hwy turn left, go 2 blocks to Hog Farm Rd on right. Follow signs. From South I-95 North to Hwy 50 East to Hwy 3 North. Exit at Veterans Hwy. One block to first left turn. Go under highway turn left, go 2 blocks to Hog Farm Road on right. Follow signs from there.
Get Google Directions
Jul 12, 2019
Great site and the staff was friendly and helpful. Had an issue with the electric hookup, the staff acted right away to resolve the problem. Thank you and we will be back and recommend your campground as a great one to stay at.
Jul 12, 2019
Awesome place to vacation. Great location but a little tricky to find, new signs would help a lot. The pool is beautiful with a lifeguard in duty so parents can really relax! Staff is very friendly and helpful. The shuttle to D.C. is a lifesaver!
Jul 12, 2019
Took 8 year old grandkids to see DC. Shuttle was handy, staff great and facilities good for and kid friendly
Jul 12, 2019
We were in a great camp site that had all of the amenities, then we had to move to a site that charged for a premium site & it didn't even have a septic drainage. Very disappointed in the site
Jul 10, 2019
I was here after a holiday weekend and we had made reservations 4? Months before. Was given a spot not quite big enough for our camper. Had to move and put us on a site without full hookup. Spent 3 nights and looked like we could have easily had a full hookup site. Had been to 2 others before in the same week a loved the other locations.
Jul 10, 2019
We have stayed here several times and we will continue to do so. Wonderful staff!
Jul 10, 2019
This is a busy campground with alot of kids. Highlights were the giant pillow bounce thing. The swimming pool was fun accept for some crazy older lady mad that she couldn't just leave her kid in the pool alone. Was screaming at the lifeguard that her grandkid was not the guards business. We all had to get out of the pool cause nutty lady wouldnt listen and was on her phone the whole time!
Jul 09, 2019
The campground bathrooms, while there were plenty, were all located in the middle of the park, leaving quite a walk for us staying on the last row. Everything else was great and the location was awesome!
Jul 09, 2019
The camping was clean and well maintained. The pool medium size. The layout of the camping is kind of particular, the sites are not level. Our site was a pull through but the gentleman who accompanied us told us to back in because the bump was to high to pull through. The neighbors fire pit was to close to our RV for my liking. Very easy to get to Washington with the subway, 13$ all day pass.
Jul 09, 2019
When we arrived our campsite was horrible. I couldn't level our Motorhome and the trees were inches from my slides. I tripped on the tree roots multiple time while running back and forth to flip the breaker of my 30 AMP service. It was definitely not producing 30 AMP service. So the next morning I called and upgraded my $88 site to a $102 site. We moved and that site was nice but very pricey.
Jul 08, 2019
We stayed here for 2 nights, and found the owners/staff to be very kind even when we pulled in after dark. For an RV full-hookup spot, we were in close quarters with other RVs but nothing outside the norm. Site was clean, bathrooms clean. The pool was great & well supervised, and we had a good experience overall. A great campground to stay at if you're looking to be close to D.C. or Annapolis.
Jul 08, 2019
Thank you. Close to DC and Annapolis, friendly staff. We enjoyed our stay. Only comment is pull through site can use some more crushed stone to prevent mud during rain.
Jul 08, 2019
Beautiful campground. Very friendly and informative staff. Nice amenities.
Jul 08, 2019
It was really nice the only bad thing is that it rained a lot at night and our lot did not have any gravel so it was muddy and flooded. Our camper was a mess after our 2 day stay.
Jul 07, 2019
Nice place, good location. No safety bars in handicap restroom or shower. Staff friendly but not flexible on possible change requests and options.
Jul 07, 2019
Close to everything! Staff very friendly and helpful! Would stay again when visiting Annapolis or Washington DC
Jul 07, 2019
Great spot, fantastic staff, and the shuttle to DC was unexpected and amazing!
Jul 06, 2019
The staff was great. Accommodated us when we had to stay an extra day. Will definitely be back next trip to D.C.
Jul 06, 2019
Like another guest stated, there is nothing here that gives it a Resort feel so the price makes no sense for what you are getting. Most sites are not very level. My firepit was 6 feet from the neighbors pit. Older ladies not very friendly upon check-in. I requested a shady site, didn't get one so they finally let me move to another spot (for even more money). No cable, can only buy their wood, etc
Jul 06, 2019
The cabin was great. The bus was not good. The AC did not work in the back, did not work well on the first day, the shocks were AWFUL. The showers & bathrooms were amazing
Jul 06, 2019
Very nice location, somewhat annoying listening to highway traffic at night but we enjoyed the pool very much.
Jul 05, 2019
Luvd da cabin. Dog friendly wrkd out gr8. Clean and vry convenient to my needs
Jul 05, 2019
We had a difficult time locating the camp, but once there and set up things were fine. Kids loved the jumping pillow. area was nice, staff helpful and pleasant. I would recommend more frequent cleaning of floors by the pool area, given the showers and floors were always dirty from the traffic from the pool, making them very wet, slippery, etc. The ride to and from DC was very helpful, too.
Jul 03, 2019
Great clean bathrooms
Jul 02, 2019
Nice park but needs cable tv only able to get 2 good stations with no interference
Jul 02, 2019
VERY NICE PLACE, Easy to get to, clean, and family oriented. Easy in and out spot for the camper. And the parking staff were very helpful. Thank You.
Jul 02, 2019
Enjoyed our stay; loved the campsite - well shaded on a very hot day!! Our stay with you was to connect with relatives in the area. I expect we will be returning as time permits. Your KOA is very well managed, and has very friendly & helpful staff. All appreciated! Thank you.
Jul 01, 2019
Dirty bathrooms Overpriced store Ive stayed st many KOAS throughout our country. Sadly this did not have the standard resort atmosphere It felt like just another campground Not what I'm used to from KOAS
Jul 01, 2019
Overall pleased with campground and stay. The two times we were in the office/store, they definitely needed more staff because there was a significant wait both times. As a Dad who was camping with my young daughter, a family bathroom would have been MUCH appreciated but I only saw a Men's and a Women's. Our tent site was large and had a picnic table, fire ring with grate and two benches
Jun 30, 2019
An overnight stay on our way to Ocean City. Had a pull thru patio site and loved it! A great campground only 30 minutes to the Bay Bridge!
Jun 30, 2019
We stay here every year on our way to South Carolina . Always a great stay !! Thank you
Jun 30, 2019
Clean campsites, clean restrooms and staff very friendly.
Jun 29, 2019
Cabins too close together, no privacy. Restroom were filthy the entire time we were there. Need cleaning more than 1x/day with this many people. Way to far away from DC and the shuttle driver was a maniac. Almost wrecked 2x.
Jun 29, 2019
The staff was very friendly. The park was clean and had many things for adults and kids to do! Private showers and laundry room!
Jun 29, 2019
tight spaces, clean rest and shower rooms , but transient area very much a "parking lot" --- make that very expensive parking lot
Jun 28, 2019
It was very clean and the staff were wonderful. It was close and convenient to Washington DC. They have a shuttle so you dont have to drive in unless you want to. I would definitely stay there again.
Jan 03, 2021
No site map or pricing displayed for late night check ins. The bathrooms seemed to be closed for the winter.
- Simon Denton on Google
Jan 02, 2021
I am so surprised by the negative reviews because we look forward to staying here along our next travels. We have stayed at a lot of KOA's along our travels and this has been one of our favorite stays. Our site, amongst others, were extremely clean. Quiet at night and didn't hear any traffic whatsoever. We arrived after hours and had an easy, contactless check-in. It's dog friendly and it had a lot of areas for us to walk them. Seemed like everyone picked up after their dogs as well. This photo was looking out from our site. Again, we really look forward to stopping here and staying in the future.
- Erika Steele on Google
Jan 01, 2021
Gravel sites were nice and well cared for. Spots are kind of narrow but thats typical for most campgrounds these days. They allowed us to stay during their off season, so we couldn't have campfires but they did have a nice playground. The sites that back up to the woods are gorgeous and the cabins have porches on the wooded side, so you can sit on the porch swing facing nature instead of the rest of the campground. The nature trail was wet but what we could traverse was beautiful. We would stay here again for sure.
- Jennifer Romanczuk on Google