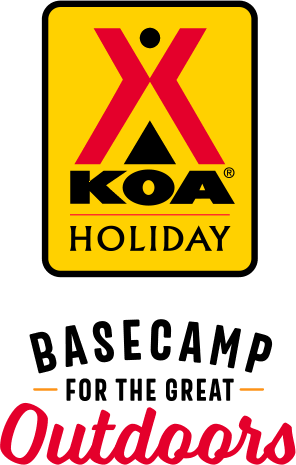 KOA Holiday Campgrounds
Whether you're exploring the local area or hanging out at the campground, KOA Holidays are an ideal place to relax and play. There's plenty to do, with amenities and services to make your stay memorable. Plus, you'll enjoy the outdoor experience with upgraded RV Sites with KOA Patio® and Deluxe Cabins with full baths for camping in comfort. Bring your family, bring your friends, or bring the whole group – there's plenty of ways to stay and explore.
KOA Holidays Feature:
RV Sites with a KOA Patio®
Deluxe Cabins with full baths
Premium Tent Sites
Group meeting facilities
Directions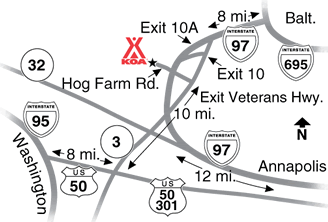 From North/Baltimore I-695 to I-97 South to Exit 10A. Right on Veterans Hwy 2 miles to 1st right turn, go under hwy turn left, go 2 blocks to Hog Farm Rd on right. Follow signs. From South I-95 North to Hwy 50 East to Hwy 3 North. Exit at Veterans Hwy. One block to first left turn. Go under highway turn left, go 2 blocks to Hog Farm Road on right. Follow signs from there.
Get Google Directions
Jul 27, 2019
Staff were lovely! Thank you for a great stay!
Jul 27, 2019
Our stay was very good. A little pricey for camping so I would have expected cable tv and/or a better wifi system. Otherwise, the staff was great and the campground is very clean and well kept.
Jul 27, 2019
Great stay, perfect location between DC and Annapolis .
Jul 26, 2019
Very nice campground. Bathhouses are great and clean. Close to Annapolis and Baltimore. Easy to into DC when no traffic. Close to shops, food, etc.
Jul 26, 2019
The sites are beautiful, the staff helpful. It is an old campground, & needs serious updating. No AC in bathrooms, bathrooms worn, wet, usually not clean. Security non-existent, entrance gate never closed (we returned after midnight), bathrooms not locked. Sites NOT level at all, drainage runs right through sites 4) tables very poor shape 5) firepits poor shape. Campgound feels like state park.
CAMPGROUND RESPONSE / COMMENTS:
This camper stayed two weeks during extreme heat in 90+ degrees in a tent. We had major heat and thunderstorms every night. Not surprised they weren't happy. Capitol KOA does not need to close their gate. Bathrooms are not locked here as we are in a great neighborhood. We have upgraded deluxe tent sites which are very level. They chose basic site. And booked very late.
Jul 26, 2019
Had a reservation for a premium site. Got there and previous renter was still there so I was put in a dirt site with 30 amps and no sewer suitable for a 20 towable not a 41 foot motorhome. They didnt know what to do. No back up plan at all. Employees and manager are worthless. Will not go back. If this is the type of servthrough out the system then I think I wasted my money on a membership.
CAMPGROUND RESPONSE / COMMENTS:
Not sure what you are talking about you were on a 90 ft PATIO site with 50 amp service and sewer. Site 34
Jul 25, 2019
Need disabaled hand rails in handicap shower. Need paper towels in restrooms to wipe off counters and bugs out of sinks
Jul 25, 2019
This review has been removed by KOA due to profanity.
Jul 24, 2019
Polite staff, clean cabins, everything was as expected. Short drive to metro which gets you basically anywhere we needed to go in DC. Thanks!
Jul 24, 2019
very enjoyable
Jul 24, 2019
It's a nice campground with a pool and a few amenities for the kids. A lot of staff continuously riding thru as if they were looking for camper infractions. Just my opinion.
Jul 23, 2019
Great place to stay, conveniently located between Baltimore and DC. I think most people who stay here are visiting either DC or Baltimore, so the campground is quiet during the day. Good electric service, was able to keep A/C running even on one of the hottest days of the year. Friendly staff, clean bathrooms, nice laundry room.
Jul 23, 2019
This campground was a convenient location to stay close to a friend's house in Maryland. The camp ground was clean and we found everything we needed. The staff was very helpful when we checked in.
Jul 23, 2019
I was not happy when I arrived and learned that I would not have a full hook up as I had booked. The office indicated that this is a problem when booking online. Also, the bath houses were very dirty and very hot. While we had extremely hot weather during our stay I noticed that the bathrooms did not have A/C . The staff was friendly. I would like to say more but I'm out of characters.
Jul 22, 2019
Great staff, wonderful campsites, nicely done!
Jul 22, 2019
Awesomeness staff and yhe spacecwe stayed in was perfect!
Jul 22, 2019
First impression with check in with Juliet was horrible. Rudest person we have very met. After check in she walked away without a word asked what next she said find our spot or wait for escort then scratched her crouch grabbed her lunch bag and walked away. Thanks to dr bob for fast service on fixing the electric box. Everyone else super nice. Clean and organized campground.
Jul 21, 2019
Very pleasant with excellent hosts.
Jul 21, 2019
1st all staff members were very nice & helpful. The reason for the low rating is due to the sight we were on being awful. It was muddy, uneven and unfortunately the wifi was horrible plus no cable.When I booked the stay I wanted a larger area but according to the app there was none for the time I needed, yet there were multiple larger lots vacant the entire stay. Pools overcrowded, bathrooms dirty
CAMPGROUND RESPONSE / COMMENTS:
The site was chosen by the camper because of economy price. We have excellent WIFI at this location. Often people think that empty spaces mean they are not rented. We were at capacity for the last three nights. There were no other available sites for this camper. Book early at Capitol KOA.
Jul 20, 2019
People working there were nice. Camp was clean. But it is too close to a highway and the truck and car noise take away from the tranquil quiet nature of camping. They should add a free standing grill to the cabin and tent sites. The grill is on the ground also used as a fire pit.
Jul 19, 2019
Staff was very helpful and friendly Bath houses clean Will be back
Jul 18, 2019
The shuttle service they run to and from DC is a joke. The trolley service they recommend and sell tickets to is even worse. Day one we had to run 10 blocks after waiting 45 minutes for a trolley to get back in time for the return shuttle. Day 2 we ended up having to Uber back to the campground after waiting almost an hour for a trolley. Staff was rude and unhelpful!!
Jul 18, 2019
Clean. Big sites for a KOA. Helped me with printing tickets. No problems, pleasant stay.
Jul 18, 2019
emplacement pour vr très croche,mal nivelé
Jul 17, 2019
Campground was average the site we had was easy to get into but very close to adjoining sites. The most important thing we always look for is the condition of the restrooms. They were a little disappointing the restroom by the office was not very clean with overflowing urinal and toilets. The other restroom was much better water temperature was hard to adjust. Couldn't get a late check out
Jul 17, 2019
Wish you allowed pets in cabins that had bathrooms.
Jul 16, 2019
This was the second time we stayed here while visiting DC. Shaded lots and really convenient to the metro. They also have a shuttle service.
Jul 16, 2019
Great stay! Clean and this KOA has a very friendly staff.
Jul 16, 2019
Great place we stumbled on...all facilities are clean, campground is also clean and appealing. Sites are well kept and easy to maneuver RV through grounds. Ability to access Washigton DC from the site whether through the shuttle the KOA provides or via Lyft is great! Would highly recommend and would definitely return.
Jul 15, 2019
We had requested a shady spot when we made our reservation. When we arrived we were told that no shady spots were available. Our grand daughter has a medical condition that prevents her from sitting in the sun. Charging five dollars a day for having an extra vehicle and for guests is outrageous. Staff was very friendly.
Jul 15, 2019
The showers were ice cold and it wasn't until after 9am when the cleaning crew showed up that the water heater was reset. By that time many campers had departed. Evidently, from comments this is not uncommon. Very little grass anywhere. Scruffy at best.
Jul 15, 2019
We were not aware of the fee for our extra vehicle until check in, only one was allowed at the cabin, which was fine and we parked our other car in the store parking lot, but its $5 per day for a 2nd vehicle. So I paid $10 just because we had 2 cars, which I've never experienced before at other KOAs. Staff could be friendly!! Otherwise, it was an ok stay.
Jul 15, 2019
Above and beyond to make our experience great!! Thank you for all of your help.
Jul 15, 2019
Ask for close to bathroom got for away
Jul 15, 2019
It was very fun but signs and rules seem outdated. At first my 5 month old couldn't go into the pool (with a swim diaper) which if that's your rule fine but it needs to be posted on website. We didn't know until we were there and wouldn't have gone there. They eventually said ok. Also ENO is a tree friendly hammock but not allowed? Two big flaws for me. Enough to not return.
CAMPGROUND RESPONSE / COMMENTS:
The lifeguard objected to the baby not having a swim diaper on. The rest of the guests objected to the baby being in the pool with no bottoms on.
Jul 15, 2019
Nice facilities. We were there with granddaughters who really enjoyed the pool and bouncy thing. Being there on a Saturday night was nice, too, for the ice cream social and movie. Friendly and helpful staff. Cons: fire wood too expensive. Spots too close together.
CAMPGROUND RESPONSE / COMMENTS:
The firewood is the same price as Walmart. The county does not allow any outside firewood. Therefore at Capitol KOA you buy it where you burn it. Please help save our trees.
Jul 15, 2019
Asked for late check out being that we checked in late didn't mind paying extra.Was told no Paid for another night the lady that checked us in said that no one was coming in after us on Sunday And we didn't have rush out then some other guy showed up at 11:55pm and said we have to get our stuff out of the cabin right now.Paid $500 for some uneducated man to speak to My very disrespectfully
CAMPGROUND RESPONSE / COMMENTS:
Guest was told checkout was 12 pm. Cleaning staff were kept waiting until 12:30 pm because guest said they were still in the pool. They were informed early in the morning that there is no late checkout. The new campers coming in had to wait to checkin as the people had not left on time. The cleaning crew were not rude as they had to ask three times before they could get in to clean.
Jul 14, 2019
Excellent campground!!!
Jul 14, 2019
Great location close to Baltimore and Washington DC, great washrooms and showers and helpful staff!
Jul 14, 2019
My daughter Jenny, 17, and me arrived late during a thunderstorm. We coudn't put up the tent, so we happily got an update to use a cabin for one night. But it smelled! So the next morning we built up our tent. It was hot, so we were looking forward to swim. We got into the pool and right away were asked to get out and wait 10 min. The water quality was poor....
Jul 13, 2019
Staff was friendly and helpful. Bathrooms and laundry were clean and the camp ground was relaxing and quiet. Pool and play area was great for kids. The lifeguard was great. The only drawback was the RV sites were very un-level. Took a bit of time to get our camper situated.
Jul 13, 2019
I liked the buses into Washington DC. The next time I would stop I would schedule these trips for the days I would be staying at your cammmmmmmpground.
Jan 03, 2021
No site map or pricing displayed for late night check ins. The bathrooms seemed to be closed for the winter.
- Simon Denton on Google
Jan 02, 2021
I am so surprised by the negative reviews because we look forward to staying here along our next travels. We have stayed at a lot of KOA's along our travels and this has been one of our favorite stays. Our site, amongst others, were extremely clean. Quiet at night and didn't hear any traffic whatsoever. We arrived after hours and had an easy, contactless check-in. It's dog friendly and it had a lot of areas for us to walk them. Seemed like everyone picked up after their dogs as well. This photo was looking out from our site. Again, we really look forward to stopping here and staying in the future.
- Erika Steele on Google
Jan 01, 2021
Gravel sites were nice and well cared for. Spots are kind of narrow but thats typical for most campgrounds these days. They allowed us to stay during their off season, so we couldn't have campfires but they did have a nice playground. The sites that back up to the woods are gorgeous and the cabins have porches on the wooded side, so you can sit on the porch swing facing nature instead of the rest of the campground. The nature trail was wet but what we could traverse was beautiful. We would stay here again for sure.
- Jennifer Romanczuk on Google