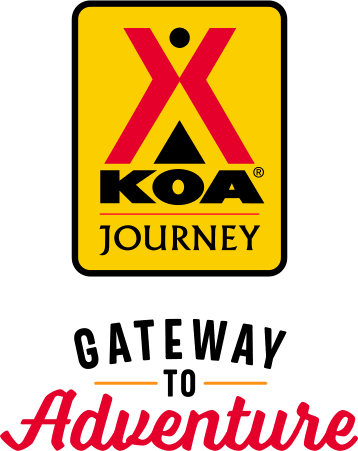 KOA Journey Campgrounds
KOA Journey campgrounds are the perfect oases after a day on the road. Whether it's along the way or a quick getaway, they've got you covered. Located near the highways and byways of North America with long Pull-thru RV Sites, they deliver convenience to the traveling camper. Pull in, ease back and take a load off.
KOA Journeys Feature:
Pull-through RV Sites with 50-amp service
Premium Tent Sites
Well lit after hours check-in service
Directions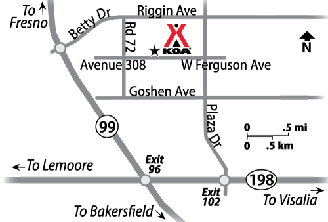 From Hwy 99: Take Hwy 198 East to Plaza Dr Exit. North on Plaza Dr to Goshen Ave, turn left. Go 1/2 mile and turn right onto N American Rd, which becomes Ave 308.
GPS: N36.349743, W119.406178
Get Google Directions
Oct 20, 2020
Wasn't there very much, but when we were, it seem very nice. It was quite and clean, nice off leash dog park, the bench in dog park could use upgrading.
Oct 20, 2020
The biggest negative, were some very loud folks in the RV area that played Mexican music, so loud that we could barely hear each other talk. This went on until around 9:45 pm - the quiet time. This was VERY disrespectful to those of us in the camping area. The security person, if there was one, did not address that issue. I am sure you'll hear this same complaint from others. It was horrible.
Oct 18, 2020
We had no power even though we plugged in to the electric socket........it dampened our experience to have no electricity. People around us we nice and quiet......bathrooms clean and fine.
Oct 18, 2020
Everyone was very friendly, especially Sydney (we called her smiley, because she always had a big smile on her face!).
Oct 17, 2020
This park is in a very sketchy part of town. A lot of "permanent" residences with a bunch of junk all around their sites. So bad, I couldn't pull though my site and had to back out. This area is a huge dust bowl. Served its purpose as a one night stay.
Oct 16, 2020
We were surprised to see that this KOA camp was in the middle of a residential neighborhood! I was still very nice and quiet at night and we enjoyed our stay there! We would stay there again!
Oct 16, 2020
NOT GOOD!!!!!!!!!!!!!!!!!!!!!!!!!!!!!!!!!!!!!!!!!!
Oct 14, 2020
Staff was nice. Office was clean. Sites were OK but no grass and dusty. Not sure if the pool was open due to Covid.
Oct 13, 2020

We really didn't use much of the facilities other than our cabin sight. The cabin was clean and comfortable. My only complaint is that it was further away from SEKI than what I would normally like.
Oct 13, 2020
The dog park needs a regular cleaning and deodorizing spray down.
Oct 13, 2020
We liked it! We loved the pool !
Oct 12, 2020
We stayed a couple of days on a shake down run of our new 5th Wheel. KOA's are great for this type of activity because it is a Known environment. For this purpose KOA was just fine. The days were warm and this KOA has very little shade and grass was non existent.
Oct 12, 2020
Great location, close to services. WiFi terrible!
Oct 12, 2020
Nice park. Quiet area and neighborhood. The staff was very friendly.
Oct 12, 2020
Both mens and womans bathrooms were not clean. urine, toilet paper with feces on floor, hair pluged shower drains. trash cans were full.
Oct 11, 2020
Very nice place
Oct 11, 2020
Wonderful spot close to the Parks
Oct 11, 2020

Only request we have is that there are larger beds in the Kabins. :-) Otherwise, our stay was fine. Thank you again for allowing dogs in the Kabins. We truly appreciate this!
Oct 09, 2020
Park was clean, quiet, adequate for a 1 night stay. Staff was pleasant, the dog park had old, broken equipment, bench had a metal spike protruding. I would recommend to friends who just needed a 1 night stop.
Oct 08, 2020
Great place. Quiet. Lots of shade. Major shopping close by. Very clean.
Oct 08, 2020
Park maintenance nonexistent. Laundry room dirty. Sites in need of proper maintenance. Rates not the the same as website.
Oct 07, 2020
Very friendly hosts!! Nice campground. Our site had been recently watered and had a little mud, but our dog loved the grass. Our last stop before heading home, great overnight stay!
Oct 07, 2020
We loved our stay at the KOA at Visalia/Sequoia National Park! The cabin was spotless, the bathrooms and grounds were clean and well maintained. The pool was perfect and the people were the best. Thank You!
Oct 06, 2020
Well maintained and comfortable campground. The large shade trees are a plus, with easy pull through sites. No issues with services.
Oct 06, 2020
staff is friendly but grounds are not maintained well
Oct 04, 2020

NO coffee! Seriously. None. All. morning. Not good. Everything else standard. Staff were nice. They missed the coffee too.
Oct 03, 2020
Great service. A dated facility that makes up for age with exceptional service and great front desk attitudes. Nicely equipped store and well tended grounds.
Oct 02, 2020
I have stayed and different KOA's and this was not what I expected, Cabin had spiders, the campsite looks neglected, their are RV's that clearly live there and I didn't find advertised that KOA can be rental property. I was more disappointed with neglect of the campsite. I do realize that KOA have 3 different types I just didn't expect it to be this uncomfortable, I couldn't wait to com
Sep 28, 2020
It was good thank you
Sep 26, 2020
not bad. it's quiet. they closed the bathroom by our site which was inconvenient. bugs in our tent, and no shade available. pool was very clean. might be back.
Sep 25, 2020
Nice park, in the middle of industrial mixed with some houses.
Sep 24, 2020
Very dirty. Bad conditions
Sep 24, 2020
It was clean beautiful staff was friendly.
Sep 23, 2020

We appreciate that you allow dogs to stay in your Kabins-we love this! The Kabin was clean & cool when we arrived-thank you for turning the AC on. The only real issue we had was that the beds are too small (we're both over 6' tall). Not necessarily your fault, but if you could consider adding a queen bed to 1-2 of the Kabins, we'd certainly appreciate it! We'll be back again.
Sep 21, 2020
Came with a group, placed very far away. Tried to move closer and were told all sites were full. Most sites ended up being empty all weekend. Staff not very helpful or accommodating. Not a very nice campground, lots of shady looking people staying. Won't be back again
Sep 21, 2020
Very peaceful and quiet. Very clean.
Sep 21, 2020
Rey nice and friendly service
Sep 16, 2020
The campground could use a little love. Needs some sprucing up.
Sep 16, 2020
IT NEED SONE TLC
Sep 15, 2020
Clean, comfortable, quiet. Not actually in the Sequoia park, but close enough for a day trip through the Big Trees.
Sep 13, 2020
Nice campground.
Sep 12, 2020
I wish there were more trees in the tent camping area, no shade during the day. The trains are noisy at night, so location is not very good.
Apr 14, 2021
Nice quiet park. Several trees, so there are birds to listen to.
- Kathy Bramer on Google
Apr 14, 2021
Had a great time
- Robert Bramer on Google
Apr 11, 2021
It is in the middle of a residential neighborhood but seems secluded.
- Jerry Antoine on Google